Caramel Pecan Apple Pie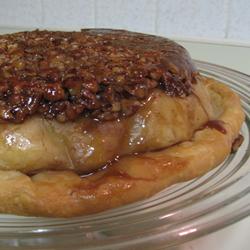 With piles of local, Manchester apples coming in, everyone is wondering what to make! And with the taste of this Halloween's mill-porch carmel apples fresh on our tongues, what could be better than this wonderful twist to the classic apple pie. This recipe won first place at the Texas State Fair about ten years ago. It should be served warm, of course, with a scoop of vanilla ice cream on the side!
8 med apples, peeled, cored & sliced
1 tsp vanilla
3/4 tsp butter flavoring
3/4 cup sugar
2 Tbsp flour
2 Tbsp cinnamon
1/4 tsp nutmeg
1/4 tsp allspice
Pecan Mixture:
1/3 cup margarine, melted
3/4 tsp vanilla
1/2 cup brown sugar
1 cup pecans, chopped
1 pkg deep dish pie crusts
1) Melt margarine, add other pecan mix ingredients
2) Put in deep dish pie plate, cover with crush
3) Mix the rest of the ingredients, put over pie shell and cover with second pie crust.
4) Bake at 375 degrees for 40 minutes
5) After removing from oven, flip over onto large serving plate, cut, and serve warm.