Manchester to Celebrate Local Volunteers at Annual Event on November 8th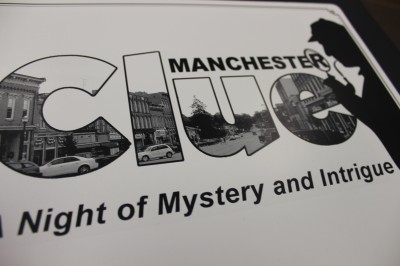 Article submitted by Laura Seyfried
This Friday, November 8th, the Annual Manchester Volunteer Recognition Banquet & Community Resource Center Fundraiser will be held for the 26th year. The event, sponsored by Chelsea Community  Hospital, takes place at the Woodlands Dining Room beginning with appetizers at 6:15pm, dinner and awards at 7:15pm, and an interactive Manchester-themed Clue game played throughout the evening.
Picks & Sticks String Band will entertain the crowd with their mixture of folk, swing, jazz, bluegrass, oldies, and ethnic tunes while guests mingle, dine and bid on the 40 silent auction
items donated by local artists, area businesses and individuals.
The Volunteer Recognition banquet is also the Community Resource Center's major annual fundraiser, bringing in nearly $10,000 to support the programs and services provided to Manchester area residents by the CRC. A few dinner reservations are still available by calling the Community Resource Center at 734-428-7722.
This year 18 different Manchester organizations have nominated the following 20 individual volunteers for recognition:
Teresa Benedict, 20th Century Club
Carl Buss, Manchester Mens Club
Shawn Edwards, Manchester Middle School PTSA
Susan Fielder, Manchester Downtown Development Authority
Alan Hanewald, Manchester HS Athletic Boosters
Ray Kemner, Emanuel United Church of Christ
Sue Knasiak, Manchester Lions Club
Monica Kominars, Manchester Co-op Preschool
Patti McCabe, Kiwanis of Manchester
Kent Miller, Manchester Cub Scout Pack 421
Bonnie Mitchell, Bethel United Church of Christ
Stacy & Kayla Oberleiter, Community Resource Center
Karl Racenis, Manchester Area Chamber of Commerce
Bob Rhees, Manchester Mens Club
Aileen Rohwer, Riverfolk Music & Arts Organization
Ryan Stautz, Manchester Community Schools
Dawn Steele, Manchester Area Friends
Ruth Van Bogelen, Manchester Civic Club
Karen Villarreal, Klager PTO
Once again, four special awards will be announced at the event and presented to the most deserving of these nominees: the Service to Youth Award, the Star Award, the Commitment to Community Award, and the Claire Reck Volunteer of the Year Award.
Who was Claire Reck (1903-1988)
Born in Iowa and moving to Manchester in 1941. Wife and mother of two girls. Manchester's "one woman social service agency". To quote from the Manchester Enterprise, Thursday, April 28 1977, on the occasion of the Liberty Bell Award:
"Ever interested in the whole person, Claire has been associated with the Manchester Library Board since 1943 and the Washtenaw County Library Board since its inception in 1962. She has been on the Board of the Washtenaw County Historical Society for three years.
Working through and with charitable agencies Claire has for 45 years worked with the Red Cross Blood program, United Way (previously Community Chest) for 23 years and on the United Way of Michigan Budget Committee since 1967.  Working, altruistic and unpaid, Claire served on the Advisory Council for Juvenile Court and as a member of Project 74. She gave wholly of her time and energy to families in need, whatever the specific need may be. Capable of executive responsibility, she also saw to the personal needs of every individual however humble the task might be.
A member of the Manchester United Methodist Church as well as a member of the Manchester American Legion Auxiliary Unit 117, she has been closely involved with the Manchester Family Service as well as the Senior Citizens Council. Also nationally affiliated with the 4-H program where Claire funds a National 4-H Scholarship. Inspirational to community leaders, dependable, and confidential, Claire commands respect, high performance, and real affection from all who have known or worked with her, and to our certain knowledge, has commanded the same response from those she has helped."
Who better to be an example for her community? Who better to remember?
To receive the Claire Reck Community Volunteer Service Award is a true honor.
Past Claire Reck Award winners:
1988 Claire Reck
1989 Evangeline (TV) Ludwick
1990 Pat Sahakian
1991 Ron Mann and Mary Kallewaard
1992 Howard Parr
1993 Bill Schwab
1994 Carl Werner
1995 Rubena Boelter
1996 Anita Tyler
1997 Frank Tomko
1998 Ted Tapping
1999 Mary Blossom
2000 Ronald Driessche
2001 Evelyn & Webb Seegert
2002 James Mann
2003 Pat Smith
2004 Bill & Peg Chizmar and Susan Gistinger
2005 Virginia Fielder
2006 Marion Ahrens
2007 Donna Clark and Carl & Sharon Curtis
2008 Polly Brokaw
2009 John Korican, Sr.
2010 Monty Okey
2011 Betty Cummings
2012 David Little