Manchester Home Tour to Display Holiday Decorating at Its Finest
If you just can't get enough of holiday decorations, Manchester has just the event to help you to start the Christmas season off right. The fourth annual Christmas Home Tour is set for this Saturday, Dec. 7, beginning at noon and continuing till 8 p.m.
Attendees can purchase advance tickets for $15 at the Coffee Mill, Kellie's, Wild Acorn, The Flower Garden, and Linda's Diner. Tickets also will be available at each home on the day of the tour, at a cost of $18 per person.
Five Manchester homes will be specially decorated for the season, in a variety of styles.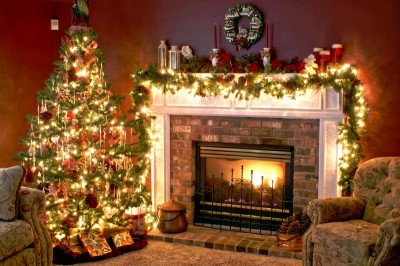 Jim and Carrie Keller have decorated their comfortable brick home, tucked away next to the Furnace Street Bridge over the River Raisin, in spectacular style. "I have always loved decorating for Christmas," Carrie said. "I just think it is magical. I love lights."
When she was a child, her mother decorated their home beautifully, "And I guess I just followed in her footsteps."
The Kellers also have spent time living in Germany, where Christmas decorations reign supreme. "I think after that, I really took things up a notch or two," Carrie says. "Christmas is huge in Germany, and we bought lots."
While some families use being on the home tour as a once-in-a-lifetime reason to go all out with decorations, Carrie says she does pretty much the same thing every year. "And somehow, it just seems to grow and grow."
Also within the village, the home of Manchester Township Supervisor Gene DeRossett and his wife Sandy will be open for tours. The DeRossetts moved to the village a couple of years ago and purchased a condo in the Manchester Woods subdivision off East Main Street.
Organizers Carrie Keller and Teresa Benedict have purposely tried to incorporate many different styles and types of homes in the tours, to show that you don't have to live in a large house or stately mansion in order to decorate in style. Last year, one of the featured homes was a manufactured home in Manchester Manor. This year's tour features the first condominium.
Two newer homes in Manchester Township, just west of the village, are also featured on the tour this year. Dee and Roger Miles purchased their house on Fehr Lane in 2005. The Miles also lived in Germany and have a good representation of Christmas decorations from their time there.
Dee says, lately she doesn't always pull out all the stops when she decorates. "I did, of course, when my kids were home," she says. "But recently, when it's only the two of us, I haven't always decorated so much."
This year, she is once again digging deep to display many of her treasured decorations. Along side of the artwork in her home representing the artists featured in her gallery, The Wild Acorn on Main Street, will be her collections of German nutcrackers and smokers, and her collection of children's antique sewing machines as part of the décor.
The home of art-lovers Mike and Shannon Brown, on Herman Road, will be open to the public as well. The Browns, residents of Manchester for more than 12 years, have an eclectic collection of locally-produced artwork throughout their home, and they view Christmas as a time to add even more joy into their decorating.
For those with a taste for the history of the Manchester area, the Civil War-era home of Chuck and Marilyn Fusilier will also be featured this year. This home, located on Sharon Hollow, south of Herman Road, was built by Manchester Township sheep farmer Lyman Baldwin in the 1860s. Decorated prominently with Chuck and Marilyn's own artistic creations, this house promises to be one of the favorites on the tour.
"We were excited to get Chuck and Marilyn's home early on," said Carrie. "And then we looked for other homes in the same side of town, to keep the tour in a fairly compact area."
Asked where they got the idea to start the home tour four years ago, Carrie says, "Teresa and I both always love decorating for Christmas and we both love to see each other's decorations, so we thought it would be fun to organize a little home tour. When we brainstormed where the money would go … where else but more Christmas decorations!"
"With the new downtown street-scape, it seemed like a good time to start investing in some decorations for downtown."
The proceeds from the first two tours went towards the purchase of the wreaths that grace the light poles. In future years, the purchase of more commercial-grade wreaths and banners are planned, to help beautify the downtown at Christmas.
A huge boost to participation this year will be the two bus tours that are coming from the western side of the state to Manchester specifically for the home tour, bringing about 100 more people to the village to enjoy a small-town Christmas celebration.
Join the tour at any of the houses and take your time browsing the sights at each home. For more information, contact Carrie Keller at 734-255-1498.