Recipe: Cheeseburger Soup
Who doesn't love a cheeseburger? It doesn't get any more all-American than that. However, it so happens that I prefer my cheeseburgers grilled outdoors in the summertime. A dilemma? Not really. Surprisingly, the flavor translates well to a soup, which better suits these cold winter evenings. This recipe is simple, satisfying, and definitely in the comfort-food category. Best of all, I could make it from things I already had in the house–no last minute trip to the Manchester Market was necessary (although it would have been easy if I'd needed to do so)! This version is adapted from a Taste of Home recipe.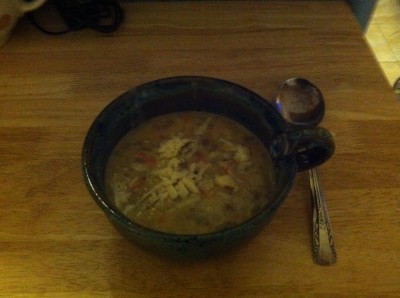 Ingredients
1 pound ground beef
¾ cup chopped onion
¾ cup shredded carrots
¾ cup diced celery
1 teaspoon dried basil
1 teaspoon dried parsley flakes
4 tablespoons butter, divided
3 cups chicken broth
4 cups peeled and diced potatoes
¼ cup all-purpose flour
2 cups shredded cheddar cheese
1½ cups milk
¾ teaspoon salt
¼ to ½ teaspoon pepper
¼ cup sour cream or plain yogurt
Brown the ground beef in a 3-quart saucepan. Drain and set aside.
In the same saucepan add 1 T butter and add onion, shredded carrots, parsley flakes, basil and celery. Saute until tender.
Add the broth, potatoes and beef and bring to a boil. Reduce heat, cover and simmer 10-12 minutes or until potatoes are tender.
In small skillet melt 3 T butter and add the flour. Cook and stir for 3-5 minutes or until bubbly. Add to the soup and bring to a boil. Cook and stir for 2 minutes. Reduce heat to low.
Stir in the cheese, milk, salt and pepper. Cook and stir until cheese melts. Remove from heat and blend in yogurt or sour cream.