Changes Coming with the 70th Manchester Community Fair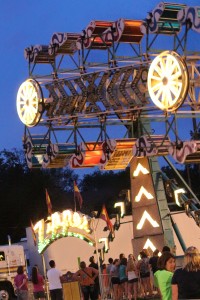 The Manchester Community Fair Board has been busy planning the 70th Manchester Community Fair, "The biggest little fair in Michigan", which will be held June 17-21, 2014. In addition to holding it earlier in the summer, The Fair Board announced that after twelve years with their previous carnival company, a different company, Schmidt Amusements, will be providing the carnival at this year's fair.
According to a person with knowledge of the negotiations, their previous carnival company declined to renew the contract. Very few other companies were willing to take our fair on, either because of our small size or because of date conflicts. When Schmidt took us on, they had a very restricted set of dates for us to choose from. Thus the change in dates.
Schmidt Amusements, family owned and operated, has 30 years of experience in the carnival business. They feature the only Hurricane in the state of Michigan.  In addition to the Hurricane they have Tornado, Gravitron, Paratrooper, Swinger, Tilt-A-Whirl, Scrambler, Rock-O-Plane, Merry-Go-Round, Dizzy Dragons, Go Gator Coaster, Umbrella Ride, Dino Ride, Berry-Go-Round, Kiddie Roller Coaster, Bounce House, Funhouse, and a Glass House.
This year, the fair will offer a five-day "MEGA PASS" for $50 which will include a wristband each day of the fair and permit all-day unlimited rides (which is $30 less than the cost of buying 5 days worth of wristbands).  Mega passes will be available for purchase at Manchester Market and United Bank & Trust around June 1st and at the fair office starting June 14.
Other changes at this year's fair include the return of the Manchester High School Band performing at the Crowning of the Queen, day change of the the youth and adult pedal pull (previously held on Saturday, now held on Wednesday night along with the Sarah Swanson Band).
Other special events and performances include A Different Beat (Cloggers) and TJ Thomas performing on Thursday night. Friday additions include Colors the Clown, Magic Joe, Kreyola Cloggers and Split Decision. Saturday will be a fun filled day at the fair with 'Touch an Emergency Vehicle', Pure Energy Cloggers, a Tea Party with Cinderella (first 50 kids get a tiara and wand), Colors the Clown, Flying Aces, Taylor Swift and the Saline Fiddlers.
Toddler day will be returning to the fair on Friday, from 1-3pm.  Toddler day is for children 6 years old and younger to purchase an arm band for $6 to ride age appropriate rides during this time period.
Even with the changes, expect many time honored fair traditions to remain including Bullmania, tractor pulls, animal judging and more. The fair parade will began 6:30pm on Tuesday night, June 17th, with Evelyn & Webb Seegert as the Honored Grand Marshals. The theme for this year's fair is "Manchester, Where Summer Begins."
For a complete list of events and times please pick up a fair book or check out the fair's website.
Correction: This article originally stated that the parade was scheduled for July 17th. It has been changed to June 17th, the correct date.