Getting RISKY at the PLI
Editor's note: I thought that maybe I was a prejudiced parent, seeing as I have known all of these young men for more than 25 years. I think their talent and their original, locally-oriented songs are amazing. But it is even more gratifying to see their accomplishments recognized by people who have little, if any, personal connection with the band. Thanks to Life In Michigan.com for the kudos!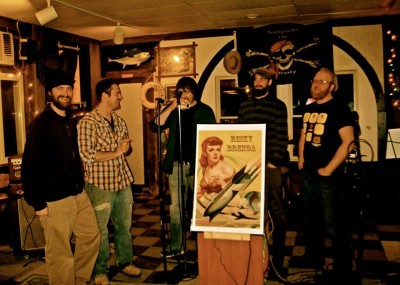 The members of "Risky Brenda" all went through school together in Manchester, although they graduated in different years, more than a decade ago. Despite a distinctive lack of formal music training (only the lead vocalist was in band for eight years), they primarily cultivated their musical talents after graduation. Over the intervening years, each dabbled individually in his choice of instruments before coalescing into the current group about a year ago.
If you missed their most recent show at the Pleasant Lake Inn, you can meet up with Risky Brenda on Facebook or at Reverbnation. This is what she does!
The Life in Michigan article:
"What happens after you combine too much Red Bull and dangerous fun with your Dark Horse friends at the Front 40 Hillbilly Party? You end up at the Pleasant Lake Inn (PLI) in Manchester, Michigan with Risky Brenda channeling Jim Morrison
Lord, what a day. Some days can't ever be repeated and this was one of them…."
Click HERE for the rest of the article and some great photos.