Relay For Life to Celebrate Survivorship
Back in May 1985, Dr. Gordy Klatt walked and ran for 24 hours around a track in Tacoma, Washington, ultimately raising $27,000. His goal: to help the American Cancer Society fight the nation's biggest health concern – cancer.
One year later, 340 supporters joined Klatt in the overnight event. Since those first steps, the Relay For Life movement has grown into a worldwide phenomenon. Klatt's vision has turned into more than 5,200 Relay For Life events across the United States today and has raised nearly $5 billion to save lives from cancer.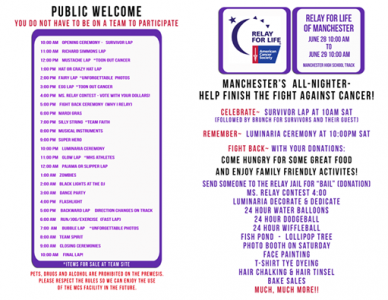 For 28 years, Relay For Life has provided inspiration and hope for millions of cancer survivors and caregivers. Manchester's Relay For Life 2014 is no exception. With more than 200 participants and a full cadre of activities to entertain the entire family throughout its 24-hour duration at the Manchester High School Athletic Complex, this year's fourth annual Relay promises to be the best yet!
Celebrating survivorship is one of the most important aspects of any Relay For Life event. When Dr. Klatt started in 1985, only 1 of 3 people who heard the words "You have cancer" reached the five-year survival mark. Thanks in part to the American Cancer Society's research, funded by efforts of millions of participants nationwide, that ratio has increased to 2 out of 3 survivors who will celebrate five or more additional birthdays this year!
Relay For Life of Manchester will begin at 10 a.m. on Saturday, June 28 with a lap honoring all survivors who have fought cancer and won.
The opening ceremonies and survivor lap will be immediately followed by a free survivor brunch at the Manchester United Methodist Church fellowship hall. All cancer survivors (defined as anyone who has ever received a diagnosis of cancer of any type) are welcome to attend the survivor lap and brunch, even if they are unable to participate in the remainder of the event. Caregivers are also invited to join their survivor. Reservations are appreciated but not required. Please contact Lynette Miller at 734-417-6751 or Arianne Chartrand at 734-476-1790 if you wish to attend.
The entire community is cordially invited to participate in this year's Relay For Life, which will conclude at 10 a.m. on Sunday, June 29. If you would like to join a team, feel free to sign up online HERE.