Manchester and.….Lexington?
By Ray Berg
In late 2014, the Village of Manchester acquired by tax foreclosure default a small land parcel on the eastern end of the village limits, east of the mill pond across from the Village Hall. This landlocked parcel, with no road access and apparently of no interest to tax sale auction bidders, carries an address of "Spring Street." It was commented that this address doesn't come up in Manchester conversations very much. It was also noted that this parcel was part of what used to be called "Soulesville" by some, and "East Manchester" by others. But it had an even earlier name. So what is the history of this area?
The First Map of Manchester
In a prior research visit to the Michigan Historical Center Archives in Lansing, the author was compiling information for the Freedom Township 175th Anniversary History book. We inquired of the State Archivist: "What is the oldest map that shows individual township level details in Washtenaw County?"
The archivist presented a map printed in 1844, prepared by a survey team led by Douglass Houghton, who had been appointed State Geologist in 1837. Houghton was a successful doctor in Detroit, a large landowner, and an eminent scientist. He was also best friends with Stevens T. Mason, the first governor of Michigan in 1837. Mason was concerned that Michigan was getting bad press with westward immigrants as a swampy, unhealthy and cold state, with poor farming potential, compared to Ohio and Indiana. So he worked with Houghton to commence a complete state survey, including geology, botany, zoology and topography aspects. Houghton assembled a crack team, including Bela Hubbard (assistant geologist), Sylvester Higgins (topographer and map maker) and Columbus Douglass (assistant geologist).
The team systematically moved from county to county, recording vast amounts of information for processing into maps and written reports. We were able to secure a digitally scanned, high resolution image of the Washtenaw County map. An excerpted portion of the map showing the southwestern townships is presented in Figure 1. The archivist also verified that this is the oldest Washtenaw County map with this level of detail, referencing an expert work by Louis Karpinski on Michigan map history, noting that the map actually reflected details from 1837-1839, when the survey work had been performed.
The map impressed us with its detail, and we studied the roads, topography, settlements and other information compared to today. Many of the road patterns which exist today were already in place when the map was completed, but some things were different (e.g., Chelsea didn't exist, but its predecessor village Pierceville did). The Palmyra and Jacksonburgh Railroad had been surveyed but not yet constructed – it would not be completed until 1855 to Manchester.
But the most interesting thing was the presence of a "twin" village next to Manchester called "Lexington." Earlier Manchester histories reference such places as Elba, Windham and Soulesville, but not Lexington. The 1843 Washtenaw County survey map by Samuel Pettibone does not show it, nor does the 1856 plat map for Manchester Township. The 1881 Washtenaw County history and other references are also silent. There were no families with the Lexington surname showing up in the census data for the Manchester area.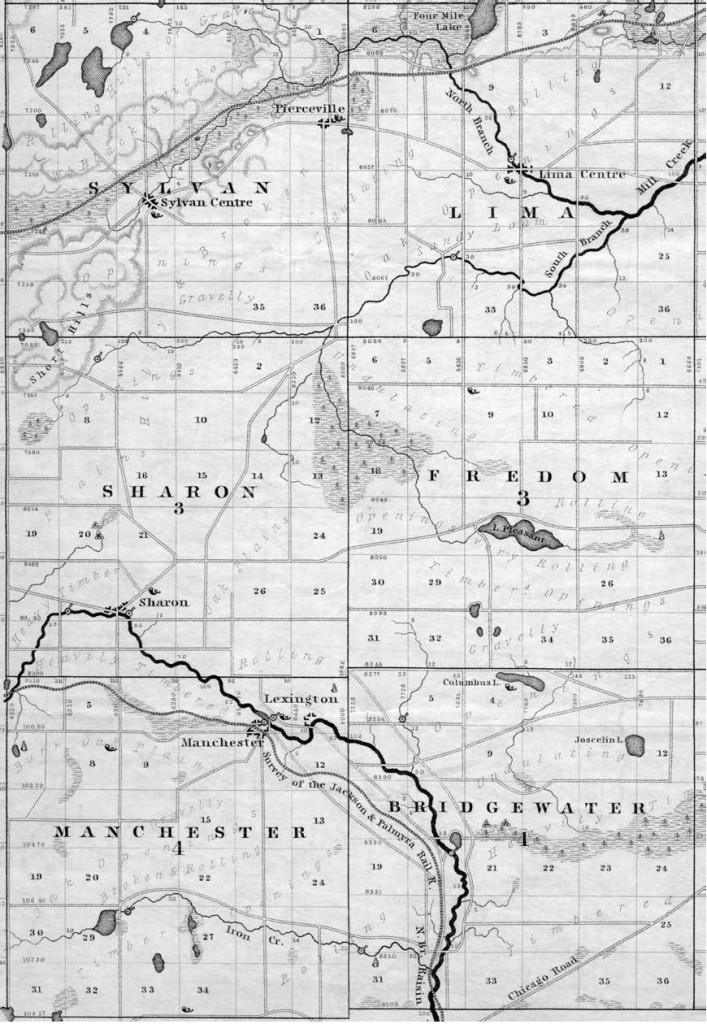 Figure 1 – An excerpt from the map, showing details existing in the summer of 1839. Lexington is the cluster of four buildings on the River Raisin bend in Section 1 of Manchester Township.
Lexington to Soulesville to East Manchester
By comparing the location of the "Lexington" area on the 1839 survey map with other historical Manchester maps, it is clear that Lexington is the settlement and location that was ultimately known as Soulesville, founded by initial settler James J. Soule (Sowle) in 1834. Soulesville sat in Section 1 of Manchester Township, on the west bank of the River Raisin, just north of Austin Road where the road crosses the river/millpond at the present village offices. Soulesville was a cluster of buildings including a dam, two mill races, a sawmill, homes and other manufacturing buildings, which Soule developed between 1834 and 1843, after which he sold everything and left the area for Wisconsin. The Manchester Village offices, library, parking lots and water treatment facility occupy the land first known as Lexington, then Soulesville, and then East Manchester (by 1870), and which finally was absorbed by Manchester.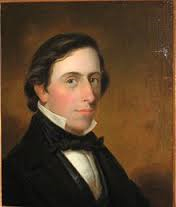 Figure 2 – Douglass Houghton
So where did the name Lexington come from? A search for records of Douglass Houghton's surveys began in the State Archives. The archives contain Bela Hubbard's original field notebook and diary, which recorded his visit to Manchester on June 24 and 25, 1839. He made notes of conversations with Elijah Carr and other residents as he recorded information on the area, and prepared detailed sketches of geological formations. This confirmed that the map published in 1844 actually recorded field conditions, villages and roads from the team's survey in 1839, not 1844.
We subsequently found confirmation from Sylvester Higgins' January 12, 1840 report to the State Legislature that the Washtenaw County survey was completed in 1839. Because of the state's budgetary problems resulting from wildcat bank failures, the state financial support of railroad development, and inflation, the state did not come through with financing for the actual map engraving and printing (done in Washington, D.C.) until 1842-1843, and the county maps were issued in early 1844. And only after Houghton had found rich deposits of iron and copper in the Upper Peninsula, which brought out the settlers, the interest in the maps, and the money for printing them!
At the Bentley Library at the University of Michigan, Douglass Houghton's original field notebooks are preserved. It turns out he made his first cursory visit to Manchester on August 13, 1837. Since Houghton's primary objective in 1837 was quickly finding salt springs, and various minerals and ores, he visited only briefly, leaving it to Hubbard to come back two years later to do the detail work. It is presumed that Sylvester Higgins also did his detailed mapping in 1839 as part of Hubbard's team. We could find no record of Higgins' field notes.
The Palmyra and Jacksonburgh Railroad was chartered in 1836, capitalized by 1838, and a route surveyed by 1839, but the extension from Tecumseh through Manchester to Jackson was not completed at the time of Houghton and Hubbard's work.
So, again, where did the name "Lexington" come from? Houghton's team members were experts, and their accuracy and meticulousness is well documented in the state records. So clearly they were told "Lexington" when James Soule was asked the name of the settlement. Given the propensity of some settlers to name settlements after their original homesteads in New York State or New England, we went looking. Soule received his land patent for the Lexington location in September 1834, while he was a resident of Ontario County, New York. By early 1835 he is in Manchester, Michigan, receiving other government land patents in the area.
In looking at Ontario County, there is no current locale by the name of Lexington. But it turns out Soule lived all over New York during his life before Michigan, including at least four different counties. Lexington, New York is in Greene County, in the beautiful Catskill Mountain area. Could he have been there at one time, and developed some emotional attachment? And why didn't the Lexington name stick?
Even after James Soule left the area in 1843, the name "Soulesville" was attached to the general area around the mill through at least 1860. By 1870, it was clearly referred to as "East Manchester." The 1872 Birds-Eye View Map of Manchester shows a separate image of "East Manchester," portraying a vibrant and industrious corner. See Figure 3 below.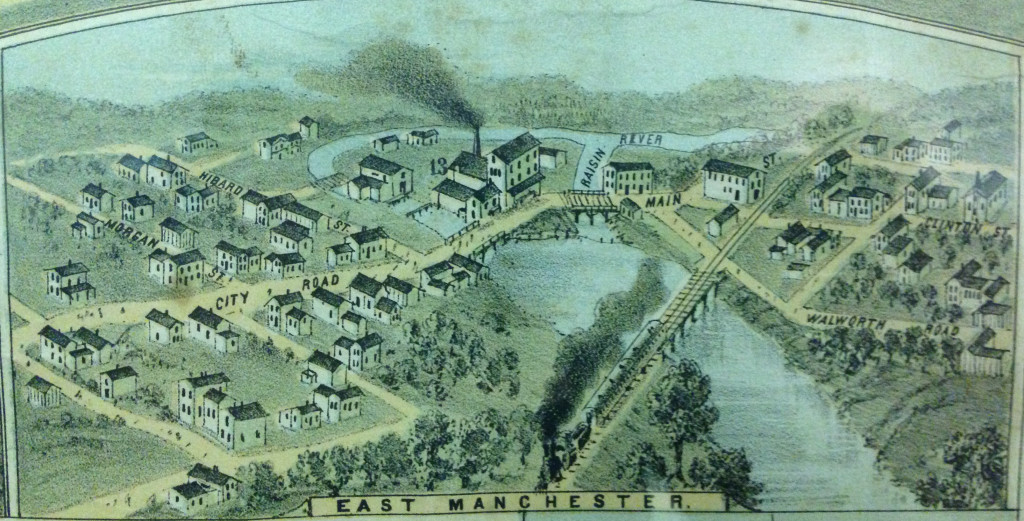 Figure 3 – A Prosperous "East Manchester" in 1872
Looking at this 1872 map, "Walworth Road" no longer exists today as a connecting road to Main Street. "Clinton Street" has become the current Parr Road, and what is now Spring Street shows at the northeast segment of this map as an unnamed street looping around and behind what appears to be a church or school, and then coming southwest to connect to Walworth Road. A segment of Walworth Road remains today as a private driveway.
And what of the 2014 tax foreclosure parcel obtained by the Village? In 1872, this parcel would be on the east side of Walworth Road, behind the two houses facing Clinton Street, and suitable as a backyard viewing spot for trains crossing the bridge. With Walworth Road abandoned in this area, the parcel is now landlocked by other private owners.
Looking at the industrial buildings by the dam, the remains of the mill race running to the west of the East Manchester industries can still be detected from the parking lot and grassy area behind the current village hall.
Postscript
Finally, looking back at the Figure 1 map, and comparing the 1839 roads to today, we see many familiar routes. Three primary routes led into the Manchester area in the 1830s for early settlers coming from New York and New England. The Territorial Road west out of Ann Arbor brought settlers to Lima Center and Pierceville, and then south. The Chicago Road (US-12) brought them from Detroit to the southern ends of our townships. And a Native American trail branching off the Chicago Road at the Textile Road/Platt Road intersection brought them through Lodi Plains and down the current Weber/Bethel Church roads into Freedom and Sharon Townships. But that is another story….