Annabelle Valentine Delivers Manchester Love (And Water) to Flint
Annabelle Celkis made her way up and down Main Street, in and out of businesses handing out cards and cookies to everyone she met on the Thursday before Valentines Day. If you are not familiar with Annabelle's Valentines Mission, read about it HERE. Then on Saturday she and her family drove more than 700 gallons of water donated by Manchester residents and out of towners who read of Annabelle's mission on-line, to Berston Field House – Center for Kids in Flint to hand it out along with Valentines & goodies.
Here is an account of the work Annabelle and her family did this year.
Thursday – Manchester
Things were different this year. Annabelle's mother, Stephanie Celkis explained, "It was wild this time around because so many more people knew about her and so people were actually coming up to us and asking if this was Annabelle Valentine, and introducing themselves. And so many people said over and over how big she's gotten and they remember her when she was just a little girl not even in kindergarten and I remember when she first started she was just a little Tater Tot now here she is a grown girl. This village has watched her grow. It really makes you feel like home." Her mother continued, "There still were a few people that refused or hesitated a gift from her, asking if we were selling something. Hahaha. Not normal to just go around passing out cards and love. "
Not photographed – Annabelle presented a huge basket of goodies and cards to the bridge construction crew. Her mother reports that the men were puzzled, but loved the ideas of cookies!
The Water
The Cookies
Saturday – Flint
The first person Stephanie talked to in Flint about donating water was Duwanna, the secretary at the Flint Fire Station. She arranged to take the water Annabelle was collecting and have it distributed there. Once Duwanna knew more about Annabelle and her Valentine mission, she realized that Annabelle would probably want to interact more with the residents then just drop off the water, so she arranged a meeting with the Commisioner of District 1, Bryant W. Nolden and to have the Celkis family deliver their water to the Berston Field House – Center for Kids. Stephanie is grateful because when they stopped by the Firestation to drop off Valentine goodies for Duwanna, they saw how the Fire Station distributed water and they would have had to just unload the water and leave because the the army was handing out the water.
At the Berston House, Annabelle and her family got to hand the water and Valentines to people as they drove up. With over 700 gallons of water, they thought they had quite a lot. Stephanie explained, "Imagine our surprise when that water was portioned out in a matter of 30 minutes! All that time preparing and organinzing to come and it was gone so quick. It was so humbling. It was so sad to see the allowed portions per family… not even enough for each person to have enought to drink, brush teeth, cook and etc. They are still in such a need for help. It was hard to witness. I just wished we could have done more. But everyone was so grateful and full of smiles. Not one person bickered or complained politically."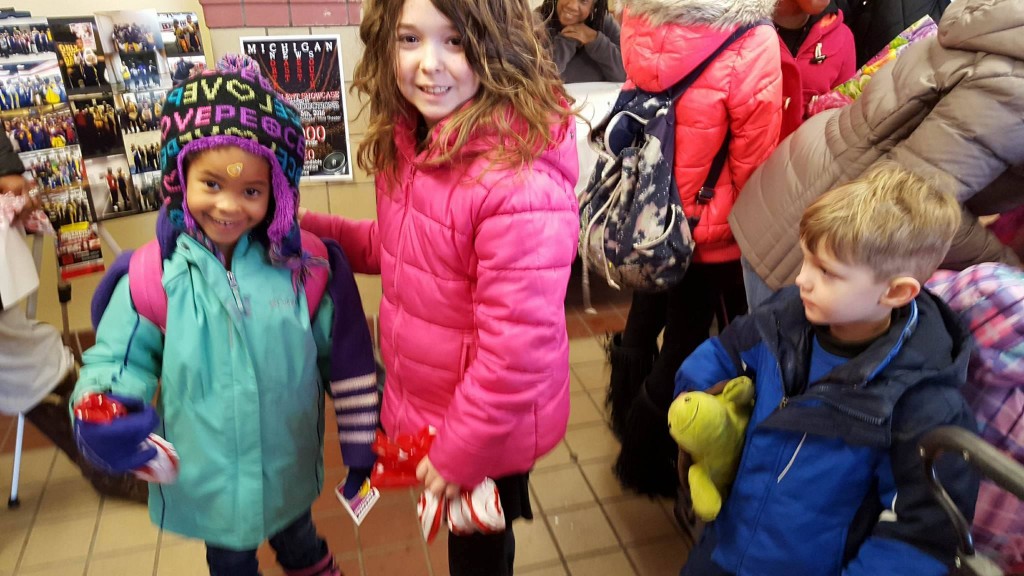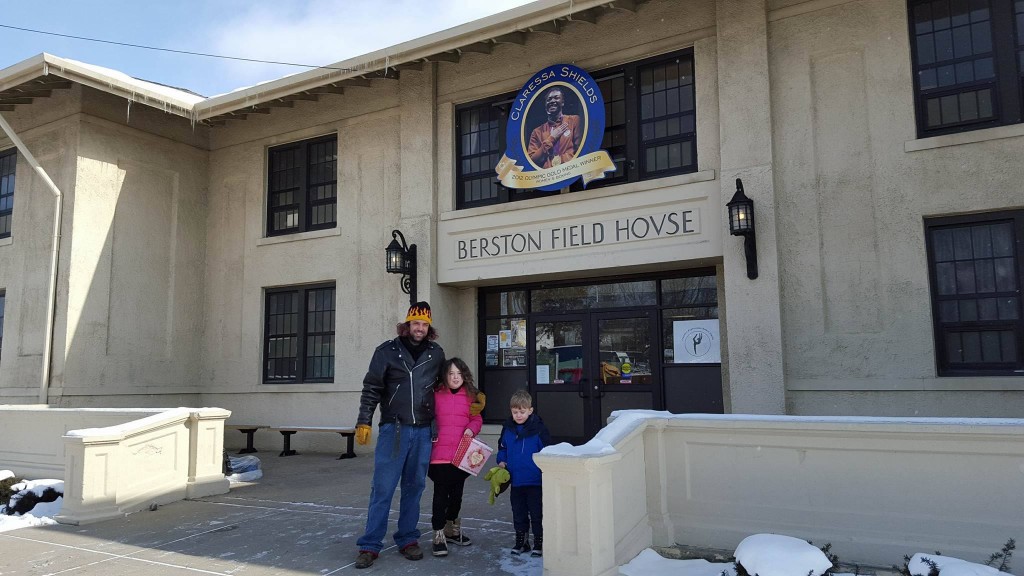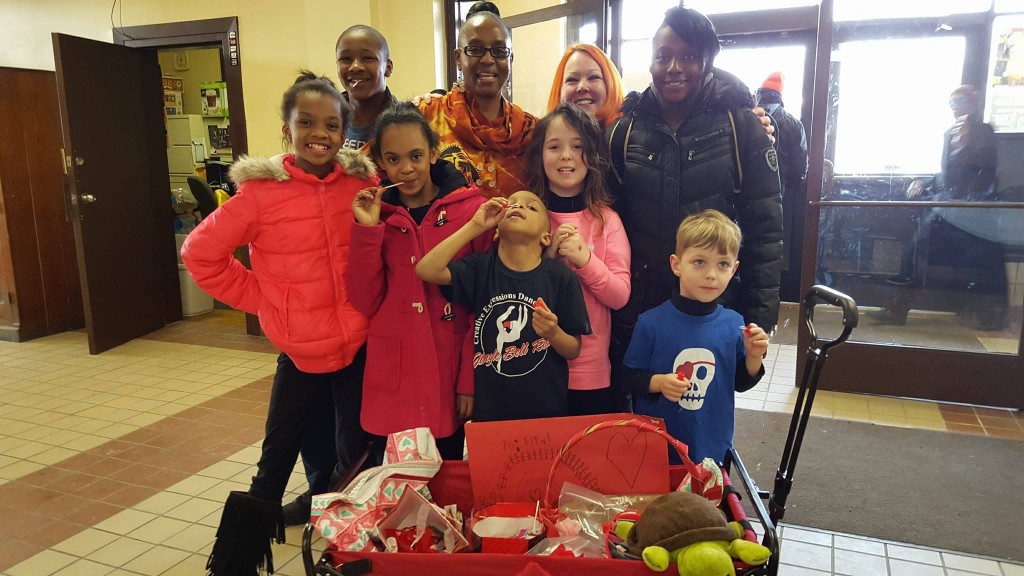 After passing out Valentines to her village on Thursday, her mother asked Annabelle what her favorite part of the day was. She said, "Everything!" So then Stephanie asked "Why?" Annabelle answered that she loved passing out all the Valentines, but especially at the gas station where she met Tom and had made his day and she could tell that he really needed that. She also responded that she loved the way they got to talk to all the villagers, and tell the story, and the way they made new friends.
After they were done in Flint, her mother asked the same question. She responded that her favorite part was playing with the Valentine Bubbles (she passed out) with her new friends there. She wished she didn't have to leave. But, her mother stated, Annabelle said, "Over all, my favorite part to everything was seeing so many smiles."
Her mother, Stephanie, explained, "My child really loves to love. She believes it is her mission to teach others. She takes it very seriously. She said she even believes she is ALMOST like a Holiday person for Valentine – like Santa or the Easter Bunny or Jack Skeleton. She has said that the past couple of years, and it makes me laugh everytime. Not in front of her though."
Stephanie wanted to thank everyone and for everyone to know how grateful she is. She said, "I am really proud of this village, my friends and family. She had support from all around the world this year. It is amazing and humbling to be a part of something like this. To work so hard to spread love, and have so many people power us up with their love. I would like to thank everyone for helping me support my child and give her the confidence to continue such things. Being a parent is hard, but when you have a whole village (literally), raising her, big things happen. With all my heart thank you. I am so proud to live where I do with people like you, and I am so proud of all my friends from around the world who have shared her story and helped support her."