The Brandenburg Project to bring baroque to Manchester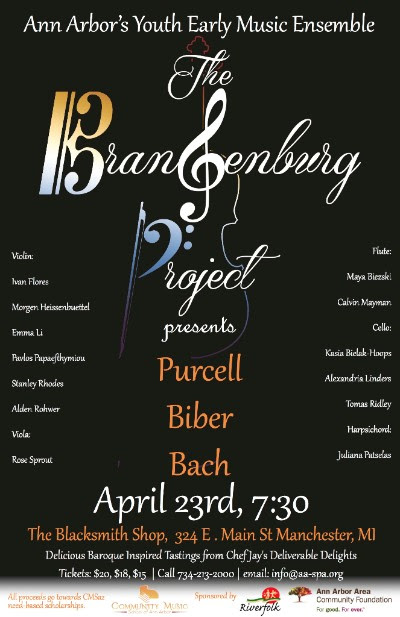 Riverfolk Music & Arts Organization have announced the 7th concert in the Blacksmith Shop Concert series, The Brandenburg Project! They will be performing live at The Blacksmith Shop, located at 324 E Main St., on Saturday, April 23, 2016 at 7:30 pm. The youth-led ensemble from The Community Music School of Ann Arbor's is dedicated to learning and performing works from the Baroque period and is made up of students aged 10 to 18 from the greater Ann Arbor including Manchester's own twelve-year old Alden Rohwer on violin.
Reservations are recommended as seating is limited. Adult tickets are $20 with reduced pricing for seniors and students. Tickets include "Baroque inspired tastings" from former Manchester resident, Chef Jay of Deliverable Delights. To purchase tickets click HERE.
This concert is sponsored by Ann Arbor Area Community Foundation.