Check Out a Great Summer Vacation with Your Library Card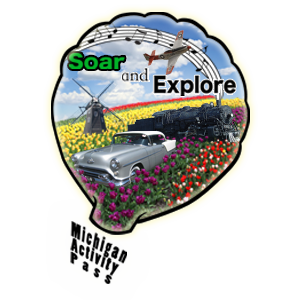 Planning a trip this summer? Want to explore Michigan parks and cultural attractions? With your Manchester District Library card and the Michigan Activity Pass program, you can check out free or discounted admissions to more than 400 Michigan attractions.
Now in its ninth year, the Michigan Activity Pass (MAP) program continues to grow and add attractions. New to the program this year are seven National Park Service sites in Michigan, including Sleeping Bear Dunes National Lakeshore, River Raisin National Battlefield Park, Pictured Rocks National Lakeshore, and Isle Royale National Park. Other venues added to the program this year are popular favorites like Skydive Tecumseh and the Michigan Renaissance Festival.
There are some important points to keep in mind when taking advantage of the program. Passes are checked out directly from the program's website, michiganactivitypass.info. Library patrons may check out one MAP pass per library card every seven days. When you print out a MAP pass, you have seven days from the date it was reserved to use it. Only passes printed from the MAP website can be redeemed at the destinations. Photocopies will not be accepted. And of course, please call ahead or check the venue's website prior to your visit to verify hours of operation, availability, and any other necessary details.
For a full list of attractions and to reserve your pass, have your library card ready and go to michiganactivitypass.info. If you're a Manchester resident, you can obtain a library card and have access to all the benefits of the MAP program by visiting the Manchester District Library at 912 City Road.