2016 Guide to the State Primary Election for the Manchester area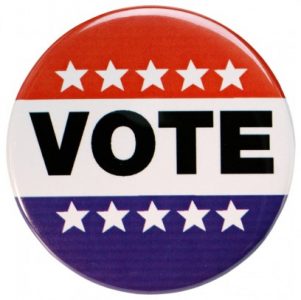 On Tuesday, Aug. 2, Michigan will will hold its State Primary Election. In addition to a Washtenaw County Community College Proposal, which will be on all four townships' ballots, there are contested elections to vote in depending in whether you choose a Republican or Democratic Party ballot. We've reached out to all of the candidates in contested local elections for statements.
STATE REPRESENTATIVE for the 52nd DISTRICT
All Democrats in the four townships in the Manchester area will be able to vote for a State Legislature Representative in the 52nd District. The seat is currently filled by Rep. Gretchen Driskell who is leaving to run for US Congressional Representative in the 7th District. Two candidates are running for the Democratic nomination, Barbara Ryan Fuller of Manchester and Donna Lasinski of Ann Arbor. The winner of the race will face Republican Randy Clark of South Lyon in the November general election.
Barbara Ryan Fuller:
"I am an authentic voice for western Washtenaw County. As a 31-year resident of Manchester, where my husband and I raised our two now adult children, I identify with the unique character and the independent spirit of the people who live here.
I am experienced, respected, and trusted with a proven ability to connect people to get things done. Nobody will work harder than I will for the people of this district.
Currently I am Vice-Chair of the Washtenaw County Board of Road Commissioners, a Washtenaw County Parks & Recreation Commissioner, and a board member of the Michigan Broadband Cooperative. I have served as the Deputy Supervisor in Pittsfield Charter Township and as a legislative aide in Lansing. My first career covered 12 years as a dental hygienist. I earned my Bachelor's degree in Occupational Teacher Education from the University of Michigan and my Associate Degree in Dental Hygiene from Grand Rapids Community College.
Hundreds believe that I am the best candidate and have lent their good names in support of my candidacy. I am endorsed by more than 250 individuals and organizations. Among them is Manchester Village President Pat Vailliencourt and Manchester Village Trustee Marsha Chartrand.
My priorities include rebuilding our infrastructure (roads, water, and sanitary systems, and bringing affordable broadband internet service to everyone); providing a world-class public education for all children, and making training for 21st century jobs readily available; protecting our vital water resources; and restoring local control to allow us to shape our communities as we see fit.
My decades of experience, the respect and trust of hundreds of individuals and organizations, and my authenticity as a western Washtenaw resident set me apart from my opponent. For these reasons I believe I am the best candidate in this race. I invite you to visit www.barbfuller4staterep.com"
Donna Lasinski:
"I am running to be our next State Representative to ensure that Lansing is our partner, not an obstacle, in building the better future we see for ourselves.  I have lived in western Washtenaw County for 20 years, raising my family, starting and running a small business, ThinkStretch, and advocating for stronger schools and protections for our environment.
My life's work reflects my strong commitment to democratic values – equality of opportunity, environmental stewardship, and an economy that works for everyone.
Serving on the Washtenaw Association of School Boards and as an elected Ann Arbor School Board member demonstrates my commitment to ensuring that the backbone of our communities, our public school systems, are stable, sustainable and strong.
As a small business owner, I recognize the importance of using local labor and suppliers.  My business has grown by returning women to the workforce and focusing on deep community engagement. I know firsthand that local business growth is critically important to our communities.
And it's not just education and business growth. Our drinking water is at risk.  We lack universal broadband access.  Our roads and infrastructure are failing at an alarming rate.  The government agencies responsible are failing us at every level.
Honored with a Michigan Political Leadership fellowship, a bi-partisan program, I spent a year of weekends crafting evidence-based legislation to solve our most complex issues, like roads and infrastructure. I am ready to craft the policies and legislation we need to move forward.
I deeply appreciate State Senator Rebekah Warren's endorsement: "Lansing needs more people like Donna: people who don't compromise on their values but work to build coalitions to find solutions to our complex problems."
I would be honored to earn your vote in the Primary election on August 2nd or by absentee ballot."
All Republicans in the four townships will be able to vote for a 7th District Representative to US Congress. Read about incumbent Tim Walberg on his website, walbergforcongress.com and in this article we ran about his most recent town hall in Manchester. Read about his challenger, Doug North of Jackson on his website, northforcongress.com. The winner of this race will face Democrat Gretchen Driskell in November.
BRIDGEWATER TOWNSHIP TREASURER
Republicans in Bridgewater Township will be able to vote for Township Treasurer. Current Bridgewater Township treasurer, Michelle McQueer is being challenged by John Wheeker.
Michelle McQueer (no photo):
"I am the present Bridgewater Township Treasurer. I have had the pleasure of raising my family in Bridgewater for the past 20 years. It has been my honor to serve our community with fiscal accountability and transparency. I care very much about serving all residents of Bridgewater, with the mindset of our rural fabric that makes a true farming community. As your Treasurer, I have been able to find real solutions to the burdening issues in our community. In the first year of office I was able to accomplish the refinancing of the sewer bond, saving the township over $79,000, pursued a $20 per month fee reduction for the sewer district customers, and collected all delinquent personal property taxes without litigation. My agenda continued with securing a no-fee banking for the tax fund, increased the interest earned on saving funds, and created regular office hours at the town hall. As Treasurer we have had four successful audits and County tax settlements, as well as returning to the general fund a portion of the Treasurer's budget. Finally, I have supported no new Township taxes and used current general fund dollars for road maintenance and fire protection. Our Township is fiscally stable.
I will continue putting in place policies and procedures to keep our Township compliant with State law, safe guarding our funds. I want to find a way to make online tax payment's fee free and would like to see the zoning permit fees eliminated for most permits. I will continue to serve with integrity, fiscal awareness, and a generous heart. My commitment is to always support our rural community, never supporting connective trails or big business and large housing projects. I have the experience, integrity, passion and a desire to serve all township residents with respect."
John Wheeker did not respond to our requests for a statement.
MANCHESTER TOWNSHIP CLERK
Republicans in Manchester Township will be able to vote for Township clerk. Current township clerk, Ann M. Becktel is being challenged by Danell Steele Proctor.
Ann M. Becktel:
"My name is Ann M. Becktel, Manchester Township Clerk since March 2003. I am a lifelong resident of Manchester. My husband, Larry, had his own insurance business in Manchester for 38 years, until he retired. He was a former mayor for the Village of Manchester. We raised three children here, and have 4 grandchildren. My first job with the township started as an election inspector. I have also been chairperson for the Manchester Community Schools and Village of Manchester. Both of my parents worked elections and my aunt Dorothy Burch was Township Treasurer for many years.
When I started with Manchester Township as office administrator I worked with Kathy Hakes who was the clerk. Kathy retired and I applied for the job as clerk, I interviewed and was appointed by the Board of Trustees to fill the remainder of her term. I then ran for my first election in November 2004 and have been clerk since then.
I find the job as clerk challenging and fulfilling. There are many facets to this position, including voter registration, conducting elections, maintaining custody of all township records, board meetings, ordinance books and general ledger.
I am looking forward to seeing some projects through that the township has started. There is the property across from the Township Hall, acquired from Wallace & Wallace, Inc. There is a committee working on the plans, costs and needs of the township and the fire department to be presented to the Board of Trustees. This is the biggest project for us right now.
I would like to remain working with this community as the Clerk of Manchester Township. Thanks to all that support me."
Danell Steele Proctor:
"I am a lifelong resident of Manchester and proud to call it home! I have been married to my husband Jeff for 31 years and have two daughters, Emily 20 and Abigail 18.
Growing up in Manchester has taught me the importance of community. I am active in the Manchester Community Fair, an avid Manchester Dutchmen Fan and attend Community Bible Church. My hobbies are spending time with family and friends, scrapbooking and camping.
Some of my previous experience which will help me fulfill the duties that I will be tasked with doing as clerk include; 16 years of banking of which I was employed at Comerica Bank and United Bank & Trust both in Manchester and 20+ years of office management experience. I believe that I would bring experience as well as a fresh outlook if I were elected.
By electing me for Manchester Township Clerk you are electing not only someone who will take pride in the job, but also someone who is involved and wants the best for the community as a whole. Manchester isn't just a place or a town to me; it is my home and I will make sure that it is taken care of."
MANCHESTER TOWNSHIP TREASURER
Republicans in Manchester Township will also be able to vote for Township treasurer. Current township treasurer Laurie Carey is being challenged by Brenda Bristle.
Laurie Carey:
"Since being elected after my appointment as Township Treasurer I have brought many positive change to my office including expedited tax payments, improved banking practices, collection of major tax delinquencies, grouped parcel mailings and creating payment solutions. Using reasonable and creative approaches, I have kept myself available to answer questions and solve problems for anyone needing help. I continue to be a strong and independent voice on our Township Board, keeping the needs of our residents, our Township, and our hard earned tax dollars my priority. I have been active on several committees for Manchester Township including creating innovative ways to cut costs by facilitating a major property donation to the Township, future planning and use of township buildings and property and  fire department compensation committees. My future plans include credit card processing for tax payers, an improved township web site and the continued protection and use of our funds to insure that the needs of the township residents are met without wasteful spending. I am a board member of the Western Washtenaw Recycling Authority, member of Washtenaw Treasurers Association, volunteer at the Manchester Wellness Center, long time resident and strong supporter of this great township that we live in. I hope that I have earned your respect and that you will continue to support the work that I have done so far as your Township Treasurer. Thank you!"
Brenda Bristle:
"Manchester Township needs a Treasurer that has extensive experience with investments and finances. I have worked in the banking and finance industry for over 18 years. In addition to working at the bank, I became a farmer when I met Jeff Bristle in 1988. I helped grow our small farm to over 3,000 acres with numerous employees and equipment. I did all of the billing, accounting, record keeping and even helped out in the fields!
I will help Manchester Township create more revenue by making good investments and streamlining tax payments. I will make sure our community no longer has to worry if there are enough funds to cover basic necessities such as schools, the fire department and road repair. I have lived in Manchester for 28 years and I am proud to call this small town my home. For more information about me, check out my website at www.brendabristle.com."
COMMUNITY COLLEGE RENEWAL AND RESTORATION PROPOSAL
Both Democrats and Republicans will have the Washtenaw Community College Millage Renewal And Restoration proposal on their ballots. This authorizes Washtenaw Community College to levy 0.85 mill for operating purposes for 10 years. Of the .85 mill, .8332 represents a renewal of the 0.85 mill authorization approved by the electors in 2004, which expired with the 2016 tax levy and 0.0168 mill represents a restoration of the portion of the same authority which was reduced by application of the Headlee Amendment. If passed, this will cost a person living in a $200,000 house about 2¢ per week. Click here for more information on this proposal.
Polls open at 7 am and close at 8 pm. You should bring a photo ID with you when you go to vote. Acceptable IDs include a Michigan driver's license or state-issued ID card, a driver's license or personal identification card issued by another state, a federal or state government-issued photo identification, a U.S. passport, a military ID with photo, a student identification with photo from a high school or accredited institution of higher learning, or a tribal identification card with photo. The ID does not need your address. If you do not have photo ID or do not bring it with you to the polls, you will still be allowed to vote; however, you will be asked to sign an affidavit stating that you are not in possession of photo identification. Your ballot will be included with all others and will be counted on Election Day.
On Aug. 2, take time to VOTE!
To view your specific ballot ahead of time, click here. If you still have questions about the upcoming state primary election contact your township clerk.