Trumpeter swan family killed – $1,000 reward offered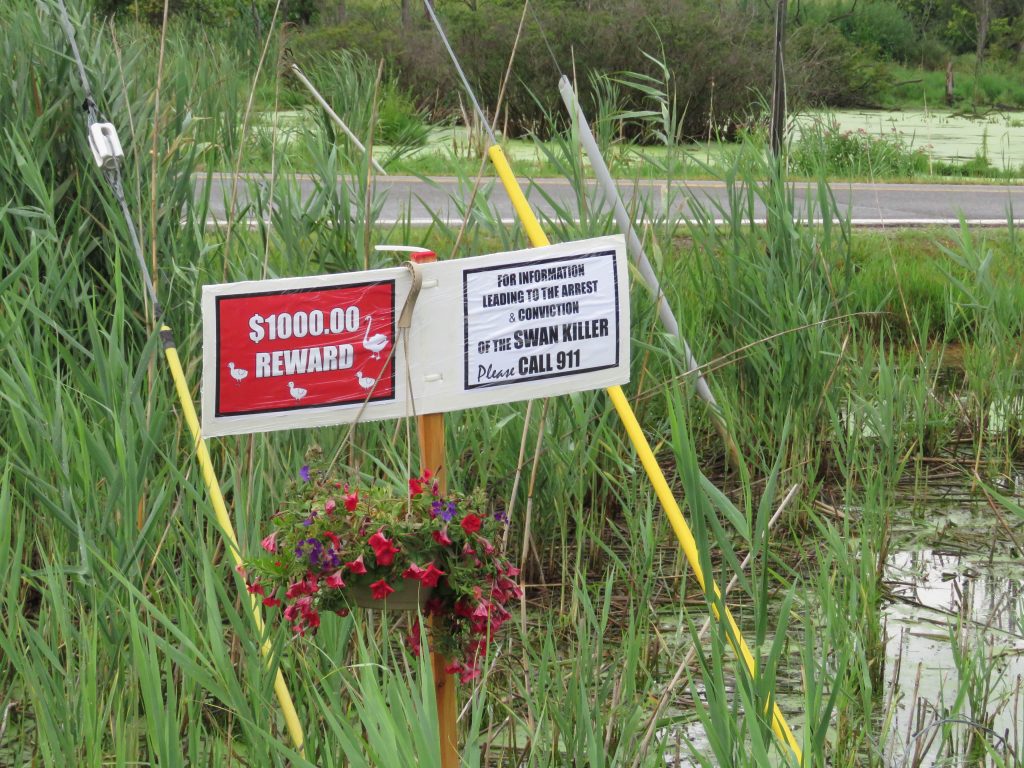 Sometime around 6:30 am on Wednesday, August 10, a family of Trumpeter Swans who lived in the wetland at the Parker Rd. and Scio Church Rd. intersection were run over. The Washtenaw County Sheriff's Department reports that deputies were called to the area where the far northeastern corner of Freedom Township intersects with Lodi, Scio, and Lima townships by numerous concerned citizens, and upon arrival, deputies discovered that 4 juvenile swans and one adult swan had been run over and killed.
"The swans appear to have been sitting along side the water's edge when a vehicle heading south on Parker Rd. just south of Scio Church Rd. left the roadway and ran them over," Derrick Jackson for the Sheriff's Dept. stated.
The Humane Society of Huron Valley released a statement on Thursday, stating that law enforcement personnel examining the evidence believe the swans were intentionally run over. In addition to animal cruelty, because Trumpeter Swans are classified as a threatened species protected in the state of Michigan, the Humane Society, together with the Washtenaw County Sheriff's Department and the Michigan Department of Natural Resources are conducting a joint investigation.
Currently, investigators are looking for what could possibly be a truck or Jeep that is lifted with 18 to 20 inch wheels and tires that are 13 1/2 inch wide. If you have any information please call the Washtenaw County Sheriff's Office's non-emergency number 734-994-2911, the confidential tip line at 734-973-7711, or the Humane Society of Huron Valley's 24-hour animal cruelty hotline at (734) 661-3512. The Humane Society of Huron Valley is offering a $1,000 reward for information leading to the arrest and conviction of the person(s) responsible for intentionally driving over the family of Trumpeter Swans.
Many area residents were saddened to hear the news of their deaths as they saw them multiple times a day on commutes and had become attached to them as they watched the juvenile swans grow up.
"It was a very gruesome scene. Parent and babies all dead. Accidents happen, but this looks like intentional cruelty," says Animal Cruelty Investigator Aaron Soyring. "It's horrible what people sometimes do to animals, and we see it too often here. People who live in that area and drive that road every day are heartbroken. The swans have been a part of their community for years; they enjoy their grace and beauty and watch them raise their babies."
"We know there is a strong link between human violence and violence against animals. It is important we find out who did this not just because of what they did to this family of swans and the people who cared about them, but also for the safety of the community," says Tanya Hilgendorf, President and CEO of Humane Society of Huron Valley.
The Humane Society stated that the $1,000 reward was made possible by a donor who wishes to remain anonymous.