Blacksmith Shop Concert Kick-off Sept 24th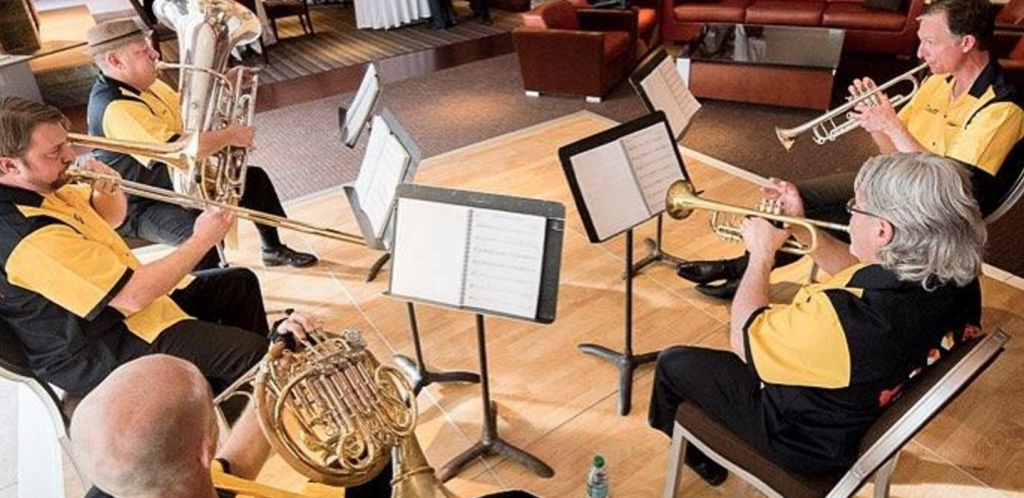 After a successful first year, Blacksmith Shop Concert Series, presented by Riverfolk Music and Arts kicks, off its 2nd rousing season this Saturday, September 24th. Doors open at 7:15pm and Metallurgy Brass Quintet, will be performing from 7:30-9pm. Blacksmith Shop Concerts made an impact last year not just due to the talented performers brought in, but also the food and drink samplings provided. The 2nd season should be equally scrumptious.
Almost every concert last year sold out, so purchase tickets early. Adult tickets are $20, students $10, and seniors $18, with a limited numbers of each. Tickets can be purchased here or by calling 734-223-6876, or at the door if still available.
Saturday's opener, Metallurgy Brass Quintet, is the "house band" for New House Productions, a corporate management training and consulting firm based in Midland, Michigan. The members of Metallurgy have decades of combined experience performing with ensembles worldwide, including as an ensemble-in-residence for the Baroque On Beaver Music Festival, Beaver Island, Michigan.
Blacksmith Shop Concert Series will present 8 concerts from this weekend til May 27th.
Septemeber 24 – Metallurgy Brass Quintet
October 22 – CAS Faculty Concert
November 26 Creole du Nord
January 28 – Raisin Pickers
February 25 – Jimmy Leach Trio
March 25 – Dup Mosaic
April 22 – Young Men's Ensemble, Boychoir of Ann Arbor
May 27 – Dodworth Duo
This series is generously supported by the Ann Arbor Area Community Foundation.