Voter's Guide to the Nov. 8, 2016 Election for the Manchester Area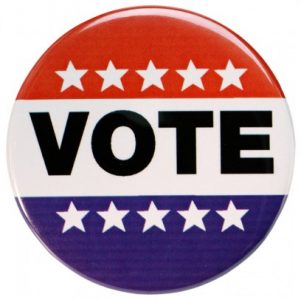 On Tuesday, November 8, 2016 all of the United States will head to the polls to vote for the next president. And while the top of the ticket is important, the down-ballot races may have the most immediate effects on your daily life. We've assembled a guide to local, contested races in Manchester, Sharon, Bridgewater and Freedom Township as well as the Manchester Community Schools Board race.
Don't forget to attend the Manchester School Board candidate forum scheduled for Thursday, Oct. 27 at 7 pm in the  Board Room of the Ackerson Building located at 410 City Road to learn more about the candidates in person.
To view the complete ballot you will be voting on, click here and find your township and in Manchester, your precinct.
BRIDGEWATER TOWNSHIP SUPERVISOR (you will be able to vote for 1) Laurie Fromhart (Republican):
"I am running for Bridgewater Township Supervisor to provide a level of public service that is built upon efficient and effective local government that responds to the needs of our constituents. I've had the pleasure to call Bridgewater my home for the past 18 years raising my family here while at the same time being actively involved in our local government. I've had the honor to serve as Township Clerk for the past six years, and now ask for the community's support to serve as their Township Supervisor. I look forward to the opportunity to serve in this new capacity while upholding and protecting the values of our rural community. Since taking office in 2010 I have managed the renovation of our historic township hall; applied for and received an $11,000 grant for polling place improvements, effectively managed elections and voter registration acquiring software and equipment to improve accuracy and efficiency; improved overall record-keeping of the Clerk's Office; expanded and enhanced the township's website as Website Administrator; fiscally responsible for collecting delinquent license fees, re establishing escrow accounts, and identifying an unpaid sewer connection fee of $22,000; supported the recalling of sewer bonds to save interest, and the reduction in sewer operation and maintenance fees; and served as Chair and Vice-Chair to the Planning Commission (2008-2012). As Supervisor I will continue to seek improvements to our Township properties to meet the needs of our community, develop a capital improvement plan to address the sewer plant's aging infrastructure, work to resolve on going issues with the sewer plant's leaky clarifier system, and oversee the completion of the Bemis Road Bridge replacement project. My experience will provide for a seamless transition into the role of Supervisor due to my ability to work effectively with boards and commissions to achieve desired outcomes, along with my commitment to public service bringing accountability, integrity, and transparency to the position."  
David Horney (no party affiliation): did not respond to our requests for a statement.
MANCHESTER BOARD OF TRUSTEES (you will be able to vote for up to 4):
Ronald A. Milkey (Republican):
"My name is Ron Milkey. I have decided to run for Manchester Board of Trustees as a way to use my talents to give back to the community that has supported me throughout my life and professional career. I was born and raised in Freedom Township, graduated from Manchester Community Schools and moved to Kalamazoo for 5 years to attend Western Michigan University. Upon graduation, I moved back to Manchester, founded Premier Contracting, Inc, and have lived in the Village of Manchester and Manchester Township ever since. I have been married to Linda (Lentz) for 12 years and have two step sons, Leo and Eli, and a daughter, Olivia. I believe Manchester Township is currently facing several issues for which I am uniquely qualified to help. The first is addressing the lack of storage space at the Township Fire Department. Our fire department has been blessed with generous financial support from several estates, allowing the aquisition of some of the best firefighting equipment available. There is not enough space inside the current fire hall to store this equipment. I believe my 26 + years in the construction industry can help the township resolve this issue in a financially responsible way. As a township, we must also maintain the strong financial position that our past and current boards have established. As a long time business owner in the community, I will use my skills and knowledge to maintain this financial strength while continuing to improve the services we have come to expect. I am especially interested in improving high speed internet access to our rural community. We must also improve the communication between local officials and residents. Whether this is in regards to the Rover Pipeline, maintenance of roads and bridges, or simply better access to officials through more convenient office hours, I believe Township officials have got to improve access and availability to residents. Again, my experience owning a local business, along with my previous lengthy experience on the Village Planning Commission and Downtown Development Authority will be a valuable asset in these matters. For further information or to comment on issues in the community, please feel free to contact me at my office (428-9826), at my home (428-0987), or via email at ron@premiercontracting.com Thank you in advance for your support and I look forward to serving you as a Manchester Township Board of Trustees member."
Lisa Moutinho (Republican):
"My name is Lisa Moutinho and I'm a 1984 graduate of Manchester High School. Although I left the state of Michigan shortly after that graduation, plans for returning were underway not long after! Manchester is my hometown and a place that I love. When I finally brought my family back here in 1998- after living among the other hundreds of thousands who inhabited the Sacramento, California area – I viewed our community with a new perspective and greater appreciation. Manchester offers a quality of life that is second to none, and the preservation of that quality is one of the primary reasons I chose to become a candidate for trustee. Secondly, from a fiscal perspective, maintaining the infrastructure and core services like police and fire in our peaceful township has become increasingly challenging. I would offer that my 17 years as an employee with Washtenaw County Government (12 with the 14A District Court and 5 with the County Administrator/Board of Commissioners) continues to provide me with the mindset that civil servants must be stalwart guardians of the public's money. Our residents and our businesses work hard to earn money and pay their taxes; their elected officials should exercise extreme consideration when deciding how to spend it. As a trustee, I intend to offer representation that is in the best interest of those who reside and conduct business in our township, through informed, fiscally responsible decisions. Manchester has a legacy of long-serving board members, and those who have achieved this distinction have done so through a willingness to work cooperatively and collaboratively with one another, our citizens, our local businesses and other municipalities in order to achieve positive results. I look forward to the opportunity to work for our residents and with the other members of the Manchester Township Board in order to provide accessible, transparent, fiscally responsible governance. I welcome any questions or feedback and can be reached at lisamoutinho@gmail.com."
Daniel T. Burch (no party affiliation):
"First and foremost; I would like to thank Manchester Mirror for giving me this opportunity to express my dedication and passion for Manchester Township and the Village community. I have been a resident for my entire life; thanks to my parents Tom & Ruth Burch for following their parents and electing to settle in Manchester. I am a Life time member of St. Mary's Church and Alumni of the Manchester School system. My past and present experience within the community includes: Past Village planning trustee, multiple volunteer participations in local activities to support our great community. Currently, I am Vice-chair of the Township planning commission, and an alternate of the Manchester joint planning commission that creates transparency and protection for the residents of the township and village. Another passion of mine is the continued focus on motivating a collaborative coordination of cross-functional communication to maintain a positive relationship that fosters the well-being of our community into the future. Yes, I am a 3rd generation resident of Manchester and very proud of it. My love of this community, the preservation, the heritage, and keeping the Village/Township persona has always been a focus of my family and me. I am proudly married to my wife, Deb Burch for 28 years this November, with six children, two grandchildren, and one additional grandchild on the way. Deb, myself, and our children have all participated in our school system and progressed to higher levels of educational opportunities. Danielle and my son-in-law Carl have blessed us with two beautiful grand daughters and a grandson on the way. Sarah will be completing a Degree in art & marketing following her mother's footsteps. Andrew is serving our country – Nuclear engineering in the U.S. Navy. Matthew is attending EMU for Bio-medical engineering with the goal of serving amputees of; Veterans, accident, and birth victims. Abbey is a senior at MHS – a class president and active in many school organizations. Libbey is in 7th grade – focused on following her sibling's footsteps and acquiring a good education that Manchester has to offer.  Again, thank you residences of Manchester for considering me as your candidate for Manchester Township Trustee; I look forward to serving you, representing your concerns, and preserving Manchester's heritage and culture for the future."
incumbent Robert John Seefeld (Democrat):
I have been on the Manchester Township Board for the past four years, I still believe there is more work to do. I am currently serving on a committee that has been working on a Joint Master Plan between the Village of Manchester and the Township for the past 6 months. One of my major goals is to see this through. I am also on a serving on a committee that is working on a needs assessment for the township. The committee is looking at the fire department on what there immediate are and also for the future. There is not enough space for all their equipment to be put inside. We are also looking at what can be done with our township offices to make them more efficient, also what can be done with the property across the street and the old storage building. I would also like input from our community on what they would like our community to be in the future.
incumbent Carl E. Macomber (no party affiliation): did not respond to our requests for a statement.
SHARON TOWNSHIP BOARD OF TRUSTEES (you will be able to vote for up to 2)
Barbara Seabury (no party affiliation):
"I am running for Sharon Township Trustee. I am married and have 3 adult children and 6 grandchildren. I have been a resident of the township for 36 years. My husband Brett and I own and operate Golden Fleece Farm, where we raise grass fed beef and other livestock. Our farm website is www.goldenfleecefarm.com. I am also a retired clinical social worker. As a social worker, I have learned problem solving and conflict resolution skills that would be useful as a Trustee. Sharon Township is a beautiful rural township. I am interested in preserving the rural nature of the township by controlling industrialization and shaping development so that the land and water assets remain clean and beautiful. To that end, I was a co-founder with Trudi Cooper of The Stewards of Western Washtenaw. The Stewards are interested in the preservation of Western Washtenaw through education and community building.  I am also interested in creating a community that continues to be a great place to live and work. Because the township is rural, it is often difficult for neighbors to know each other. In order to facilitate community development I established the Eastern Sharon Township Next Door community online and am the "Lead" for that list. To join a Nextdoor community near you go to www.nextdoor.com."
Trudi Cooper (no party affiliation):
"QUALIFICATIONS: With fellow Trustee candidate Barb Seabury, I founded the Stewards of Western Washtenaw, to help educate Townspeople about environmental issues. I am a 30+ year resident of Sharon Township, and have been a self-employed small business owner for over 25 years. My husband and I raised three children here in Sharon Township. Although I have seen many parts of the world, my best education is coming to know and care for my fellow man. I serve as Election Inspector, and I am currently serving as Deputy Clerk of Sharon Township, so I am coming to understand the concerns of its citizens. I believe that I will be a tempering force on the board, and can represent the heart of the Township. I have an understanding of this area and its residents, and am prepared to be their representative on the board. GOALS: A strong goal is to build community by holding special events to bring the Townspeople together. I will advocate for a wise, long-term governance of the Township and her resources. I will also work to bring high-speed internet to every household. There are many entrepreneurs in this area and I will plan to create methods to get to know each other, from Small Business Fairs to round table discussions. CHALLENGES: There are monied interests that seek to industrialize our quiet rural township through fracking and drilling for oil. People do have the right to extraction on their property, but if done unwisely, many serious, irreparable problems will plague our beautiful Township, from light and noise pollution, to heavy truck traffic, as well as inevitable pollution of our pure ground water. I feel incredibly blessed to be able to drink water directly from my tap. I intend to do all I can to keep our drinking water pure for generations to come. This is true security. SHARON TOWNSHIP'S ASSETS: Sharon Township is peaceful and picturesque, and has many green spaces for recreation. I intend to do my best to conserve the pristine nature of the area. I am prepared to defend it, and to be a member of a board that makes decisions for the greatest good of all concerned. Sharon Township is a rare and precious place, and I will do my best to preserve its special quality."
incumbent Patricia J. Farmer (no party affiliation):
"I am running for the residents of the township and their best interests. The residents in Sharon township like the community the way it is, mostly it has a lot of farms. The people that have moved out here was to get away from the cities and the bustle. Yet we find some residents rhat are trying to change it like the city of Ann Arbor and I don't think most of the residents want this. Washtenaw County is trying to pass amillage for the township residents to pay for the roads which is the counties responsibility and they have added the parks on it which they have millions in their account for the parks. I feel I am qualified for this position. I have been a resident for 18 years. I am a Ford returee of 37 years and have Business education plus all the education that Ford's provided. I have been a trustee for the past four years, amember of the Planning Commision, and a member of Caca. I woul greatly appreciate your vote."
Robert Guysky (no party affiliation): did not respond to our requests for a statement.
MANCHESTER COMMUNITY SCHOOLS BOARD (you will be able to vote for up to 4)
incumbent Christine Fegan:
"The Manchester Community school board of education is losing three seasoned board members at the end of the year. With four seats up for election, I think it is important to elect someone with experience to ensure the students remain the focus of all decisions made. I was first elected to the Manchester Community School board in 2007. During that period of time, I have witnessed the increased budget mandates handed down from the state, and the mounting struggles we (as a district) face as a result. The financial decisions we make as a board should always ensure what is best for our students. My educational background and work in the healthcare field shows my compassion for helping and fighting for those in need. I care about helping my patients at work just as I care about helping our students attain the best possible education we can offer. My goal as part of the Manchester Community school board is to help provide the best possible education for all Manchester Community Schools students. We have a wonderful working relationship between the board and staff. I will continue to work collaboratively with all staff members to establish creative methods of teaching opportunities for all students. Manchester Community Schools is fortunate to have an amazing, dedicated staff that go above and beyond to provide our students a great, quality education. The personalized instruction is appreciated not only by the parents, but the students as well. With the decrease in revenue, instructors have worked hard to provide a quality education while working within the means of the budget. As we continue with the state mandates and testing, we need to examine the data these tests provide to ensure our students are making positive gains in all areas of academics. Manchester Community Schools follows the STEM based curriculum while still offering important creative arts classes. Class choices that expose students beyond the STEM curriculum attribute to well-rounded students. The personalized teaching from the staff also attributes to our students performance. Manchester Community Schools has the highest graduation rate in Washtenaw County, and I think it is due to the great education, made personal. Every school district in the state of Michigan is dealing with budget and reduced funding issues. Declining enrollment, decreased funding from the state and federal governments, and increasing expenditures make it difficult to adequately fund schools. The funding mechanism is broken at the state level. Funding should follow each student's needs. Instead, school boards are given a certain dollar amount for each student. It costs the schools more money to educate special needs students yet the federal government doesn't fully fund those mandates. This means the schools have to make up that difference somewhere else in the budget. As we continue to work collaboratively with the administrators, we need to keep in mind that every decision we make should be the best decision for all students. The impact of every decision we make affects everyone."
Karen Rothfuss:
"I am the parent of 2 Manchester graduates and have been active in the Manchester Community school system for 15 years. I was a Music Booster for 10 years (6 of those on the board as vice president). I was also an active Drama Club parent. I was an active member of the Parent Advisory committee at the high school for 7 years. I have also been a member of the School Improvement committee for 8 years as a parent representative and continue now as a community representative. I have worked on many initiatives and just recently took part in a strategic planning session for our school system. I would like to continue my involvement with the schools and feel that I have much to offer the community. There are many challenges facing our schools and community in the future. Challenges such as fewer students, which also means fewer families in our community, as well as the ongoing financial issue that we all face, doing more with less. While these are big challenges, and I am sure there are others that will come up, I feel as a community we can handle the challenges we will face, both the ones we know and the unknown ones that are sure to come up. I feel that I am a good candidate for school board because my involvement with our schools over the past 12 years. I have been an active part of the planning process for school improvement and I would like to be part of shaping the future of our schools and students."
Thomas W. Mann:
"My name is Tom Mann and I live in Manchester with my wife Sue and kids Megan, Freshman at Manchester, and Ryan who is in 8th grade. I was born and raised in Manchester and moved back to this community 11 years ago as we felt that Manchester provided the best environment to raise our family. I've worked for the University of Michigan Health System for the past 23 years in various capacities and am currently an Administrative Director in our Home Care Services division. I have a bachelors degree from Albion college and a Masters in Business Administration from the University of Phoenix. Our school system is a vital component to not only the success of our youth and those that teach them, but also to the success of our community. In order for our small town to maintain its viability, we must have a solid school system led by individuals that are interested in doing what is right for our students, teachers, administrators and our community. Servant leadership is not about ulterior motives or hidden agendas. It is about being involved; learning from others that live, work and support our community; and taking the information gained to make the best decisions possible. If elected as a member of our school board, I would proudly represent our school system and community by listening, observing and making decisions that will help move us forward for the betterment of all while being transparent in our approaches. I hope to see Manchester advance with the times while continuing to maintain our small town culture. As with any business there will be tough decisions to be made and difficult conversations to be had. There are budget concerns, social issues, facility use, strategic planning and several others areas that will need to be addressed throughout the next several years. The work I currently do and the passion I have for this community would lend itself nicely to serving our community and school system as member of our school board. I look forward to the opportunity to serve our school system and community as a member of our school board."
Jeremy D. Koch:
"I am interested in serving on the school board primarily because I feel compelled to do more to serve my community by offering up my experience within, and knowledge of, public education to help our district manage challenging times. I was previously employed for eight years as a high school teacher in two larger districts, Alpena and Oxford, and I have been a school psychologist for Jackson county for the past ten years, working in Grass Lake, Northwest, Parma, Concord, DaVinci, and Jackson Public Schools while also coaching cross country, track, and football at the varsity, JV, and middle school levels. These experiences have exposed me to various systems and challenges, and my working relationships with principals, superintendents, special educators, teachers, students, athletes, and parents have broadened my perspective. The nature of my work is to ask tough questions, make data-based decisions, and navigate obstacles while maintaining objectivity. I have 9th and 6th grade students in the district, and I want to ensure that they have access to quality educational opportunities in a caring environment that will prepare them for productive adult lives. Hopefully, offering my time and talents will result in great educational opportunities and outcomes, not just for them, but for our district as a whole. I would appreciate your support."
David Michael Bartley:
"I have been involved with community service since moving to Manchester 11 years ago through the Kiwanis Club and with a five-year-old daughter who is currently enrolled in the Manchester Early Childhood Center and ECSE classroom and with four openings on the school board, I decided now would be a great time to get more involved by serving on the school board. I have been a college chemistry professor for 10 years and have been the Honors Program director at Adrian College for the last three years. Education has always been a passion of mine and I originally planned on becoming a high school chemistry teacher and completed all of my education courses except for student teaching before I decided to attend graduate school with the goal of teaching at a small college. As a college professor I understand the need for college prep courses in our schools but having grown up in a small rural community in Michigan's thumb, I understand that we must protect the education of all of our students, including the ones that do not plan on attending college. We need to make sure that they have access to vocational education and that all of our students receive an education that will allow them to be successful members of the community right out of high school. I think it is very important to have candidates, like myself, who understand both the short term and long term issues, will listen to the community, and who do not have personal agendas running for the school board. My top three priorities are: 1. Helping to guide the district though the economic hardships that are an unfortunate reality of our current declining enrollment. 2. Insuring excellent communication between the school board and the community. 3. Maintaining the excellent education conditions and personal attention that Manchester Schools are known for while also finding ways to maintain funding for athletics, extracurricular activities, and vocational training. The school board and administration need to work with the community to cut costs where possible and also to decide where to make cuts when they need to be made."
Michael Bossory:
"Mike Bossory first moved to Manchester in 1992 with his wife Therese. Children Megan and Nathan both attended Manchester schools. First hand experience recognizing we have outstanding teachers in our district. I was a charter member of the Manchester Community Schools Foundation. Undergraduate and graduate degrees in Math and Business from Michigan State and University of Notre Dame. Utilized Notre Dame and Michigan coaching experience to contribute as a volunteer coach at Manchester for fifteen years. Owner of Alber Orchard and Cider Mill. We have been regular supporters of Manchester Schools as owners of Alber Orchard. We also rely on a vibrant student body to support us with help during the fall at the mill."
OTHER CONTESTED SCHOOL BOARD RACES:
In Bridgewater and Freedom Townships, some residents will vote for the contested Saline Area School Board race.
In Freedom Township and Sharon Township, some residents will vote for the contested Chelsea School Board Race.

Chelsea's Chamber of Commerce is sponsoring a forum on Thursday, October 27 at 7pm in the Washington Street Education Center Board Room in Chelsea.

In Freedom Township, some residents will vote for the contested Dexter School Board race.

Listen to audio of the Dexter School Board candidate forum here.

In Sharon Township, some residents will vote for in the contested Napoleon School Board race.
In Manchester Township, some residents will vote in the contested Columbia School Board race.
OTHER CONTESTED RACES ON BALLOT IN ALL TOWNSHIPS: Party affiliation WILL be noted on ballot for all of the following races EXCEPT for the Board of Trustees of Washtenaw Community College race.
JUDICIAL RACES: All four townships will vote on these contested judicial races: Party affiliation will NOT be noted on ballot for judicial nominees.
JUSTICE OF SUPREME COURT 8 Year Term (you will be able to vote for 1)
JUSTICE OF SUPREME COURT Partial Term Ending 01/01/2019 (you will be able to vote for 1)
JUDGE OF 14TH A DISTRICT COURT  (you will be able to vote for 1)
PROPOSALS
All four townships will vote on the following proposals:
PROPOSITION TO AUTHORIZE THE LEVYING OF .50 MILLS TO PROVIDE FUNDING TO MAINTAIN, RECONSTRUCT, RESURFACE, OR PRESERVE ROADS, BIKE LANES, STREETS, AND PATHS

Shall the limitation on the amount of taxes which may be imposed each year for all purposes on real and tangible personal property in Washtenaw County, Michigan be increased as provided in Section 6, Article IX of the Michigan Constitution and the Board of Commissioners of the County be authorized to levy a tax not to exceed one half of one mill ($0.50 per $1,000 of state taxable valuation) for a period of four (4) years, beginning with the December 1, 2016 tax levy (which will generate estimated revenues of $7,302,408 in the first year), to provide funding to the Washtenaw County Road Commission, Washtenaw County Parks and Recreation Commission, and the various cities, villages, and townships of Washtenaw County to maintain, construct, resurface, reconstruct, or preserve roads, bike lanes, streets, and paths in Washtenaw County?
Read more about how this proposal would impact the Manchester area here.
PROPOSITION TO INCREASE THE TAX LIMITATION FOR THE COUNTY DEPARTMENT OF VETERANS AFFAIRS FOR THE PURPOSE OF FUNDING WASHTENAW COUNTY'S OBLIGATION TO PROVIDE FINANCIAL RELIEF AND SERVICES FOR WASHTENAW COUNTY VETERANS, INCLUDING THE PAYMENT OF ELIGIBLE INDIGENT VETERAN CLAIMS, AND TO FUND THE OPERATION OF THE WASHTENAW COUNTY DEPARTMENT OF VETERANS AFFAIRS

Shall the limitation on the amount of taxes which may be assessed each year for all purposes on real and tangible personal property in Washtenaw County, Michigan be increased as provided in Article 9, Section 6 of the Michigan Constitution and the Board of Commissioners of the County be authorized to levy a tax not to exceed one tenth of one mill ($0.10 per $1,000) of state equalized valuation of such property for eight (8) years beginning with the December 1, 2016 tax levy (which will generate estimated revenues of $1,535,993 in the first year of the millage) for the purpose of funding Washtenaw County's obligation to provide financial relief and services for Washtenaw County veterans, including the payment of eligible indigent veteran claims, and to fund the administration of the Washtenaw County Department of Veterans Affairs?

REGIONAL TRANSIT AUTHORITY OF SOUTHEAST MICHIGAN

A Proposal Authorizing the Regional Transit Authority of Southeast Michigan (RTA) to Levy an Assessment The proposal would authorize the Regional Transit Authority of Southeast Michigan (RTA) to levy within Macomb, Oakland, Washtenaw, and Wayne counties a property tax assessment: • at a rate of 1.2 mills ($1.20 per $1,000 of taxable value); • for 20 years beginning in 2016 and ending in 2035; • that may not be increased, renewed, or used for other purposes without direct voter approval; and • to be used upon the affirmative vote of an RTA board member from each RTA member jurisdiction for the purpose of construction and operation of a public transportation system connecting Macomb, Oakland, Washtenaw, and Wayne counties, including rapid transit bus routes across county lines, specialized service for senior citizens and people with disabilities, commuter rail, airport express service, and other public transportation purposes permitted by law, consistent with RTA bylaws and subject to the limitations of the Regional Transit Authority Act. If this new additional assessment is approved and levied, revenue will be disbursed to the RTA. It is estimated that $160,907,285 will be collected in the first year. Should this assessment be approved?
OTHER PROPOSALS
In Freedom Township, some residents will vote on:
Library Millage Renewal

Shall the Dexter District Library, Counties of Washtenaw and Livingston, be authorized to levy a renewal of the previously voted increase in the tax limitation, which expires in 2016, in an amount not to exceed .6866 mill ($.6866 on each $1,000 of taxable value) against all taxable property within the Dexter District Library district for a period of six (6) years, 2017 to 2022, inclusive, for the purpose of providing funds for all district library purposes authorized by law? The estimate of the revenue the Dexter District Library will collect if the millage is approved and levied in the 2017 calendar year is approximately $1,014,000. A portion of the revenue collected may be subject to capture by the Dexter Downtown Development Authority and the Scio Township Downtown Development Authority.