2016 Christmas in the Village – Santa, shopping and sightseeing in Manchester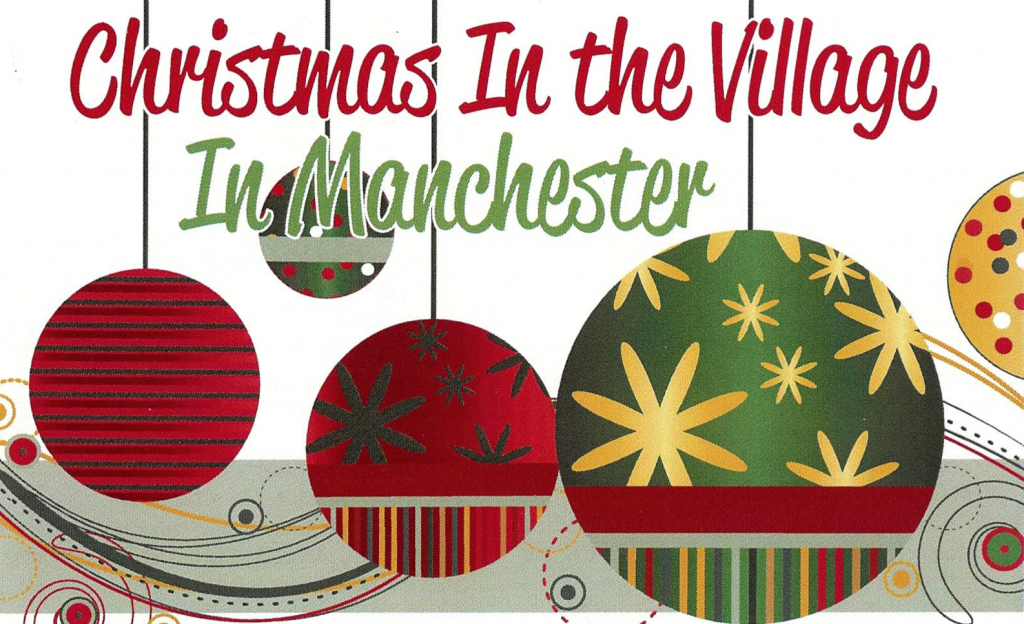 Manchester's big Christmas celebration, Christmas in the Village is this coming weekend, Friday, December 2 and Saturday, December 3!
Things will start off Friday night with the annual Lighted Parade through downtown, welcoming Santa and Mrs. Claus to Manchester. The parade consists of lighted floats from different community groups and businesses. The parade lines up at Emanuel United Church of Christ at 5 pm in the back parking lot. Chamber of Commerce judging of the floats will be held at 5:30 pm and winners will be announced at 6 pm. The parade will proceed along Main Street to the Manchester Mill on Adrian Street beginning at 6:30 pm. Santa will then meet and greet children on the Mill porch. He'll have candy cane treats for the kids, and will be presented the Key to the Village.
Saturday is packed full of events, craft and artist shows, open houses, sales, merchant specials, cookie walks, a quilt raffle, scavenger hunt, bake sales and more at approximately 25 locations around the village and surrounding area. Events generally run in the 9 am to 3 pm. Live holiday music will be provided at multiple locations by a variety of groups. See below for list of craft shows and open houses.
One event of particular note is Lunch with Santa, which will be held at St. Mary's Parish Hall located at 110 East Madison from 11 am to 1 pm. It is free for kids under 12 and includes pizza, gingerbread house decorating, holiday crafts, face painting, and a visit with Santa. Live music by the MHS Guitar Club.
Later that evening in the same location, St. Mary's Parish Hall, the Manchester Co-op Preschool is holding a Chili Cook-off and Annual Fundraising Auction. They will have many great local items available to bid on. They are also doing a lottery style raffle with a grand prize of $400 and another raffle for gorgeous locally made Adirondack chairs that are shaped like Michigan with an upper peninsula table. Ten cooks have registered for the chili cook off; many are winners from previous local chili cook-offs. The Chili Cook Off will have first place and people's choice awards with cash prizes. This event is for adults and BYOB.
The Annual Christmas Home Tour is also taking place on Saturday, December 3, from noon to 8 pm. This tour involves five local homes decorated for the holidays and located east of the downtown in Bridgewater and Freedom Townships. From a historic house and working farm, to a "new old" house and "new old" barn, to scenic country homes, this tour will provide a great overview of the rural settings outside the village. Tickets are $15 ahead of time, or $18 at the door, and are available at The Flower Garden, Manchester Pharmacy, Kellie's, Andrews Family Chiropractic, and Linda's Diner, or by calling 734-255-1498. All proceeds go toward purchasing Christmas decorations for Main Street.
In addition to the special events, craft shows and open houses, Manchester's downtown businesses will be open for Christmas shopping and many are getting in the holiday spirit, offering special deals and giveaways. Farm Bureau Insurance will be giving away free popcorn between 10 am & 2 pm on Saturday. Worth Repeating will stay open late on Friday evening and will be open 10 am to 3 pm on Saturday, with 50% all Christmas items. All Pets Grooming will be giving a free mini-cupcake to everyone who stops in on Saturday. The Manchester Pharmacy will hold a Christmas Open House with snacks, refreshments, drawings for prizes and a 40% off one item coupon. Downtown's newest storefront, the Dandy Lion, will have in place a giving tree featuring free gifts for those in need. Bring a new toy or article of clothing to donate to it.
Restaurants will be cooking up special treats! Frank's Place will be selling specialty donuts, bagels, scones and Christmas cookies, hot chocolate with whipped cream or marshmallows; Stockwell's Breakfast & Lunch (Kellie's) will be adding quiche to their menu as well as featuring peppermint mochas and lattes. Linda's Diner, a perfect place to stop on your way to the craft shows north of town, will be specially preparing breakfast casserole and scones for the day. If you haven't seen Ollie's new location on the NW corner of M-52 & Main St., this day will be the perfect opportunity to stop in and check it out.
Click here: manchester-christmas-in-the-village-2016 to view and download the Chamber of Commerce's 2016 Christmas in the Village's brochure. Please visit the Chamber of Commerce website, www.48158.com, for any updates which may occur, or call the Chamber at 734-476-4565.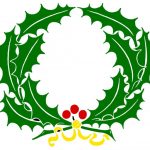 Craft Shows & Open Houses:
numbers below correspond to numbers on the map
1. Emanuel United Church of Christ, 324 West Main St., 9 am to 2 pm
Lunch featuring homemade soups & BBQ chicken.
Emanuel will be having several raffles including one for a "50 states quilt", baked goods, Tupperware, jewelry, Norwex, Mary Kay, Christmas wreaths and more.
2. River Raisin Studio Open House, 115 East Main Street (Black Sheep Tavern), 9 am to 3 pm
Unique homemade creations and artistic works of more than a dozen of Manchester's finest artists. A "bountiful cornucopia of food and drink," some contributed by the participating artists, plus additional offerings of food made by four of Manchester's local food establishments, will be set up on the mahogany bar for shoppers to munch on at no charge. However, a "tin cup" will be available to collect optional monetary donations, 100% of which will go to the CRC food pantry. A section of the restaurant will be set up as a place to sit and socialize with friends and neighbors you run into, and the participating artists!
3. Kingsley Jenter House, corner of M-52 & Main St., 9 am to 3 pm
Craft show hosted by Manchester Area Historical Society featuring many craft booths, letterpress demo, live harp & strings music and refreshments.
4. Mary Kay Open House, 510 East Main Street, 9 am to 3 pm
Stop by and check out their selection of stocking stuffers & gifts.
5 . David Nelson Pottery Open House, 319 Morgan Street, 10 am to 3 pm
Come visit artist David Nelson's pottery studio and shop his beautiful pots as well as offerings from a couple of young 2D artists from the area. The open house will continue Sunday December 4 from 10 am until 3 pm.
6. Manchester United Methodist, 501 Ann Arbor St., 9 am – 3 pm
Lunch featuring sloppy joes, chips, dessert, & drinks.
Cookie Walk and UMW Bake Sale, will include 14 tables set up with lots of unique gift items and yummy goodies including crochet & knitted items, handcrafted wood items, gift items that benefit Zimbabwe, homemade jewelry, scroll-saw carved wood items, MHS German Club pretzel sale, wreaths from the Preceptor Gamma Theta Sorority, gifts & baked goods by St. Mary Roman Catholic Church, maple syrup, handmade greeting cards, and more.
7. Country Craft & Barn Open House, 19442 Bethel Church Rd (3/4 Mile West of M-52), 9 am to 4 pm Featuring 20 crafters. Quilts, old barn windows, Christmas centerpieces, wool mittens, woodworking, fresh wreaths, jewelry, jams, jellies, pretzels, antique decor. Pop, water, & popcorn for sale.
8. Sharon United Methodist Church, corner of Pleasant Lake Road & M-52, 9 am to 3 pm
Lunch is available
Large craft show, 30+ booths including christmas decorations, quilts, placemats, tree skirts, stockings, rugs, jewelry, stained glass, soaps, hats, bags, scarfs, doll clothes, & much more.
9. St. Thomas Lutheran Church, Freedom Township Hall on Pleasant Lake Road, 9 am to 1 pm
Luncheon including sloppy joes, hot dogs & German style potato salad.
Beautiful hand-crafted items for sale & authentic German baked goods, including fresh baked pretzels.
10. St. James United Church of Christ, 11005 W. Michigan Avenue (between Manchester & Saline), 8:30 am to 10:30 am
Christmas Cookie Walk (they sell out quickly), crafts, and items from Christmas Past for sale.