Manchester dancers to appear in upcoming Nutcracker performances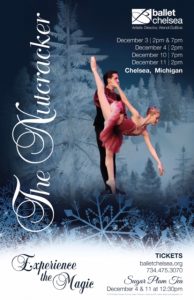 Ballet Chelsea will soon be presenting its 19th annual performance of the Nutcracker on December 3-4 & 10-11, 2016. This annual production, which will be presented at the CHS Performing Arts Complex, located at 740 N. Freer Rd. in Chelsea, is a full-length, narrated ballet. And, as in past years, a number of Manchester dancers will be performing including Chloe Majorprice, Aiden Majorprice, Will Kaufman, Cora Kaufman, Emma Hartley, Ashley Bobo, Libby Shane, Katie Shane, Samantha Stockard, Sabrina Stockard, Lauren Yordanich, and Hannah Schwarz.
Come join delighted audiences of all ages as these accomplished local dancers help bring this classic story to life. From Christmas Eve festivities at the Stahlbaum's complete with Godfather Drosselmeier and his charming mechanical dolls, to a fierce midnight battle, to the enchanted Kingdom of Sweets, Ballet Chelsea's dancers captivate audiences with their energy and artistry.
At each show, audience members will be able to stroll the sparkling Commons during intermission to enjoy live music, gourmet chocolates and beverages or browse in their delightful Snow Shop. A special Sugar Plum Tea will be offered on Sunday December 4 and Sunday December 11 at 12:30pm, prior to the 2pm matinees. Tickets are available at balletchelsea.org/tickets and are $20 for adults and $15 for students/seniors. Tickets to the Sugar Plum Tea are $12 each.