Manchester's Angie Diuble co-authors book on Usher syndrome
Usher syndrome is an extremely rare genetic disorder resulting in a combination of hearing loss and visual impairment. It is a leading cause of deaf blindness and is at present incurable. A new book Walk in My Shoes is coming out which will both tell the stories of those touched by Usher syndrome and raise money to support research for a cure. Manchester resident, parent of a child with Usher syndrome, and advocate for the fight against blindness, Angela Diuble is one of the authors of this book which is available for purchase here.
Walk in My Shoes is the result of two years of collaborative effort by 28 writers, including Diuble. The writers of Walk in My Shoes come from all walks of life from the United States, Canada, and Mexico. By promoting awareness in their communities and sharing this inspirational book, they want to be seen and heard, even while their vision and hearing fail them.
All proceeds from book sales will be donated to the Usher Syndrome Coalition to help fund scholarships to its annual conferences and to support research for a cure. The writers inspire hope for anyone dealing with difficult life challenges. Even though they may not see or hear perfectly, they have so much to teach us about the human spirit, overcoming harsh obstacles and seeking equality in a society that does not understand them.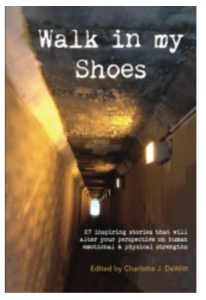 Ramona Rice, Project Manager, who has Usher syndrome type 2, conceived the idea to raise awareness about deaf blindness from powerful, hopeful, humorous and compelling stories in Walk in My Shoes and to support researchers to find a cure. She feels strongly that Walk in My Shoes will inspire many people around the world to unite to make a difference for those suffering from deaf blindness.
Diuble hopes this book will further fund research to cure her daughter, Lilly. She stated, "I really want this to be a success.  As you know, I work very hard to fund research to find a cure for Lilly's disease.  I truly feel that we can save Lilly from a future of darkness.  I appreciate your help!!"