Manchester has a lot to look forward to in 2017 – Sesquicentennial, a riverfront park, new sidewalks and more!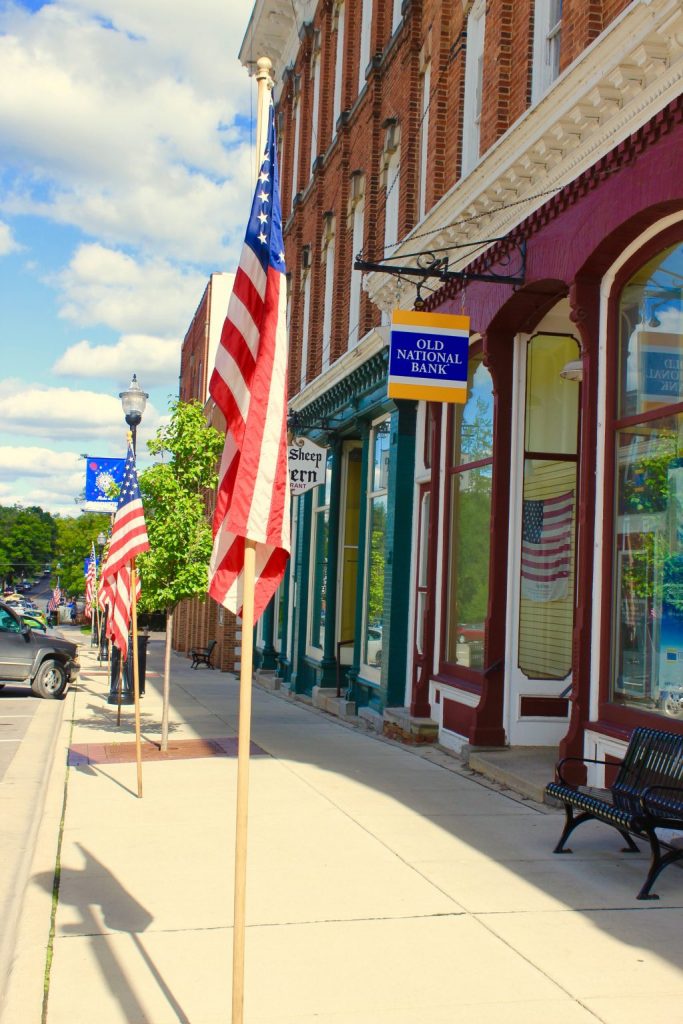 While it seemed like 2015 and 2016 were full of frustration and canceled events because of the construction of the new Main Street bridge, 2017 promises to make up for it!
The biggest event on the horizon is the Village of Manchester's Sesquicentennial (150th Anniversary of its incorporation in 1867), which will be celebrated August 1-8, 2017. Sesquicentennial organizers are holding another planning meeting and group discussion on Tuesday, January 24, beginning at 7 pm at the Historical Society's Kingsley-Jenter House located at 302 E. Main. The public is invited to stop by and learn about their plans, offer suggestions, sign up to be an organizer or helper, and learn more about Manchester's history.
The Sesquicentennial is currently sponsored by the Village of Manchester, the Manchester Area Historical Society, and the Manchester Area Chamber of Commerce. Other organizations and individuals are expected to join as partners, as they launch a sponsorship campaign for the celebration.
Plans currently include historic walking tours, building and home open houses, a street dinner, a parade, "Antiques Roadshow," artifact auction, historic baseball game, agricultural tours, factory tours, street dance, historic music gazebo concert, canoe & kayak race, "centennials" reunion, and more!
Organizer Ray Berg stated, "You can read all the details of what's been done to date in our Planning Document here: manchester-sesquicentennial-celebration-august-2017-scope-and-planning-document-revision-3-january-4-2017 . The Sesquicentennial goals are not only to commemorate our history, but to bring back previous Manchester residents who have moved elsewhere and have them reconnect with their town and earlier friends; to engage our young residents with an interest in how and why Manchester is located here, and to see how we are the same and yet different from our 1867 and 1967 selves." If you have questions or for more information, please contact Ray Berg at rayberg@att.net.
In addition to Sesquicentennial celebration, the Village is expected to start Safe Routes To School sidewalk installation this spring or summer. The Village received a grant of more than $350,000 from the Safe Routes 2 School program, which will pay for 5,900 feet of sidewalks in the village and improvements to ADA ramps and crossings at 19 intersections. Much of the new sidewalk will be located in Manchester Woods subdivision and along Duncan Street. Crossings include M-52 near Klager, crossings near the Middle School and across Madison Street at Washington and Macomb.
In conjunction with another grant, the Village will begin work on a new riverfront park which has the working title of "River Raisin Park" for the time being. One of the steps in building the park will occur when the river is at its lowest in August or September and the Village will dredge the mill pond. Manchester's Downtown Development Authority has also received a grant to hire an Economic Development Consultant to encourage businesses to locate and expand in the downtown area. And Ray Berg of the Manchester Area Historical Society is working on the Historical placards to be placed around downtown funded by the Community Tourism Action Plan Grant received in 2016.
It sounds like our patience through the bridge construction is about to pay off as the Village works double time to celebrate the past while bringing our community into the future.