Many working to bring broadband to rural Manchester areas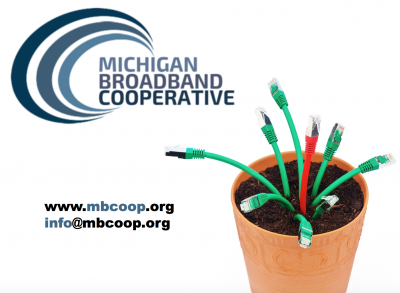 As a rural region with one of the lowest population densities in Washtenaw County, many Manchester area residents have been left behind when it comes to reliable high speed internet access. Cell coverage is spotty, DSL access is slow and available only to a minority of residents, and while Comcast is faster, it is available to the fewest number of residents. Though more than 10,000 people live in the school district, only about one third of them have access to a dedicated internet line and even fewer have access to a FAST connection with speeds above 20 megabits per second.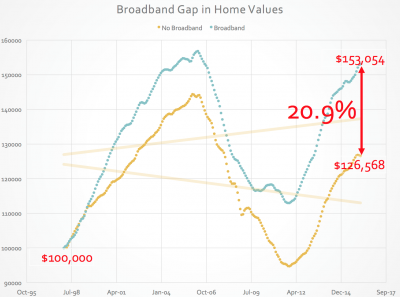 Sharon Township resident Barb Fuller is a board member of the Michigan Broadband Cooperative and has long worked to bring high-speed internet access to our area. She attended the Manchester Chamber of Commerce meeting on February 13th and presented to members the need for broadband in the Manchester area.
"Affordable, reliable high speed broadband is as important today as electricity and indoor plumbing," Fuller said. "A home with high speed broadband is worth 20% more in the marketplace. In fact, realtors are reporting that prospective buyers won't even look at homes without high speed broadband. School children are expected to have broadband internet access at home. I find it unconscionable that families have to park outside public libraries after hours so their children can access WiFi to complete their school assignments. It is crazy that workers trying to upgrade their skills have to sit in coffee shops to take online courses. State-wide broadband equity is long overdue and it is putting those of us who live in the countryside at a disadvantage."
This issue is being tackled on different fronts and over the past two weeks, multiple groups have moved the Manchester area a few steps closer to toward a solution. On February 7th in Lansing, our State Representative Donna Lasinski introduced legislation that seeks to make it easier for township governments to expand broadband access. On February 10th, Sharon Township published a study it had commissioned for the purpose of defining a plan to extend fiber optic-based broadband to every household in the township. And on February 14th, The Manchester Township Broadband Initiative gave a 30-minute presentation to the Manchester Township Board advocating that Manchester Township follow the same path being pursued by Sharon.
Sharon Township releases study
The Sharon Township study (which can be read in its entirety here) was written by Doug Dawson, the president of CCG Consulting. In it, a full plan is proposed for bringing fiber optic cabling to every house in Sharon Township. Dawson's bottom line recommendation is that the Township should build out its own fiber network, and act as the Internet Service Provider (ISP) for the township. He also advocates forming partnerships with surrounding townships in order to decrease costs.
The cost to connect every home in Sharon Township to a fiber optic connection is between $4.1 and $4.7 million, paid over 20 years. It is estimated that this would cost about 3.6 mills, or about $276 a year for an average household. In exchange for the millage cost, residents would receive a basic connection to the network of about 5 megabits per second, (according to the Sharon Township consultant, this is actually comparable to DSL speeds, and faster than many wireless options). Residents could pay an upgrade charge of $35 per month for a true high speed connection of 100 mps or more.
Sharon Township Supervisor Peter Psarouthakis, stated that the township is in the process of setting a couple of meetings to gain input from residents. The dates will be announced when they are set. In addition, the feasibility of a government entity running an ISP is going through a legal review. The Township knows they can legally lay down fiber optic cable and hook it up, but there are operational questions. Psarouthakis has found Sharon Township residents overwhelmingly support the project.
Manchester Township board views informative presentation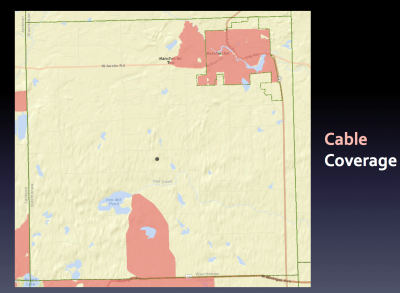 Motivated by the progress that Sharon Township has made, Manchester Township residents have been spurred into action. The Manchester Township Broadband Initiative, led by Ryan Klobucar, brought Ben Fineman of The Michigan Broadband Cooperative to speak at the February 14th meeting of the Manchester Township Board meeting. The board set aside exactly 30 minutes for Mr. Fineman's powerpoint presentation (which can be seen here), wherein he described the broadband deficit the township faces, and the plans Sharon Township has been making to alleviate those problems.
According to Fineman, 67% of Manchester residents were dissatisfied with their current broadband options, and 96% wanted better options. Like in Sharon, Manchester would need to shoulder around $4.1-$4.6 million in installation costs, but would then have a fiber optic connection at every household in the township.
There were about a dozen people in attendance for the presentation. At the conclusion of the presentation, Manchester Township Supervisor Gene DeRossett thanked Fineman for sharing the information and said time had run out, allowing no questions from the board or public. DeRossett suggested contacting Ben Fineman directly with any questions.
After the meeting, several trustees expressed doubt about the costs of bring high speed internet to the township. Klobucar intends to hold several more informational sessions in Manchester in order to build support.
State Representative Lasinski Introduces Legislation
In response to the kind of concerns expressed by Manchester Township Trustees, State Rep. Donna Lasinski is seeking to expand the ways that a township might pay for expanded internet access. Lasinski's bill, House Bill 4162, would amend the Michigan Public Improvements Act to allow townships to use special assessments to fund broadband and communications projects in their areas that still need high-speed internet.
The bill would add the construction, improvement and maintenance of communications infrastructure, including broadband and high-speed internet, to the list of public improvements for which townships may use special assessment districts. Michigan's current statute does not allow this, but changing the statute could help residents who still need broadband service and whose property values would benefit from it.
"Enabling townships to help connect residents to more affordable, reliable high-speed internet can allow entrepreneurs to develop their home-based businesses, students to complete their schoolwork at home, property values for homeowners to increase and seniors to comfortably age in place," said Lasinski. "I am hopeful this bill will be passed to promote the economic benefits of broadband and improve quality of life for hundreds of thousands of Michiganders."
A representative from Lasinski's office was on hand at the Manchester Township meeting where Internet Access was discussed.
2-22-2017: This article was updated with additional information on the status of the Sharon Township plan.