First competition of the season for Robotics team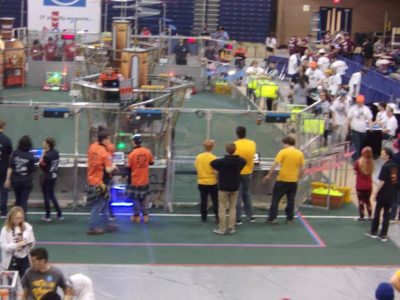 The Digital Dislocators are back from their first competition of the FIRST Robotics Competitions' (FRC) 2017 season. In the three days of competition, the team did a lot of hard work and had fun too. The competition consisted of twelve qualifying matches, with the possibility of playoff matches.
The Digital Dislocators team is made up of Rachel Allen, Ian Thompson, Taylor Denby, Gi West, Garret Mayes, Claudia Pierce, Jakob Vershum, Allen Morse-Koch, Noah Radcliffe, Caitlin Gaydosh, Miles West, and Cullen Armstrong. The team mentors are Matt Hall, Mark West, Ed Kurgin, Nick Kurgin, Chris Fillyaw, and Daniella Kippnick.
The team got off to a slow start and lost their first four matches, but with improvements to the robot, they played better every single match and won the remaining seven matches. After eighty matches were played by the forty teams in attendance, it was time for alliance selection. After team selection, the Dislocators ended up captains of Alliance 8, and were paired with team 94, the Ninetyfouriors from Southfield, and team 3707, the Technodogs from Brighton.  Unfortunately, The Dislocators played against the strongest alliance in the Quarterfinals and, although scoring very well, they were eliminated after two matches. Despite this, the team was glad to have made it so far and are working on new components so their robot is more prepared for the next competition.
The next District Competition is in Howell and will run from Friday, March 31st to Saturday, April 1st. If the team does well at that competition, they will qualify  to go to the state competition the second week of April.