MHS graduating seniors in caps & gowns parade through Middle School and Klager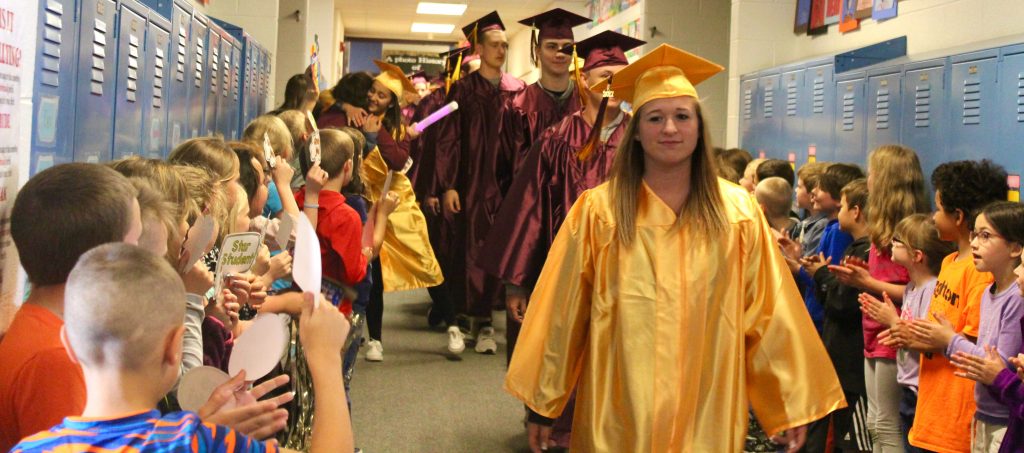 Manchester High School Class of 2017 graduating seniors donned their caps and gowns on Friday around lunch time and headed first to the Manchester Middle School to walk through halls to "See You Again" by Wiz Khalifa and Charlie Puth, followed by "Danger Zone" (Kenny Loggins) which is the seniors' class song.
Middle School principal, Jennifer Mayes reflected, "Having the graduating seniors walk through the middle school is a memorable event for a couple of reasons. First, it shows our students at MMS that there is a means to an end, and that hard work and accomplishments are something to be celebrated. For our staff, it is heartwarming to see these young adults begin a new chapter in their lives. There were definitely tears and hugs and words of gratitude as the seniors thanked those educators who have helped them on their journey."
Afterwards they headed to Klager Elementary where they walked through the halls to "Pomp and Circumstance," clapping and cheers. Many high-fives and hugs were given. Afterwards the students stopped for a moment outside Klager to catch their breath before heading back to the High School.
High School Counselor, Hollie Kolcz explained that the idea behind the parade through the halls is to celebrate the Class of 2017's graduation, to show appreciation to their former teachers, and to inspire younger students to do their best. And it certainly appeared to do all three!