14-year old Manchester student exhibiting his art in Ypsi!
Jacob Miller, a 14 year old illustrator from Manchester, will be exhibiting his art work on Friday, June 2nd, as part of the Ypsilanti's "First Friday" downtown events. His work will be at the Pearl Street Studio, 108 Pearl Street, Ypsilanti, which will be open from 5 – 8:30 pm. Alden Rohwer, also from Manchester, will be providing background music on his violin. Jacob will be accompanying him at times playing the cello. Jacob, while self-taught, has been studying under the direction of Khadijah Kolleck, owner of MAKE art studio in Ann Arbor, and graduate from Manchester High School.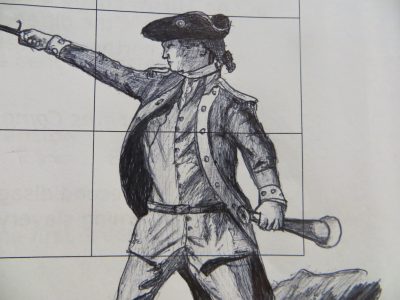 Jacob has been "seriously" drawing since he was 5 years old. His work primarily involves detailed, fine-lined, penciled illustrations of vehicles, planes, and ships. His father states that Jacob has no fears of venturing into other art media, and that he has consistently received acclaim and awards for his work whenever it is entered into showings. Jacob has displayed and sold work at the annual Ann Arbor Youth Juried Art Fair, part of the Townie Party. Recently he has shown a strong interest in "school paper art" in which he draws on lined notebook paper, sometimes with his schoolwork and notes still on it. His "school paper art" will be highlighted at the exhibit
Jacob, son of Lynn and Kent Miller and brother of Megan, will be entering 9th grade this fall at Manchester High School and is eagerly awaiting the art curriculum that will be available to him. He is also a cellist, having been part of the Cultural Arts Strings (CAS) and Manchester Youth Orchestra Program (MYOP) ever since the founding of both programs. Along with playing the cello, Jacob plays the trombone in Manchester's school band. He has attended Blue Lake Fine Arts Camp the last 4 years for both Art and Cello. His other interests include "lots of reading" and working on models, mostly WWII era planes and ships. As with his illustrations, his models are very detailed and accurately scaled. Jason also plays the online games, Minecraft and War Thunder; War Thunder provides some of the inspiration for his work.
MAKE art studio is a maker space for youth and adults.  The mission is to teach the art of creative thinking through making. Visit their website at http://makeitonmainstreet.com.
(Photos of artwork courtesy of Miller family.)