SRSLY Manchester creates "SRSLY Safe Homes" List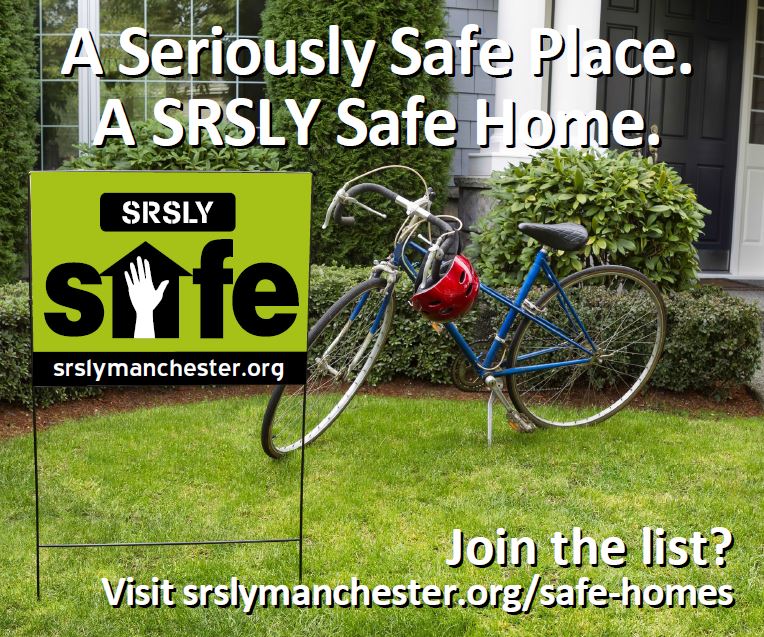 SRSLY Manchester Coalition, which just last week announced their "Most Students Don't Use" campaign, has announced a new project: the SRSLY Safe Homes List. A SRSLY Safe Home is a home in which the family has committed to providing a safe and substance-free environment for their children and any other youth who spend time there. Kids and adults can be confident that minors under the age of 21 will not be offered or allowed to use drugs or alcohol while they are in these families' homes. The Safe Homes List is a record of all the families who have made this commitment.
"By hosting the Safe Homes list on our website, we wanted to enable families to have easy access to the list," said Lindsay Hannah. "If a child has been invited to a home their parents aren't familiar, the parents can check the list to see if the other family has made a commitment to keep their kids and others safe."
The Safe Homes List was adopted as a new intervention for the SRSLY Manchester Coalition in response to local conditions that increase risk factors associated with youth alcohol and drug use. A community needs assessment demonstrated that in Manchester, youth have easy access to alcohol and marijuana. For example, 55% of MHS and 43% of MMS students report they have easy access to alcohol. It also demonstrated that students have a low perception of risk of alcohol and marijuana use and that parents are not communicating a clear no-use message. The purpose of the Safe Homes List is to encourage families to communicate clear messages to youth about their expectations of alcohol and drug use, monitor youth through high school, and change parent and youth perceptions that youth substance use is inevitable.
The SRSLY Safe Homes list is online at srslymanchester.org/safe-homes. Families can sign up by emailing Lindsay Hannah at info@srslymanchester.org or directly on the website. "A common myth that I've heard is that if you're an adult and you drink alcohol in your home you can't be on the Safe Home list. That's totally not true," says Lindsay Hannah, SRSLY Manchester's Coalition Director. "Adults can join the list as long as they don't allow minors to drink in the home."
SRSLY Manchester has come up with multiple ways for families to communicate their commitment to having a Safe Home. Families who have joined the SRSLY Safe Homes list have the option to post their commitment in the front window of their home and/or in their car windows. SRSLY Manchester is giving free window clings to families who sign up on the list so they can easily let others know they have a "seriously safe home." SRSLY Manchester has also developed a profile picture overlay for list members to use on their social media accounts during times when parties where underage drinking and drug use may be more likely to occur, such as the weeks of homecoming, prom, and graduation. To update your profile picture, go to the SRSLY Safe Homes webpage at srslymanchester.org/safe-homes.
SRSLY Manchester is a coalition that encourages members of our community of all ages to plan and participate in drug and alcohol-free activities. In so doing, members promote personal and community health and wellness. Additionally, SRSLY Manchester strives to change community norms and policies that enable underage drinking, youth illicit drug use, and over the counter medication abuse and misuse.