Summer Gazebo Concert lineup announced!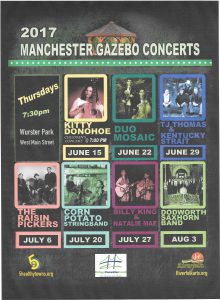 Plans for the 2017 summer Gazebo Concert series have been finalized, and it's going to be a great season!
The first event for this year's Gazebo season will not be held at the gazebo at all, but rather at Klager Elementary School, with a special program for grades K-4. On Wednesday, June 14 at 1 pm, historian/musician Mike Deren will present a 45-minute interactive school assembly. For more information, visit www.pastinperson.com
The following evening, the official Gazebo Concert series will kick off with a Children's concert performed by Kitty Donohoe, with a focus on Michigan history–"Bunyans and Banjos." This concert will be held at 7 pm (one-half hour earlier than all the other concerts), on Thursday, June 15. To learn more about Kitty's concert, check out her website at http://kittydonohoe.com
Duo Mosaic will grace the Gazebo stage at 7:30 pm on Thursday, June 22. This talented violin/cello duo played a Blacksmith concert in March and will also present a workshop at the Cultural Art Strings camp, so this will be an additional opportunity to see them perform, along with students from the CAS camp. Duo Mosaic's website can be found at  https://www.facebook.com/duomosaic/
Back by popular demand, at 7:30 pm on Thursday, June 29, will be T.J. Thomas and Kentucky Strait, with a country music sound. This four-piece band is making a return engagement to the gazebo after a few previous appearances. T.J. always enjoys playing in his hometown of Manchester, and seeing old friends. Visit www.cegmi.com to find out more about the band.
No Gazebo Concert Season would be complete without an appearance from our very own Raisin Pickers. From the first season to this year's, this perennial favorite always draws a great crowd! See them at 7:30 pm on Thursday, July 6, and to check out their latest news, visit http://www.raisinpickers.com
The series will take a break on July 13 for the Manchester Community Fair, and everyone is invited to see and hear the many sights and sounds of the fair at Alumni Field. But the following week, for the first time ever, there will be a concert on the night of the Manchester Chicken Broil! On Thursday, July 20, at 7:30 pm, bring your dinner (or walk it off after eating at Alumni Field) and enjoy the sounds of the fabulous Corn Potato String Band (Duo). This will definitely be a don't-miss event. You can get a preview of their sound by visiting https://cornpotato.com
Another great local duo, Billy King and Natalie Mae, will hit the stage at Wurster Park at 7:30 pm on Thursday, July 27. Billy and Natalie are each talented solo artists who just sound great together. You can hear their music at http://www.billykingdom.com and http://www.nataliemaemusic.com
This summer's series will wind down on August 3 at Dodworth-Saxhorn Historical Brass Band. It will be an exciting evening on the Village Green for many reasons–the Farmers' Market will be located in Wurster Park for this week only; there will be a delicious ice cream social at the Emanuel UCC across the street; and this concert actually kicks off a weekend of special events for Manchester's Sesquicentennial! You can learn more about the historic aspect of the Dodworth-Saxhorn Brass Band by visiting the website at http://www.dodworth.org
This will be a wonderful  summer of music at the gazebo, thanks to many special factors. The Michigan Humanities Council has awarded Riverfolk Music and Arts Organization, the umbrella organization for the gazebo concerts, a grant of $4,000 to sponsor outreach and educational projects. This grant has already covered some of the educational workshops at the Blacksmith Shop over the winter, and will also help pay for Mike Deren's assembly at Klager June 14, Kitty Donohoe's children's concert on June 15, Duo Mosaic on June 22, and Corn Potato String Band on July 20. Community support for these free concerts is also greatly supported–whether you are making a small donation to our baskets passed at intermission, or if you are a sponsor of the concerts, we thank you.