PALM bike ride to travel through Manchester this week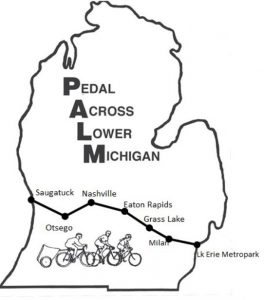 Thursday, June 29th, the Pedal Across Lower Michigan bike ride (PALM) will be passing through Manchester on Austin Road then veering south on Clinton Road on their way from Grass Lake to Milan on Day 6 of their 7-day ride from Saugatuck to the Lake Erie Metro Park. The total distance of the ride is between 250 and 300 miles. Daily rides range from 30 to 60 miles, averaging approximately 50 miles.
If you find yourself traveling alongside the PALM riders on Thursday, slow down and share the road!