Sesquicentennial updates part 4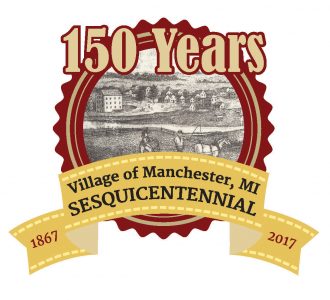 Continuing from our previous three articles in prior weeks, we continue with various details on the upcoming Manchester Sesquicentennial Festival:
1. Sesquicentennial Event Tickets and Merchandise Now Available!
We are pleased to announce that River Raisin Antiques and Mercantile, 138 E. Main Street, is serving as a central point to purchase Sesquicentennial event tickets and merchandise! Owner Sue LaRocque has prepared a display of these products at the front of her store, and we encourage you to stop by, take a look, and purchase items for our 150th anniversary!
Event tickets currently on sale include:
The Saturday July 29 Fashion Show/Tea/Luncheon. Experience the evolution of fashion over the decades, while enjoying fine tea, a luncheon, and period music.
The Friday August 4 Manchester Agri-Tour. This excellent bus tour will take you to five different locations around Manchester, with the chance to meet local farmers and learn the operations of crop/livestock farming, dairy and milk production, organic farming, livestock auctions, and a beautiful 1840s farm and homestead reproduction. Tour includes an excellent lunch made from local products.
The Sunday August 6 Main Street Dinner in Wurster Park, including an excellent meal with each food item prepared by one of our local chefs/restaurants. Accompanied by period music, re-enactors, and various gossip happenings of 1867. Maybe Matilda Wilson Kingsley herself may show up….
Historic home tour tickets for August 5 and 6 will also be available shortly.
In addition, River Raisin Antiques and Mercantile has available the following Sesquicentennial merchandise items for sale:
T-Shirts, in different sizes and colors
Tote bags
Commemorative pins
And soon….Christmas ornaments
We request payment for tickets and merchandise items by cash or check payable to "MAHS".
2. Sesquicentennial Street Dance – Friday August 4
At approximately 7:30 pm Friday night August 4, immediately after the Sesquicentennial Parade completes its route down Main Street, we will close Main Street between The Village Tap and Over the Edge Sports Bar, and launch the Sesquicentennial Street Dance! Music will be performed from a portable stage brought into place.
We'll begin with square dance calling by Luke Schaible, who will call squares while an experienced dance team demonstrates the moves. Then the public is invited to join in. We'll then move into music by the 3614 DMP band out of Tecumseh, varying the sounds over the decades. Music will run until midnight. Come on down and enjoy the evening outdoors!
3. Blacksmith Shop Demonstrations – Saturday August 5
The Manchester Area Historical Society will open the John Schneider Blacksmith Shop at 324 E. Main from noon  – 4 pm on Saturday, August 5, for plenty of flames, banging and forging of all sorts of interesting objects. Blacksmith Tim Armentrout will lead a team of fellow smiths in demonstrating the 19th-century techniques of making useful things needed in Manchester 150 years ago, and why they were needed back then. The shop itself also contains a variety of interesting artifacts and Manchester history for viewing while you're there. Might also see some period dress…
4. Historic Home Tours – Saturday August 5 and Sunday August 6
The Sesquicentennial Planning Team is finalizing a set of guided home tours for Saturday and Sunday afternoons, including both a docent-led version with interior access to some homes and churches, and a self-guided walking tour of exterior views only. The tours cover two areas:
The "Village Green", centered on Wurster Park, including John Gilbert's vision when he founded Manchester in 1833, some of Manchester's oldest homes, and the center of many of our original churches.
Ann Arbor Hill, centered on the post-Civil War Italianate homes along Ann Arbor St. (M-52) north from Main Street. You'll get to meet Jeremiah D. Corey, a leader in getting Manchester incorporated as a village in 1867.
More details on tour times and tickets will be published in the Mirror and our web/social media pages.
5. Next Planning Meeting – Tuesday, July 18, 7 pm
Our next Sesquicentennial planning meeting is set for Tuesday, July 18, 7 pm at the MAHS Kingsley-Jenter House, 302 E. Main Street. All are welcome to attend. We'll be finalizing and confirming remaining details on the individual events. Still could use a few volunteers for specific activities.
Keep up with our planning on Facebook at "Manchester Sesquicentennial Festival" (@150yearsManchester), or on the web at www.48158.com/150 years.
.