Seniors can sign up for free Farmers Market Bucks this Thursday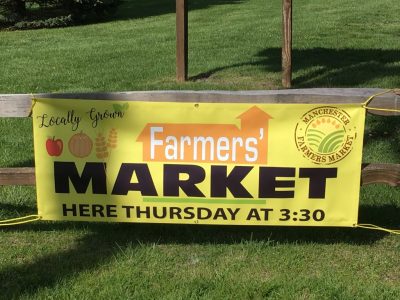 This Thursday, August 10, Manchester-area Seniors who live within Washtenaw County and are over 60 years old can sign up for free farmers market bucks! The Manchester Farmers Market is teaming up with the County, St. Joesph, and Manchester Community Resource Center to offer up to $30 in vouchers per person which will be able to be used at the Manchester Farmers Market to purchase fresh vegetables, fruit, herbs, honey, meat and dairy products.
To participate, you must sign up this Thursday either from 2 to 3 pm at the Community Resource Center at 410 City Road or from 3:30 to 4:30 pm at the Farmers Market at Chi-Bro Park, 209 Ann Arbor Street. Note: the Farmers Market which was held at a special location last week for the Sesquicentennial, is returning to its regular location this week.
This one-time event will give seniors the opportunity to take advantage of two different programs: Senior Project Fresh and Senior Market Bucks. Senior Market Bucks has no income requirements and will provide $10 in vouchers to all seniors who sign up. Senior Project Fresh provides up to $20 to seniors based on their income, in addition to the Senior Market Bucks $10, for a total of up to $30. Vouchers can be used through the end of the Farmers Market on Oct. 31st.
Questions? Contact Amanda Ng at (734) 544-2973 or nga@ewashtenaw.org