[PHOTO] Manchester in 1906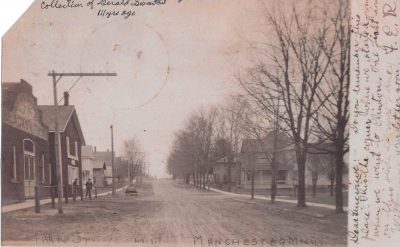 This photo postcard of "Main St., Manchester, Mich" is from the collection of Gerald Swartout, and is probably circa 1906, from the date of the postmark.
It is Main Street looking east from just beyond the Blacksmith Shop, which is shown on the left. The text at right reads, "Dear Genevieve: Do you remember this place? This is the corner where we started from when we went to Clinton. The first house on this side is my home. Will answer your letter soon. F. E. R."
Thanks to Mr. Swartout for sharing this rare street view of our village from 111 years ago.