Blacksmith Shop Concert series starts back up for the season with lower ticket price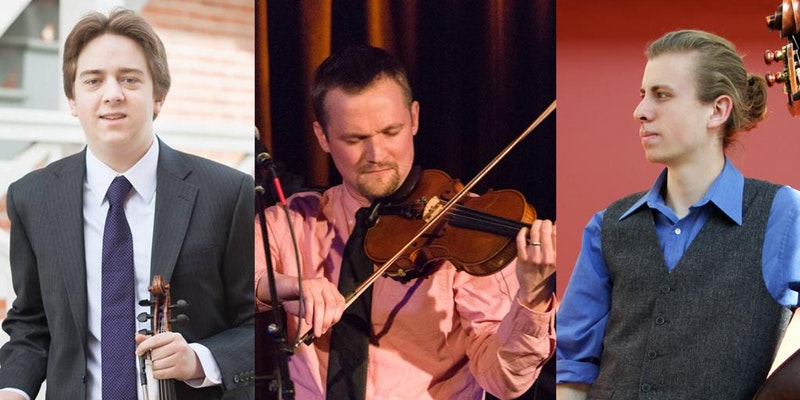 Riverfolk Music and Arts will start back up a new season of Blacksmith Shop concerts on Saturday, September 23 at 7:30 pm with a virtuoso acoustic string trio. Jacob Warren playing the bass will be joined by Brad Phillips and Grant Flick, who both play the fiddle, guitar, mandolin.
Grant Flick has been the recipient of numerous musical awards, including the Daniel Pearl Memorial Violin in 2013. He was also selected as a participant for the 2015 Savannah Acoustic Music Seminar. His interests in jazz, bluegrass, swing, and acoustic music have influenced Grant as a performer; he now plays violin, mandolin and tenor guitar. Grant is currently pursuing a music degree at The University of Michigan school of Music, Theatre and Dance.
Brad Phillips is a multi-instrumentalist from the great state of Michigan.  Holding both bachelors and masters degrees from the University of Michigan School of Music, Theatre & Dance, Brad's work as a fiddler, violinist, mandolinist, guitarist, arranger, composer, producer and teacher has made him one of the area's most sought-after acoustic musicians. He teaches Roots Music and Improvisation for Strings at The U of M String Preparatory Academy, and has several performance projects of his own including duos with virtuoso bassist Jacob Warren, guitarist extraordinaire Jesse Mason, The Roots Music Strings, and others.
Jacob Warren is a multi-style bassist based in Ann Arbor. His background and interests lie in a wide ranging variety of acoustic styles, including, but not limited to classical, traditional and contemporary folk, jazz, bluegrass, newgrass, Cajun, gypsy jazz, and many others. Warren began double bass studies at the age of 10 under Robert Rohwer, and recently graduated from the University of Michigan School of Music, Theatre & Dance in 2017, receiving the Earl V. Moore Award in Music. During his time there, he studied classical double bass performance with Professor Diana Gannett. Besides performing regularly around the country, Warren is currently on staff as the Double Bass Instructor at Cultural Art Strings in Manchester.
The monthly concert series is held in Manchester's historic blacksmith shop, located at 324 East Main Street. This year all tickets are $15 each and are available on Eventbrite or at the door.
This series is sponsored by the Ann Arbor Area Community Foundation.