SASHA Farm to hold annual benefit banquet and auction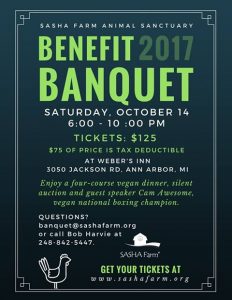 SASHA Farm of Manchester is the Midwest's largest farmed animal sanctuary, with more than 225 animal residents including cows, pigs, sheep, goats, chickens, turkeys, equines, and other animals. Its annual benefit banquet and auction will be held from 6-10:30 pm on Saturday, October 14, at Weber's Inn in Ann Arbor.
Enjoy an entertaining and enjoyable Saturday evening  of great vegan food, entertaining speakers, and heartwarming stories of annual rescue! Savor a 4-course vegan dinner, bid on items in our silent auction, treasure a keepsake gift, enjoy a cash bar, and delight in the rescue stories of the animals at SASHA Farm, while helping the SASHA Farm animal residents at the same time! Ticket price includes a tour of SASHA Farm and a chance to meet the Jersey 5 (new Jersey calves) on October 15.
Cam F. Awesome will be the evening's guest speaker. Cam is known as "The Vegan Boxer" and has spoken at the Farm Sanctuary 2017 New York Hoedown, San Diego VegFest, Rochester VegFest and Piedmont Farm Animal Refuge. Cam is a witty, upbeat and high-energy motivational speaker as well as a comedian. A proud vegan for the past 5 years, he is also a 5-time Golden Gloves boxing champion.
Tickets for this event are only $125, and the best part is that $75 of that is tax deductible. Buy your tickets here or mail a check to SASHA Farm, P.O. Box 222, Manchester, MI 48158. Included with each ticket will be a tour of SASHA Farm and a chance to meet the Jersey 5 on Sunday October 15 starting at 11 am.
New, cruelty-free donations are still being accepted for the silent auction. Please contact Bob@sashafarm.org if you have items to donate or if you have questions.
Founded by Manchester residents Dorothy Davies and Monte Jackson, SASHA Farm started rescuing animals in the 1980s, and became a registered 501(c)(3) non-profit in 2001. SASHA provides lifetime care to farmed animals formerly destined for slaughter or who were abused, neglected, abandoned, or no longer able to be cared for. For more information, please visit www.sashafarm.org