Manchester Township votes to End AshKay Island rentals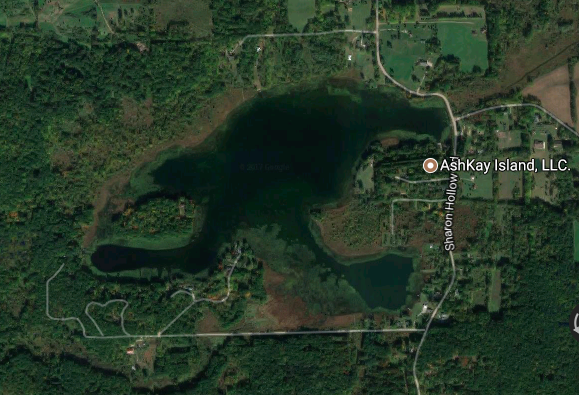 Following up on the issue of the AshKay Island vaccation rental discussed in depth at the September Manchester Township board meeting (and in a previous article), last Tuesday the Manchester Township board voted unanimously to take legal action against Andy Bobo, owner of the AshKay Island rental on Iron Mill Lake. The goal of the legal action is to stop rental of the island, because the area is not zoned for that usage.
"It is not in compliance with our zoning," said Gene DeRossett, Township Supervisor for Manchester Township. "I will say this," he added. "Our zoning administrator did not create this problem; he complied with the zoning for a single family residence, that application was taken to the building department, and there was a building permit issued based on the zoning."
"I am disappointed that Andy wasn't up front at first about this," said Ron Milkey, Manchester Township board member. "Because I do think it could be an asset to the community. I am disappointed to have to shut it down, but I agree that it is our duty to follow our current zoning ordinances."
"I've had conversations with Andy," said board member Carl Macomber, "and I am disappointed that he wasn't forthcoming right at the very beginning. He pretty much knows how I feel about that."
"As board members, we have a responsibility to uphold the zoning ordinances, and enforce them," said Laurie Carey, Treasurer of Manchester Township. Carey added, "No one wants to restrict business, or trade, or traffic to our area, but under these circumstances I don't think we have a lot of choice."
The township voted to send a letter asking the owner of AshKay Island to end the rental business. The board also authorized the township's lawyer, Jesse O'Jack, to prepare to file papers in court in order to ensure that the owner of the island complies. The tree house structure on the island was not permitted at all, and will need to be inspected, according to DeRossett.