Caramel Apples, Christmas in the Village and Christmas Home Tour!
By Ray Berg
The Manchester Area Chamber of Commerce is busy with annual seasonal events, and the first one was a big success! The Chamber is pleased to host and organize these holiday fun-filled activities for families in Manchester, and look forward to you being a part of them.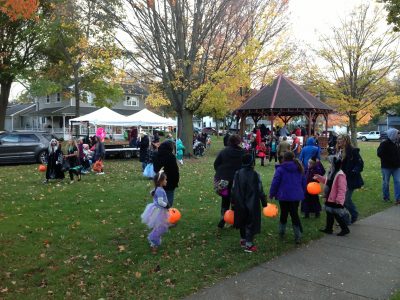 Caramel Apple Event
The Caramel Apple Event held on Halloween night at the Wurster Park Gazebo brought record crowds this year. Organizers Elizabeth Beaudoin, Kathy Dimond and Lisa Fookes reported giving out 1,100 caramel-coated apples, and indicated more will be needed next year! The Chamber has hosted this event for many years, taking over from original hosts Monty and JoAnn Okey who began this tradition by providing coated apples from their front porch. For the last two years, the event has been held at the Gazebo, and this has proven to be an excellent location for our young costumed guests.
The Okeys continue to help with the caramel preparation, and we are grateful for the many other volunteers who help out. Ruth and Mark VanBogelen, David Nelson, and Rose and Melissa Cousino helped with the continuous flow of apples-on- a-stick, coating and packaging. We are also grateful for the large number of Key Club and Drama Club students who help out. Alex Clark, Madilyn Chandler and Zach Chandler have worked with us for 3 years straight. We also received help from Jonas Chandler, Emma Mrocko, Quenton Bortmas, Cole Bruestle, and Filippo Garzotto. We are also grateful for the assistance of Sgt. Paul Cook, who handed out bags of stickers and pencils and talked with the kids.
We are most grateful that the Manchester Lions partner with us to host a pumpkin bowling game adjacent to the Gazebo. It's fun to see little kids working to knock over the pins and learn that it's OK in this setting to roll the pumpkin as hard as they can. Our thanks to Barry Allen and fellow Lions for their support.
Our organizers report on the many positive comments and appreciation expressed by parents for this fun event, and the Chamber plans on continuing this for years to come.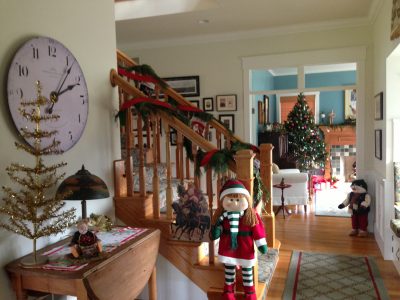 Christmas Home Tour
Once again a Christmas Home Tour will be conducted in Manchester this year – Saturday, December 2, from noon to 8 pm. Organizers Teresa Benedict-Miller and Carrie Keller have arranged for six beautiful homes on the tour, each with its own unique style, decorated for Christmas and available for touring! The Chamber serves as the fiduciary for this event, and proceeds from the tour go towards Main Street Christmas decorations.
Tickets are $15 in advance and $18 at the door, and are now available at The Flower Garden, Manchester Pharmacy, Kellie's, Andrews Family Chiropractic, Linda's Diner or River Raisin Antiques. They can also be obtained by calling 734-255- 1498.
Christmas in the Village
And along with the Christmas Home Tour, the weekend of December 1-2 will see our annual Christmas in the Village event, beginning with a parade on Friday evening December 1, followed by an entire day of activities throughout Saturday December 2. A wide variety of craft shows, open houses and fun-filled events will fill the day. The Chamber of Commerce team is led by Jennifer Wojtowicz, Deborah Alber and Linda Stevens, and they are hosting regular
planning meetings and assembling teams to organize the many events.
Look for a separate article on the Christmas in the Village activities in the next issue of The Manchester Mirror. A brochure with all the activities, times and locations will be published shortly.
Please contact Jennifer Wojtowicz at PPSListings@gmail.com to offer your volunteer services and help.