Manchester products included in harvest baskets for county Commissioners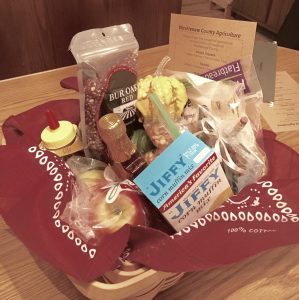 submitted by Washtenaw County Farm Bureau
Members of Washtenaw County Farm Bureau's Promotion & Education Committee (P&E) assembled and presented "Harvest Baskets" of products grown and produced in our county to each of the members of the Washtenaw Board of Commissioners at their November 1 meeting.
P&E chair, Lynda Horning, made the presentation during the public comment portion of the meeting. Horning highlighted agriculture's economic contribution to our state's economy and the fact that Michigan produces more than 300 commodities, making us the state with the second most diverse agriculture industry in the nation. She also invited commissioners  to contact Farm Bureau with any agriculture-related questions and assured them that county farmers are always available to provide farm tours.
The "Harvest Baskets" filled with items grown or produced in Washtenaw included: Acorn squash from Fusilier Farms in Manchester Township; gourds from Coleman's Cornmaze and Farm in Saline Township; popcorn from Bur Oaks Farm in Webster Township; apples from Alber's Orchard in Freedom Township; Jiffy Corn Muffin Mix from Chelsea; honey from Lesser Farms and Orchard in Dexter Township; maple syrup from H&H Sugarbush in Sylvan Township; Flatout Flatbread from Saline Township; roasted soy nuts representing soybeans grown in many areas of the county, and a dairy "goodie bag" representing dairy farmers across Washtenaw. A placard of ag facts and origins of the local products was also tucked into the baskets.
During the board feedback session, several commissioners spoke to thank the organization for the baskets and for being there to represent Farm Bureau. They also praised Washtenaw County's agricultural heritage and the Conservation District's Farmland Preservation efforts. A couple of the commissioners mentioned their own family's connections to farming, and expressed gratitude for the hard work that farmers do throughout the year.
Regular meetings of the Board of Commissioners of Washtenaw are archived and can be viewed on Ann Arbor Cable TV – CTN Channel 16 https://a2ctn.viebit.com/index.php?folder=Washtenaw%20County%20Meetings