Wednesday deadline to register for Christmas in the Village contests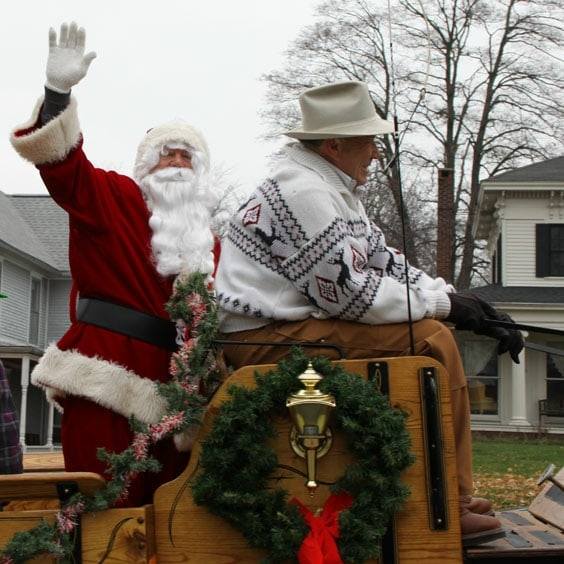 Christmas in the Village will be happening the first weekend in December again this year and will feature the return of well-loved events like the craft shows, Co-op Preschool chili cookout, Kiwanis Lunch with Santa, and the lighted parade, as well as some brand new events like an outdoor house decorating contest, downtown business window decorating contest, business "Christmas Crawl", festival of trees in Wurster Park, a Christmas movie event at the library and more. It will even feature the return of an old favorite, horse drawn carriage rides through the village. The deadline is approaching for entering some of these contests!
The parade will take place Friday, December 1st, with the formal line up at 6pm. If you would like to have your float judged for the contest, you must be lined up by 5:45pm. Entries will be judged in 3 categories, best lighted float, best Polar Express themed float, and most Manchester-themed float. All floats must be lighted and can not contain a Santa. No candy can be thrown from the float and there must be at least one adult per float. If you would like to be in the parade, whether or not you want your float to be judged, you can fill out the online registration form here. The deadline to enter is this Wednesday.
Do you want to enter your house in a resident outdoor decorating contest? If you live within the 48158 zip code, you can join in the fun. The deadline to enter is Wednesday. Judging will take place on November 30th at 6:30pm. Winners will be announced at the Tree Lighting Ceremony on Saturday Saturday, December 2nd at 7pm. The categories will be Best Polar Express Themed, Best Classic Christmas, and Most Over the Top. Sign up online here.
The Christmas Crawl is a new event this year, similar to the pickle hunt for kids last year but for all ages. Everyone will be able to grab a punch card and map at any participating Christmas Crawl business on December 2nd, visit each business participating and get a punch on their card which they will be able to enter in a drawing later for prizes. Do you have a business that you want to participate in the "Christmas Crawl" download this form: Christmas Crawl Form and submit it by Wednesday. Businesses can also participate in the window decorating contest. Windows will be judged on Best Polar Express themed and Best Holiday spirit. The entry forms can be downloaded here: Business Window Entry Form. The deadline to enter both is Nov. 15th.
Another new event this year will be the Festival of Trees. The Manchester Mens Club will be donating a limited number of trees to be decorated in Wurster Park by organizations or individuals. If you would like to reserve a tree, fill out the form below and drop off at the Dandy Lion. Download the entry form: Festival of Trees Form and drop it off at the Dandy Lion on Main Street.
Christmas in the Village organizers are still looking for sponsors. If you, your business or organization would like to sponsor Christmas in the Village, you can sign up here.
Hardcopies of all of the forms can be picked up forms at Kellie's or Proper Property Services on Adrian Street and return to Proper Property Services by Wednesday November 15th.