WWRA Offers Tips for Greener Holidays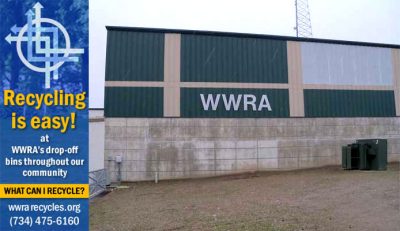 The Western Washtenaw Recycling Authority (WWRA) sees an upswing in recyclables over the Thanksgiving and Christmas holidays, a somewhat natural occurrence since area residents are buying more food and products for family gatherings.
However, there are many "green" ways to reduce, reuse, and then recycle, said Shawn Personke, PR/Outreach Consultant for the WWRA.
"One daily habit to adopt is by using your own shopping bags," she said. "You can keep a couple in the car or folded up in your purse so that you always have them handy."
Personke also noted that plastic bags of any sort are not recyclable at all so it's best not to use them. "They wreak havoc on our sorting system," she said, "and then just end up in the landfill."
A second tip is to invest in reusable gift boxes. "In the long run, Christmas themed boxes can be saved and reused, whereas wrapping paper, which can get quite expensive, goes into the recycle or trash bin," said Personke.
"You won't need to buy paper every year, and if you watch for post-Christmas sales, you can get a really good deal on the boxes.  They come in all shapes and sizes, too."
Many websites offer great tips on being green for the season. The WWRA has posted a couple of options on the WWRA Facebook page, said Personke.
"Just google 'being green for the holidays' and you'll get some good results."
Western Washtenaw Recycling Authority is a partnership of five municipalities working together to find alternative ways to handle waste and promote recycling. Formed in 1991, the WWRA is subsidized by the townships of Dexter, Lyndon, Manchester and Lima, and the City of Chelsea. The townships — including Bridgewater Township which is an associate member — are served by convenient drop-off centers while the City of Chelsea has weekly Curbside Recycling pick up.
For more information about the WWRA, visit www.wwrarecyles.org or the WWRA Facebook page at www.facebook.com/wwrarecycles.