2017 Christmas in the Village – parade, shopping, Santa, crafts shows, contests & more!!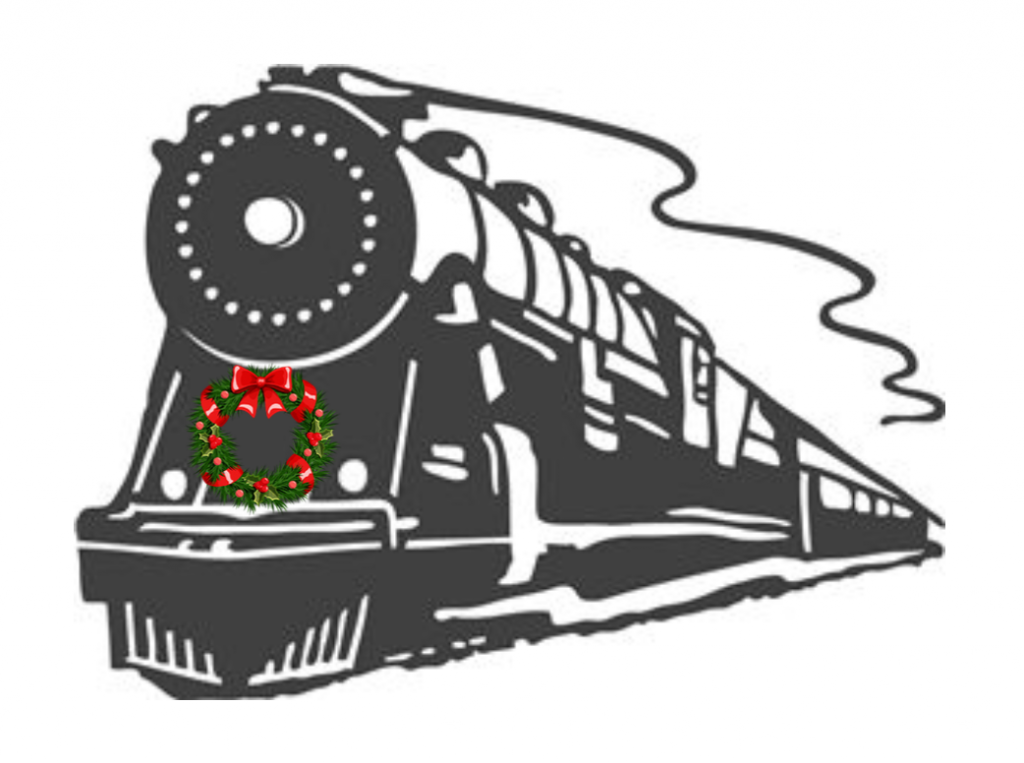 Manchester Chamber of Commerce will be hosting Manchester's Annual Christmas in the Village this coming weekend. Festivities begin on Thursday, November 30th and run through the evening of Saturday, Dec. 2nd. While we can look forward to the return of perennial favorites, like craft shows, the lightened parade, Lunch with Santa and the beloved recent additions like the Chili Cookoff, this year sees the introduction of what promises to become new traditions, like the Festival of Trees, a cookie contest, a home decorating contest, and much more!
Thursday
Thursday evening Christmas in the Village kicks off with the beginning of the Festival of Trees. Starting at 6:30 pm, come to Wurster Park and wander through beautifully decorated trees donated by the Manchester Mens club. Each tree was decorated by a different community organization or individual. Trees will stay up through Christmas. Judging will also take place beginning at 6:30 pm of those homes entered in the Manchester resident outdoor decorating contest. (Maps of decorated houses entered in the contest will be available at Proper Property Services at 131 Adrian Street or Christmas in the Village info booth on Saturday from 9am to 3pm.)
Friday
On Friday, the Lighted Parade will return! This year's theme is the Polar Express. The parade route is a little different this year with parade participants lining up near Kirk Park, coming up Adrian Street to Main Street, turning left on Main Street and running to Wurster Park. Parade participants must be pre-registered and need to be lined up by 6 pm–or 5:45 pm if they are registered for the float contest. While downtown for the parade, enjoy the decorated business storefronts.
After the parade, everyone is invited to gather at the gazebo in Wurster Park, where the business window decorating contest and parade float winners will be announced. Afterwards, Santa and Mrs. Claus will be available to meet with children and hear their Christmas wishes, as well as posing for photos with them. Santa will be handing out candy trains and wooden train whistles. Photographer Jean Robert will be on hand to take photos of the children with Santa. In addition, there will be a hot cocoa and candy cane station, live music, caroling, and an outdoor heater on each side of the gazebo.
Saturday
Saturday is packed full of activities. Craft shows, pop-up markets and open houses begin at 9 am and run through 3 pm (see list below).
A new event this year is the Christmas Crawl. Starting at 9 am participants can visit every participating business to get their ticket stamped. Maps of participating businesses and tickets are available at Proper Property Services at 131 Adrian Street. Turn completed Christmas Crawl tickets in to Proper Property Services Inc. by 6 pm to be entered into a drawing for prizes at 7 pm at the tree lighting ceremony. (You must be present to win.) While at Proper Property Services, take a minute to write a Christmas card or help assemble a care package for the troops.
The Manchester High School Key Club will be holding their Annual Lunch with Santa event 11 am-1 pm in the St. Mary's Parish Center at 110 East Madison Street. At this free event, children can enjoy pizza, crafts, and music by Cultural Art Strings as well as a special visit from Santa himself.
The Annual Christmas Home Tour is also taking place from noon to 8 pm. This tour involves six local homes in the Village, all decorated for the holidays. Highlights include the J.A.Goodyear house located at 115 W. Main Street and folk artist Margaret Shaw's home on City Road. As an added bonus, the Black Sheep Tavern will open its doors to Home Tour ticket holders. Tickets are $15 ahead of time, or $18 at the door, and are available at The Flower Garden, Manchester Pharmacy, Kellie's, Andrews Family Chiropractic, and Linda's Diner. All proceeds go toward purchasing Christmas decorations for the Village.
The Manchester Brass Band will be holding its Annual Holiday Concert at 2 pm in the Sanctuary of the Manchester United Methodist Church, located at 501 Ann Arbor Street. There is no admission charge.
Looking for afternoon activities? At 1:30 pm Santa will judge a cookie contest at Proper Property Services Inc. located at 131 Adrian Street. The cookies will be available for sale afterwards. At the same time and location, children can enjoy hearing Polar Express read aloud during story time with Mrs. Claus. Hay rides through the village will be available from 11 am to 2 pm from the porch of the mill located at 201 East Main St. and horse drawn carriage rides will be available from 2 to 5 pm at Webb Auto (Duncan Street entrance of  131 Adrian Street) for the price of a donated canned good for the CRC food pantry drive. Sign up beginning at 9am. Christmas carolers & music acts will be performing throughout the village from 11 am to 3 pm. Children can also visit Santa at his little house on Main Street from 3 to 4 pm.
The Co-op Preschool will be holding a Chili Cookoff and Fundraiser beginning at 5 pm in St. Mary's Parish Center at 110 East Madison Street. There is no charge to attend the event. If you would like to sample the chili, you can purchase tickets for $1 each. Tickets are redeemed for chili samples. Each participant gets 50 cents per ticket they receive. The other 50 cents goes to the Co-op Preschool. The chili will be judged and the winner will receive a cash prize. If you would like to enter your chili, pick up an entry form in the Co-op Preschool Hallway located at 410 City Road.There is a $25 entry fee and no deadline to register, as long as the form and fee is turned in at the contest, although the location can only accommodate a max of 15 entrants. Contest entrants need to arrive at 2 pm to begin cooking. No wild game meat is allowed and ingredients must be in original packaging at contest.
At 6 pm the Co-op Preschool's silent auction, live auction and multiple raffles begin. One raffle is for cash. Another is for a wooden flag made by My Freedom Flag Works and a wooden bench, both sponsored by the Manchester Mens Club. Raffle tickets will be available at the door. You do not need to be present to win the cash, but do need to be present (or have someone representing you who can take home the item) to win the flag or bench. Attendees are welcome to bring their own food and drinks. This event is for adults and older children only.
The Manchester District Library will be holding a Polar Express Pajama Movie Party from 4:30 to 6:30 pm at 912 City Road. Come meet the Polar Express Conductor, and build your very own cardboard train car to watch the movie from! Popcorn and refreshments will be provided. Children under 10 must be accompanied by someone 16 years or older. This event is free.
At 6:30 pm, at the gazebo in Wurster Park on Main Street, the Dodworth Saxhorn Band, America's premier 19th Century Brass Band committed to bringing America's musical past to life and headlining band during the Manchester Sesquicentennial will be returning to perform a mini-concert. This will lead into a tree lighting ceremony in the gazebo at 7 pm. Winners of the Christmas Crawl drawing and resident outdoor decorating contest will be announced. There will be two outdoor heaters near the gazebo to warm up by as well as caroling, hot cocoa and candy canes!
Christmas in the Village Maps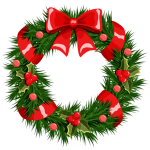 (numbers correspond to numbers on maps below)
– Event Locations –
1. Gazebo in Wurster Park – West Main Street
2. Proper Property Services Inc. – 131 Adrian Street
3. St. Mary Church Parish Center– 110 East Madison Street
4. Manchester District Library – Village Room 912 City Road
– Pop Up Markets –
5. Pop-up Market – Unforgettable Photos storefront, 215 East Main Street – Friday 5-8pm & Saturday 9am-3pm, home-based businesses
6. Pop-up Market – 114 Adrian St. – Saturday 9 am to 3 pm – crafters and home based businesses
7. Pop-up Market – 144 E. Main St. – Saturday 9 am – 3 pm – pop-up coffee shop, baked goods, and art
 – Saturday Open House, Craft Shows, Bake Sales –
8. Manchester Area Historical Society Open House – 10 am-4 pm – Kingsley-Jenter House, corner of Main Street & M-52 – Historical Society & Sesquicentennial materials for sale, local historical items on display, musical performances, light refreshments, docents on hand to hear your history requests.
9. Emanuel United Church of Christ – 9 am to 3 pm – 324 W. Main Street – Emanuel UCC will be hosting their annual raffles, craft and vendor show. Lunch will be available.
10. Manchester United Methodist Church – 9 am-3 pm – 501 Ann Arbor Street – Cookie Walk load up on cookies and pay per weight, craft show including wooden scroll saw items, handmade beaded jewelry, homemade pretzels, baked goods, crocheted and knitted items, fresh Christmas wreaths, Klager Kids' Art Show, the Forgotten Christmas shop featuring ornaments, wrapping paper and decorations with proceeds benefiting the Community Resource Center food pantry. A lunch of sloppy joes, chips, dessert and a beverage will be offered for a nominal cost.
11. Takessian Craft Show – 9 am to 3 pm – 226 Glenwood Cir, Manchester
12. Sharon United Methodist Church Craft Show – 9 am to 3 pm – 19980 W. Pleasant Lake Road – honey and beeswax products, pottery, knit and crochet items, Christmas decorations, jewelry, greeting cards and much, much more.  All items are hand-crafted.
13. Country Craft Barn Open House – 9 am to 3 pm – 19442 Bethel Church Road (1/2 mile west of M-52) – Fresh Christmas wreaths, wool mittens, snowmen, painted sleds, yard ornaments, Christmas centerpieces, ornaments, vintage items, wall hangings, jams, jellies, salsas, German pretzels, snacks and pop.
14. Freedom Township Hall – 9 am to 1 pm – 11508 E. Pleasant Lake Road – St. Thomas Lutheran Church will be having their annual bake sale/craft show including German baked goods (including pretzels), mashed potato doughnuts, and a cookie walk, as well as home business vendors Usborne Books, Discovery Toys, Pampered Chef and PartyLite candles. Lunch will also be served from 11 am – 1 pm which includes sloppy joes, hot dogs, German potato salad, coleslaw and chips.
15. St. James United Church of Christ – 8:30 to 10:30 am – 11005 W Michigan Ave. (between Manchester and Saline) – Annual Cookie Walk (come early, cookies go fast!)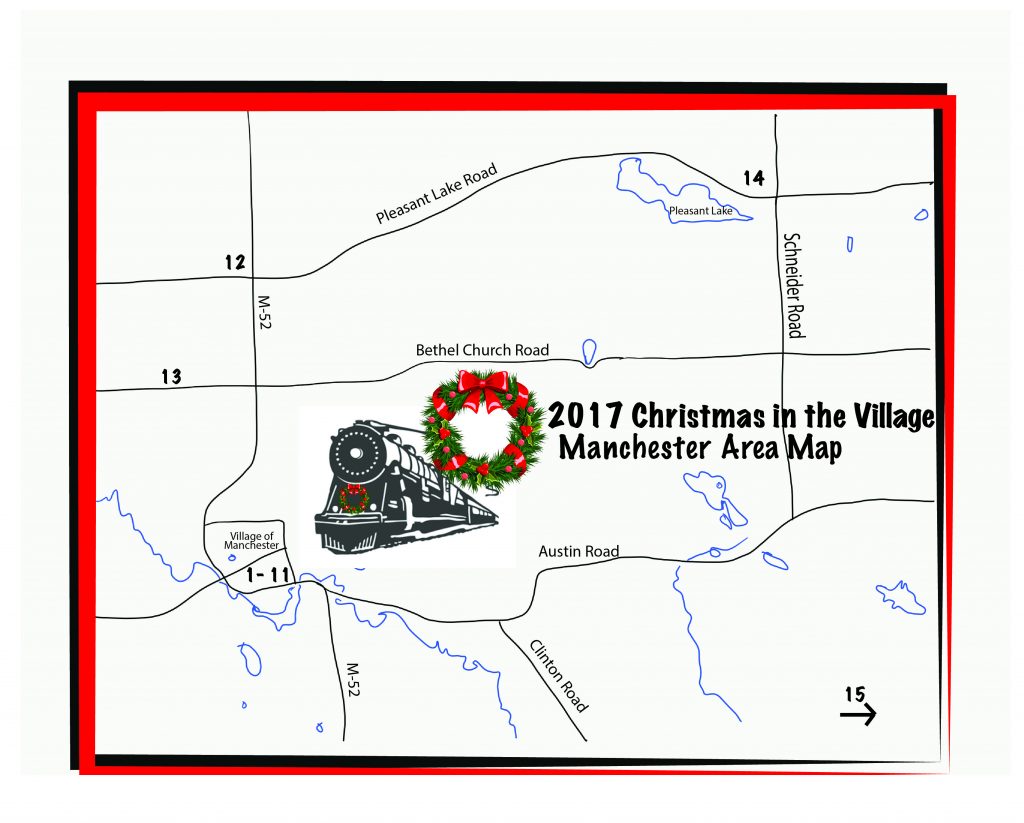 Business Specials:
Many restaurants and businesses will be offering specials, sales and promotions during Christmas in the Village. Frank's Place will have holiday cookies & donuts as well as hot chocolate with whipped cream or marshmallows. Exhale Yoga will offer a free class 9 to 10 am on Saturday. The Dandy Lion again has a giving tree this year. Do you have an extra new children's clothing or a toy? Or do you need a gift for a child this Christmas and money is tight? Visit the giving tree. Leave a gift or take a gift. The Manchester Pharmacy will be holding their Christmas Open from 9 am to 3 pm with snacks, drawings, and sales. On Friday night, Over the Edge will offer "caroling karaoke" at 8pm and will be playing the movie Polar Express continually from 8pm until midnight on Saturday night. Stockwell's Breakfast & Lunch "Kellie's" will be featuring specialty holiday coffee drinks & homemade quiche. These are just a few!!
Click here for the Chamber of Commerce's Christmas in the Village Flyer to read about many Christmas gift purchasing opportunities right in Manchester: Christmas in the Village Flyer
Food Drives
Looking for a way to give back this holiday season? Webb Auto Shop located at 131 Adrian Street at (Duncan Street entrance) will be collecting shelf safe food and supplies for the Community Resource Center food pantry all day on Saturday. Manchester Cub Scouts will be collecting food and supplies for Manchester Family Services in front of the Manchester Market and the Dollar General on Saturday from 10 am to 2 pm and on Sunday Dec. 3 from noon to 4 pm. You can also donate food and supplies to Family Services in the drop box at Sharon United Methodist Church during craft show.
More information
Please visit https://www.facebook.com/manchestermichristmas/ for up to date information and/or contact organizer Jennifer at ppslistings@gmail.com with questions.