Borek Jennings appoints new managing director of Manchester & Brooklyn locations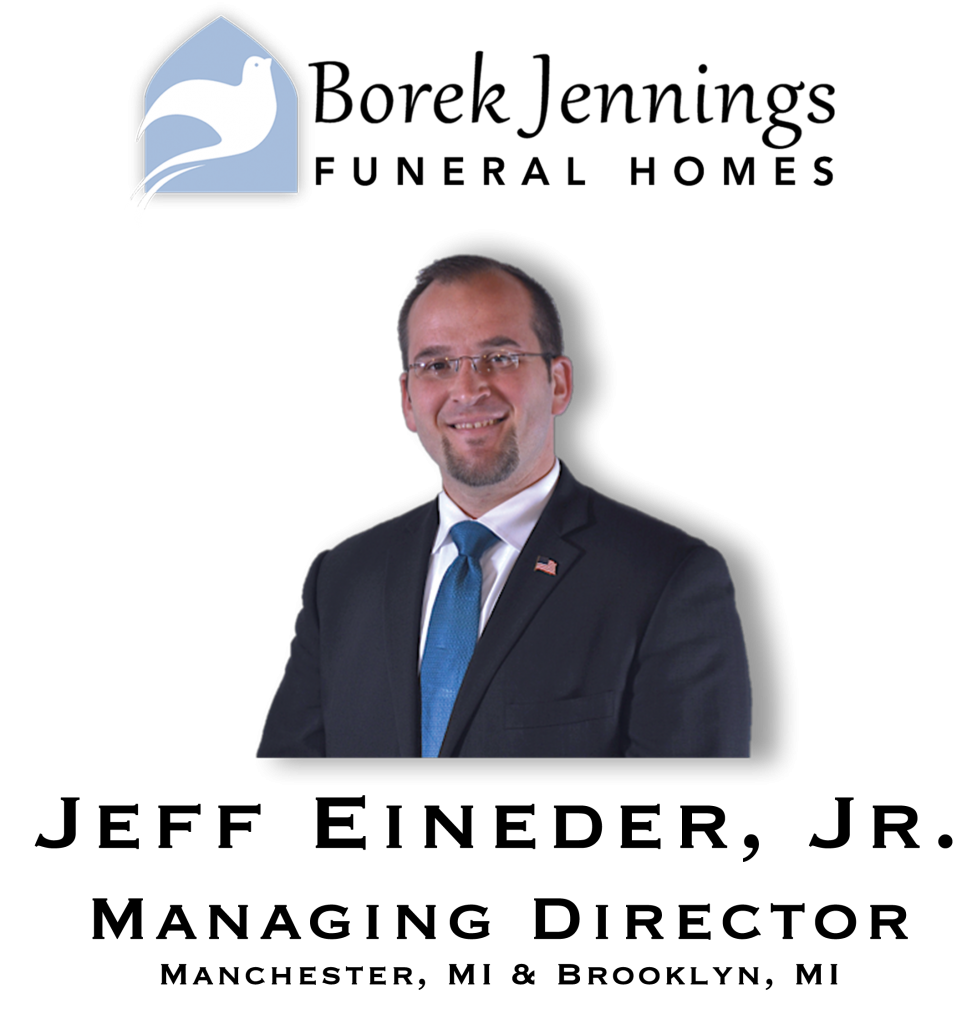 Borek Jennings Funeral Homes announced last week the promotion of Jeff Eineder, Jr. as Managing Director of the Manchester and Brooklyn locations. Eineder comes with a wealth of experience within the profession, having spent the last three years as the Managing Director of Borek Jennings Funeral Home: Lamb Chapel in Howell and prior funeral services experience with Nichols – Arthur Funeral Home in Michigan Center, Ryan – Parke Funeral Home in Park Ridge, Illinois, and Dutcher-Kolcz Funeral Home in Bronson. In 2012, he graduated among the best in his class from Worsham College, one of the oldest and most prestigious mortuary colleges in United States. Eineder is a member of Rotary International, Business Network International (BNI), Michigan Funeral Directors Association (MFDA), and National Funeral Directors Association (NFDA).
Jeff Eineder, Jr. is the proud son of Jeffrey and Tonyia Eineder (Lowe – Poe) of Grass Lake and a 2007 graduate of Napoleon High School. In 2012, he married Kristin E. Richardson, daughter of David and Susan Richardson (Wyman) of Napoleon. Eineder and his wife have two sons, Liam and Everett, and are expecting a baby girl, Evelynn, in December of this year.  
Eineder stated, "Words cannot fully express how excited and truly grateful I am to be coming home! Coming home means so much more than living locally; it means that I am closer and ever more present for my family, friends and the communities that I know and love. Returning to my roots with over 10 years of experience and knowledge to assist, lead and educate families facing the loss of a loved one is both humbling and gratifying."
Karl Jennings, CEO of Borek Jennings Funeral Homes stated, "From the first time I met Jeff, it was very apparent to me he joined our profession for all the right reasons. He has worked very hard to prepare himself for this opportunity to return home to the Brooklyn and Manchester area. We are delighted to have him on our team and look forward to having him support the communities in which we serve for many years."
Borek Jennings Funeral Home is a full-service funeral home with four locations in Manchester, Brooklyn, Hamburg and Howell. Their mission is to help families begin healing after the loss of a loved one by caring for the emotional, relational and spiritual well-being of those who loved and shared a relationship with your loved one.