New Year's resolution to lose weight? MMLB participants have already lost 600 pounds since September!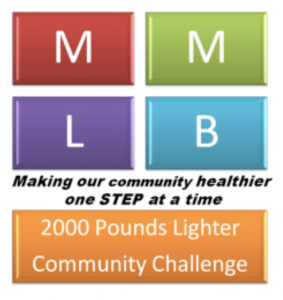 submitted by Ruth VanBogelen, MMLB
This year's 2000 Pound Community Challenge (called MMLB) is going great! Sixty-two people have lost nearly 600 pounds lost since September 1, 2017 (596.5 pounds to be exact). This 600 pounds is net loss – so if people have lost and then gained, we are only counting the amount lost since the first weigh in. This is almost twice as much as last year's MMLB challenge! In addition to the weight loss, 81 people have turned in activity reports with over 55 million steps tallied so far!
MMLB has four groups this year. Group 1 was for people didn't want to lose weight but wanted to increase their activity. Group 2 was for people who wanted to lose weight on their own. Group 3 is the Diabetes Prevention Program (offered through the National Kidney Foundation), for people at risk for developing Type 2 Diabetes. This group has lost the most – 20 people have lost 343.4 pounds. Group 4 is the TOPS group.
All but one of the MMLB Groups are no longer accepting new members, but one group is still welcoming new members. As part of the MMLB program, a Manchester Chapter of TOPS was started on September 12, 2017. TOPS stands for Take Off Pounds Sensibly (www.tops.org) and is a non-profit organization which is celebrating 50 years in 2018. As a non-profit,TOPS operates by helping local chapters develop strong support groups for people trying to lose weight and then keep the weight off once their goal is reached. TOPS Club, Inc. has also donated millions of dollars for researching obesity.
The Manchester TOPS group has two meeting options per week. Both meetings are on Tuesdays and meet in the Village Room at 912 City Road. The morning meeting is at 8:20 am and the evening meeting is at 6:30 pm. The half hour before each meeting is for members to weigh in. The meetings typically last about 30 minutes. Each week there is an education topic with group discussion. The cost to join TOPS is $32 a year and the weekly dues for the Manchester Chapter is $1 a week. The Chapter currently has 31 members.
By joining TOPS, you are joining the MMLB program also. As part of MMLB, we can offer participants an activity tracker and other materials to support your weight loss.
If you are interested in joining TOPS or getting on a wait list for the Diabetes Prevention Program in 2018, email mmlb48158@gmail.com. Anyone is also welcome to come to a TOPS meeting to see what this program offers.
MMLB received a grant from the 5 Healthy Towns Foundation (5HTF) to provide funds to purchase Garmin Activity Trackers or pedometers to participants, to pay for the Diabetes Prevention Program, funds to start up the Manchester TOPS Chapter and for prizes for participants. We thank 5 Healthy Towns Foundation for these grant funds and the Manchester Wellness Center (which is run by 5HTF) for assistance running the MMLB program.