St. Joseph Mercy Hospital to present "Drugs 101" event in Manchester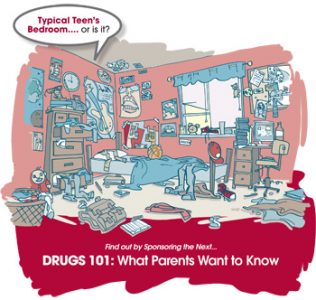 A parent education event is coming to Manchester on March 15th at the Middle/High School, sponsored by the PTSA.  The event, "Drugs 101: What Parents Want to Know," is an opportunity for parents to come and hear about what youth substance use looks like, learn how to identify use, and how to have conversations with the kids in your life about these things.
Michaela Buckhannon, the district's new Project Success Counselor at the Middle School/High School, is introducing this special program, which will be held from 6:30-8:30 pm in the Media Center at the Middle/High School.  Sponsored by Success/SRSLY Manchester, and a grant from the Ford Motor Company Fund, the informative and educational program is designed for parents, grandparents, guardians, coaches, teachers, administrators, and others who are interested in learning about the signs, symptoms, and current trends of teen drug use.
A highlight of this program is a mock teenager's bedroom set-up for adults to observe and attempt to identify the obvious and not-so-obvious drug related paraphernalia. Facts about trends in teen drug use, and tools to identify potential teen drug use will be discussed, and attendees will learn skills to engage kids in conversations about the issues surrounding teen drug use.
ADULTS ONLY. Online registration is requested at stjoeshealth.org/classes, but walk-ins are accepted. For more information, call 734-398-7518.
Child care will be provided by NHS and SRSLY Manchester during the program.