Public Notice: Bridgewater Board of Review Meetings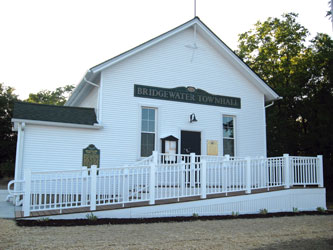 BRIDGEWATER TOWNSHIP 

BOARD OF REVIEW MEETINGS

PUBLIC NOTICE
The Bridgewater Township Board of Review for 2018 will be held at the Bridgewater Township Hall, 10990 Clinton Road, Manchester, Ml 48158 on the following dates:
Tuesday, March 6, 2018 at 7:00 pm – Organizational Meeting
Monday, March 12, 2018 from 9:00 a.m. to 12:00 p.m. and 1:00 p.m. to 4:00 p.m.- Appeal Hearing
Tuesday, March 13, 2018 from 1:00 p.m. to 4:00 pm and 6:00 p.m. to 9:00 p.m. – Appeal Hearing
The Board of Review will meet as many more days as deemed necessary to hear questions, protests, and to equalize the 2018 assessments. By board resolution, residents are able to protest by letter, provided protest letter is received prior to March 14, 2018.
The tentative ratios and estimated multipliers for each class of real property and personal property for for 2018 are as follows:

Bridgewater Township will provide necessary reasonable services to individuals with disabilities at the meetings upon five days' notice. Individuals with disabilities who require auxiliary aids or services should contact the Bridgewater Township Clerk, Tom Wharam, at 10990 Clinton Rd, Manchester, MI 48158; or by phone at 517-315-7545.
This notice complies with the Open Meetings Act, Public Act 265 of 1976 as amended.
Laurie Fromhart
Bridgewater Township Supervisor
Published:
February 14, 2018
February 21, 2018
February 28, 2018