September Gardening Advice for Manchester – 2016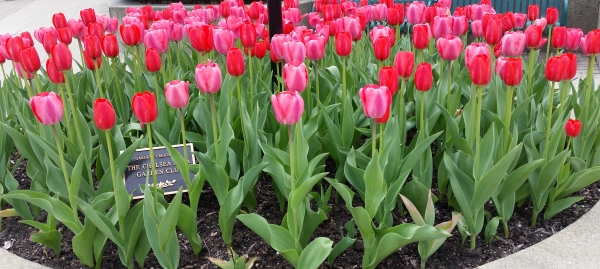 by Jennifer Fairfield
Editor's Note: Manchester resident Jennifer Fairfield owns and operates the Garden Mill in Chelsea, serves on the Manchester Community Garden Committee, and volunteers with the school gardens at Klager and the MECC.
The National Weather Service's Climate Prediction Center says we have "increased probabilities of
above-normal temperatures" for August, September, and October. Seems like they got August right, and although the next couple of days look to be significantly cooler (I'm loving it!), next week looks like we'll be back up into the mid-80's again. That's not too terribly unusual for us this month – September tends to be a bit of a tug-of-war where the weather is concerned. What to expect as we move into late fall and winter? That depends on who you believe. The Farmer's Almanac is saying that our winter will be "numbing cold and snowy" starting in mid-November. The Old Farmer's Almanac says temperatures will be colder than last year, but still above normal, and we will have more precipitation than normal. The National Weather forecast says we will have above normal temperatures into December, and then below normal temperatures through early spring next year.
 
Does any of this help you know what to expect? Probably not. I guess we'll just have to go about our normal routines as we head into fall, expecting that we will get winter at some point. We usually do!
While we're waiting for the weather to decide what it's going to do, there is still lots for us to do in our yards and gardens.
In the vegetable garden:
While some of us have gotten a little more rain lately, there are still spots, like my house, where a lot of the rain has just passed us by. Keep any eye on the rain that your gardens are getting – not what the weather people say we got. Weather can vary amazingly from town-to-town, and even yard-to-yard. Having a rain gauge at your house will help you know what rain your garden is actually getting. If it says that you got less than an inch of rain in a week, water! And if the temperatures are still high, an inch may not be enough.
Start to pinch off any new flowers on tomatoes, peppers, and eggplants. Flowers that are forming now are not going to have time to mature before we get our first frosts, and leaving them on means that your plants are spending unnecessary energy on growing those, when they really should be using all their energy to mature and ripen the fruit that is already there.
Pull any plants that have finished producing and compost them. Consider replacing them with late plantings of baby leaf lettuces, radishes, or spinach. You can even put in kale at this late date, as kale is pretty hardy and can handle some frost. Keep in mind that spinach doesn't germinate as well when the temperature is high, so be sure to cover the ground with some mulch and water frequently to help keep the soil temp down.
Don't compost tomato plants or any other plants showing signs of disease, as composting is not likely to kill many garden diseases, and you could end up just reintroducing them to your garden with the compost next spring.
Keep harvesting your pole beans, summer squash, and cucumbers to keep them producing while the warm weather is still hanging around. Once we get frost, those plants will be done, but that usually doesn't happen in southeast Michigan until early October, so we have lots of harvesting ahead of us.
That goes for herbs too. If you can't use all the herbs your garden is producing right away, you can easily preserve them to use all winter long. Simply wash and dry them thoroughly, then chop them and put them into zipper bags, squeezing out all the air before putting them into the freezer. This doesn't work well for basil though, so my favorite thing to do with all the basil in my garden as the cold weather sets in is to make lots of pesto and put it into ice cube trays and freeze it. Then I have "fresh" pesto all winter!  Cover the pesto with a thin film of olive oil before freezing it to keep it from discoloring.
Drying your herbs is also a good way to preserve them. Simply hang them upside down in a dry area until they are completely dry. Then strip the leaves off and store them in a zipper bag or other airtight container.
If you live outside of town, keep some row covers or insulation handy to cover up your basil the next couple of nights, as the overnight temperatures may dip down below 50, which basil does not like. The N-Sulate product, for example, can keep your plants as much as 6 to 8 degrees warmer than the air temperature. I like them because they are lightweight enough that I don't have to worry about crushing my plants, as heavier things such as sheets would do. The way any cover works is to capture the ground heat and keep it close to your plants. So whatever you use, to really get the best effect, cover the plants before the evening has cooled down too much. It also helps to secure the covers to the ground so that the wind doesn't blow them off – I keep some small rocks handy for this purpose. N-Sulate covers will also help prolong your harvest of many things as frost starts to threaten towards the end of the month.
Continue to spray your tomatoes, peppers, squash, and cucumbers with fungicide. The high humidity and heavy morning dews we have been experiencing this summer provided perfect conditions for a whole host of diseases to get going. Regular spraying of fungicide, such as the Serenade product we carry at the store, will help slow down the progression of disease, and extend your harvest.
Flowers, Trees & Shrubs:
If your container plants are still going strong at the end of the month, move them under a porch or other cover at night if frost is predicted. If they are starting to fade, pull them out and replace them with fall plants.
I'm having trouble believing that it's already time for mums, but it really is – well almost. I talked with our local growers this week, and they are saying that the buds should start to break in the next week. Mums need some cooler temperatures and shorter days to trigger their flowers to bloom. While the days are definitely getting shorter, the cooler temps have only just begun. I will be heading to the growers sometime next week to start bringing mums in, along with some of the other beautiful plants available for fall color – pansies, asters, and ornamental kale and cabbage – that can be planted in with your mums to add a little more interest to your garden and containers this fall.
If you have tender bulbs, such as dahlias and calla lilies, wait until the foliage is dried up and we have gotten a few frosts to dig them up for winter storage – but don't wait until the ground is frozen. Depending on the weather, this task should be done late this month or early next.
Did you spend the early spring admiring other people's tulips? Do you want to grow your own? If so, you need to plant  this fall. Our supplier tells me they might be in as early as be in next week. If it's not cool enough to plant them right away, they can be stored in a cool, dry basement, or even in the refrigerator – in paper bags, away from fruit that can cause them to rot.
Crocus, daffodils, hyacinths, and tulips get planted at about the same time that the tender summer bulbs are dug up – after a few frosts, but before the ground is frozen. You want the soil to still be warm enough to encourage root growth, but you don't want the air to be so warm that it encourages foliage growth.
September is a good time for dividing and transplanting lots of plants. I have a number of perennials in need of dividing, so will be spending my spare time doing that this month. You can generally tell if it's time to divide a plant by how it looks. I have New England asters that have taken over one of my beds, and are crowding out everything else. Plants like my perennial salvia that are producing fewer or smaller than usual flowers are also probably hinting that they need more space. You can also divide plants that are doing well if you simply want to plant more in other places. If you don't have any more room for the divisions, give them away to friends and neighbors who are looking for things to plant in their yards.
Be sure to clean weeds out of your flower beds before they go to seed so as not to end up with even more weeds next spring!
September is also a great time to plant new perennials, trees and shrubs. Many garden centers have sales at this time of year, so take advantage of them, but get them in early so that the plants have time to get their roots established before cold weather sets in. Whatever you plant, be sure to water it thoroughly from the time you plant up until the ground freezes. Until they really get established, the roots are not very good at taking water up from the soil, so you really need to keep them watered.
You may be noticing that many trees are already starting to turn color. It's not because it's getting colder, but because of the stress they suffered from the lack of rain all summer. To relieve some of that stress going into winter, be sure to keep trees and shrubs watered until the ground is frozen. This will help them get through whatever winter has in store for us.
If you put house plants outside for the summer, treat them with a pesticide meant for indoor plants before bringing them back inside.
Lawn:
While it was so hot and dry, our lawns naturally went dormant, looking a bit brown, and not growing much. Now that most of us have seen some rain, our lawns are springing back to life. If your lawn has mostly greened up again, but you are seeing some areas of brown, it is possible that you have a pest problem. MSU Extension has tips on determining what the problem is and what to do about it.
As the weather cools off, it's a great time to fill in bare spots in the lawn. To overseed your lawn's bare patches, start by raking away any dead grass and roots, and then sprinkle some seed in. You can also add a little bit of top soil to give the seed a better chance to take hold. Don't forget to cover the area lightly with a little mulch to keep moisture in (straw works well). Keep the area well watered. Once the grass starts to emerge, remove the mulch so as not to smother the grass.
De-thatch your lawn, if necessary. This is something that most people don't do, and probably should, if they want a really good looking lawn. According to MSU extension, "Thatch is the accumulation of dead and decomposing turf stems, leaves and roots intermixed with live plant roots."  It's not due to leaving clippings on the lawn, which is good for it.
Now is a good time to fertilize your lawn to encourage good root growth before winter.
Continue to mow, but don't cut it too low. Your grass needs a little bit of height to help insulate it during the winter, but you don't want to stop mowing and leave it too long either. This will promote something called snow mold disease, which will leave ugly bare patches in your lawn next spring.
Leaves left lying on the lawn can also promote snow mold disease, so don't just leave them lying on your lawn – at least not whole. Mulching them into the lawn is a great way to help promote a healthier lawn. If you feel like you just have way too many leaves to mulch them all in, then rake up some of the chopped-up leaves and use them as mulch on your flower beds, trees, and shrubs. Don't use leaves left whole for this though – they tend to mat down and can prevent water from reaching the roots of your plants.
Birds:
Clean out bird houses to get rid of pests and debris. Some birds will use houses left out in the winter for shelter during cold nights, so consider leaving them out all winter. Just be prepared to clean them out again in the late winter, before the nesting birds come looking for a new home in the spring.
If you haven't been feeding the birds all summer, now is the time to start up again. Lots of birds are on the move – migrating through on their way to their winter hang-outs – and can use as much additional food as you care to give them for their journey. They spend a lot of energy looking for things to eat in the wild, and that extra energy can be the difference in whether they make it all the way to their winter home or not.
For the same reason, keep your birdbaths out, cleaned, and filled all the way up until we get heavy frosts (or beyond, if your birdbath is freeze tolerant).
Also leave your hummingbird feeders out until well into October to help those guys make their long journey. Bring your hummer feeders in if the temperature is predicted to fall below freezing overnight.