Manchester farmer directs donation to MCS FIRST Robotics Team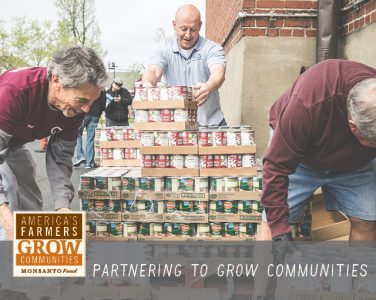 Farmers Make a Difference in Rural Communities by Directing Donations from Monsanto Fund's "America's Farmers Grow Communities Program to Local Nonprofit Organizations."
The America's Farmers Grow Communities program will provide more than $3 million in financial support to nonprofits across the US in 2017. Since 2010, the America's Farmers Grow Communities program has given more than $26 million to more than 8,000 nonprofits across rural America.
Washtenaw County farmer Lyndon Uphaus has won the opportunity to direct a $2,500 donation from the America's Farmers Grow Communities program, sponsored by the Monsanto Fund, to Manchester Community Schools.
Manchester Community Schools will use the funds to further STEM education through the schools newly formed FIRST robotics program. "The $2,500 will be used by our team to help cover portion of the $4,000 registration cost to the Michigan State Championship if we qualify this season," said Matthew Hall, MCS FIRST Robotics program leader. "If we do not qualify for this season's Michigan State Championships, then the money will go towards registration for next year's season."
The Grow Communities program's purpose is to make a positive impact in farm communities by partnering with farmers to support the causes that are important to them in their communities. Each year, farmers enter for a chance to win a $2,500 donation that they direct to a local nonprofit.
Since the program began in 2010, farmers have directed more than $26 million in donations across a broad cross-section of organizations that reflect the makeup and character of rural America, including food banks, emergency response organizations, schools, youth agriculture programs and many others.
"Farmers have directed funds to more than 8,000 community organizations across rural America since Grow Communities began," said Al Mitchell, Monsanto Fund president. "Farmers are truly committed to this program because they see the difference the donation makes in their community."
For more information or to see a complete list of the 2017 America's Farmers Grow Communities recipients, visit www.GrowCommunities.com.