Worth Repeating to close in June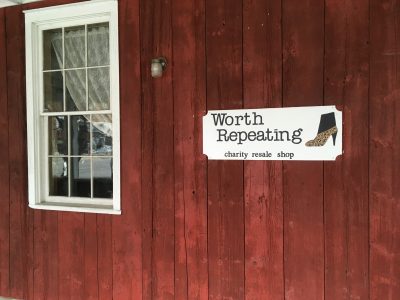 Worth Repeating stunned Manchester when they announced via social media Sunday night that they will be closing their doors permanently at the end of June this year. Worth Repeating is a 501(c)3 corporation run thrift store located in the Mill at 201 East Main Street in downtown Manchester. The store is staffed entirely by volunteers and all profits are used within the Manchester community to support a variety of charitable services. Worth Repeating asked the Mirror to share this letter from their board of directors:
After 13 years of successful operation in downtown Manchester, Worth Repeating, a not-for-profit resale shop specializing in high-quality merchandise, will be closing its doors to the public on Friday, June 30, 2017.
Since its opening in May 2004, Worth Repeating has provided nearly $400,000 of support to individuals and organizations in need throughout the Manchester area. This would not have been possible without the efforts and support of a large number of people to whom we wish to express our sincere thanks and gratitude. First and foremost among these are our dedicated volunteers, including our Board, Director, and store staff, all of whom gave their time selflessly and without compensation so that 100% of our proceeds could go to those we serve. We would also like to thank our loyal customers and donors whose patronage enabled us to accomplish so much for so long. Finally, we extend our thanks and appreciation to our landlords, Karl and Pat Racenis, for providing us the perfect home in the Manchester Mill and supporting our business throughout our stay.
Worth Repeating will be having a close-out sale beginning Thursday, June 1, 2017, and a public auction in July to liquidate our store fixtures. All proceeds will be distributed to non-profit organizations in the Manchester area.
Thank you again for your service, patronage and support.
Worth Repeating, Inc.
Board of Directors
1 April 2017