Sesquicentennial Celebration update!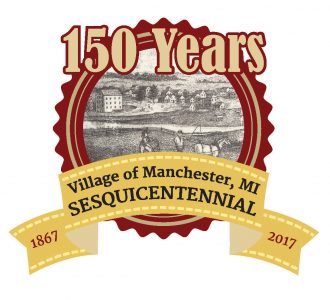 Planning for the Manchester Sesquicentennial Celebration is well under way! A wide range of historical-themed and fun events have been defined for our 150th Birthday as a village, running from July 29 through August 7. The Sesquicentennial events will be held at several locations around town, and we are partnering with the traditional Run Manchester/Street Festival and Classic Car Show on Saturday, August 5 to provide all sorts of family activities for that day.
You can view and download the full Schedule of Events and Sesquicentennial Products here: Sesquicentennial Schedule of Events and Products – May 5 2017, so that you can mark your calendars. As we continue to develop details such as registration and ticket sales for certain events, you can follow along on-line in two ways, at www.48158.com/150years or on Facebook at www.facebook.com/150yearsManchester (or search by "Manchester Sesquicentennial Festival").
We will also run regular articles in The Manchester Mirror to keep you informed.
Our Sesquicentennial Planning Committee holds periodic meetings, and we are always seeking interested persons to help with organizing and conducting the various events. Watch for notices on these meetings. You can also join our Sesquicentennial e-mail list by contacting Ray Berg at rayberg@att.net.
Starting soon we'll be running a series of articles in the Mirror on the "Movers in Manchester – 1867", highlighting who was doing what in 1867 as Manchester became a village. That year represented a boom time for Manchester after the Civil War, with strong growth and the construction of many of our existing downtown buildings and homes. Here's a snapshot of our first "mover" – John W. Cowan.
John W. Cowan
If you live in the Riverbend Subdivision, thank John W. Cowan; he is the one who laid this out and got the first homes going there. He also helped develop many businesses in town, especially along the northwest corner of Main Street and Ann Arbor Street (M-52), now occupied solely by Ollie's/Over the Edge Sports Bar.
And look at that beard! Can our local Facial Hair Competition contestants match that?