St. Mary's Fr. Bosco is honored on the 25th Anniversary of his priesthood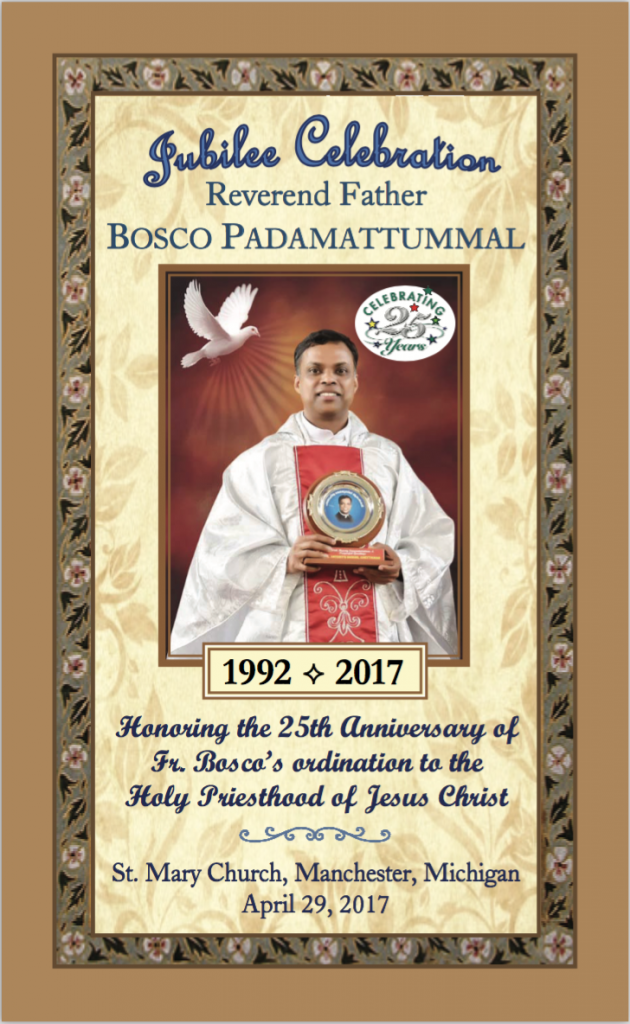 submitted by St. Mary Church, Manchester 
The people of St. Mary, Manchester, gathered with friends and invited guests at St. Mary church on Saturday afternoon, April 29, to express their appreciation and love for Fr. Bosco Padamattummal, their parish priest, as he marked the 25th anniversary of his ordination to the Holy Priesthood of Jesus Christ.
In attendance were the Bishop of Lansing, Earl Boyea, priests from the parishes in the Diocese where Fr Bosco has served, a priest friend from India who recently came to the United States to serve with a Vatican nuncio, priests from St. Louis Center, and representatives from protestant churches in the Manchester area
The celebration began with Holy Mass, celebrated by Bishop Earl Boyea. The faithful filled the pews and joined in prayer. The Mass was beautiful and joyful.
Immediately following, the crowd moved to the St. Mary Parish Center to continue the celebration with a delicious dinner and fellowship. Tributes were made to Fr. Bosco, and the evening offered a fitting conclusion to this special occasion.
Fr. Bosco was ordained a priest on April 29, 1992 in Kerala, India, near the southern tip of the subcontinent as it juts into the Indian Ocean. This is recognized as the place where the apostle St. Thomas first landed and preached the Gospel in the first century of the Christian era. Fr. Bosco served in his Diocese in Kerala for 12 years before coming to the United States.
In 2004 Fr. Bosco came here to serve in the Diocese of Lansing. Since arriving he assisted at three different parishes – St. Thomas Aquinas in East Lansing, St. John in Fenton, and St. Francis of Assisi in Ann Arbor – before coming the Manchester where he was given full responsibility for the priestly care of the parish of St. Mary. In December 2015 Fr. Bosco was proud to became a naturalized citizen of the United States.
This past January, Fr. Bosco returned to India for three weeks to celebrate his Jubilee there along with his sister who was celebrating her 25-year Jubilee as a religious sister in the Carmelite order.
The Scriptures remind us that "There are different gifts but the same spirit," and the people of St. Mary are truly thankful for the many gifts that Fr. Bosco has shared with us and with the larger community. So it was with joy that all marked this great Jubilee occasion, wishing Fr. Bosco well, thanking him for his love and prayers and support, and offering him theirs in return.