Sesquicentennial updates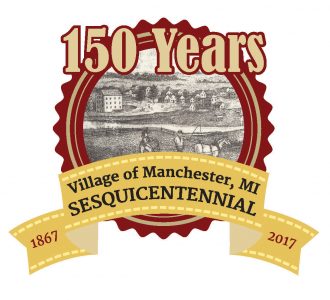 Manchester is six weeks away from our 150th anniversary celebration as a village! Here are some latest updates on the planning. Watch the Mirror each week for additional news.
1. Web Page and Facebook
Please follow along on our Sesquicentennial web page, www.48158.com/150years, which contains information on planning meetings, schedule of events, areas where volunteer help is needed, ticket sales for certain events, photographs and more. We also maintain a Facebook page, www.Facebook.com/150yearsManchester, or search "Manchester Sesquicentennial Festival."
2. Planning Meeting Tuesday, June 20
Our next Sesquicentennial planning meeting is Tuesday, June 20, 7:00 pm at the MAHS Kingsley-Jenter House, 302 E. Main St. All are welcome. We'll be going through each event and product for the week-long series of events. The current Schedule of Events provides details for each day's activities. Volunteers for events are still needed.
3. Agri-Tour Tickets Available
The Manchester Agri-Tour to be held on Friday, August 4, from 9 am– 3 pm offers a great way to experience several of our local agricultural farms and historic settings on a bus tour, complete with lunch made from local products of these farms. Tickets for this event are limited and are available now for purchase, so plan now to attend. The complete information form and ticket purchase instructions are available on the Sesquicentennial website, www.48158.com/150years.
4. Industry Tech Walk
The Industry Tech Walk will be held on Thursday, August 3, from 1 to 5:00 pm. Several of our local manufacturing businesses will open their doors for plant tours and demonstrations. Do you wonder what CEI Composites makes at that building on Duncan Street? What is Fastener Advance Products on M-52 south of the Village? And Obertron on M-52 north of the Village?
Mark your calendar and plan to come. This is a free event, with scheduled tour start times, and a map with details will be posted on our website.
5. Main Street Dinner
Our big Sunday August 6 event is the Main Street Dinner in Wurster Park, 1 – 4 pm. This community dinner will feature one part of the meal coming from each of our local chefs and restaurants, along with corresponding information on how that meal item might have been prepared in 1867. The dinner is served casually and continuously, so you can come at any time during the event. We'll have live music, and you might even meet Matilda Wilson Kingsley herself, commenting on 1867 events and the need for women's rights. Our 1967 "Centennials" will also be gathering there to reminisce. Ticket information to be published shortly.
More to come in the following weeks!