Manchester's Farmers Market ponders switch back to Adrian Street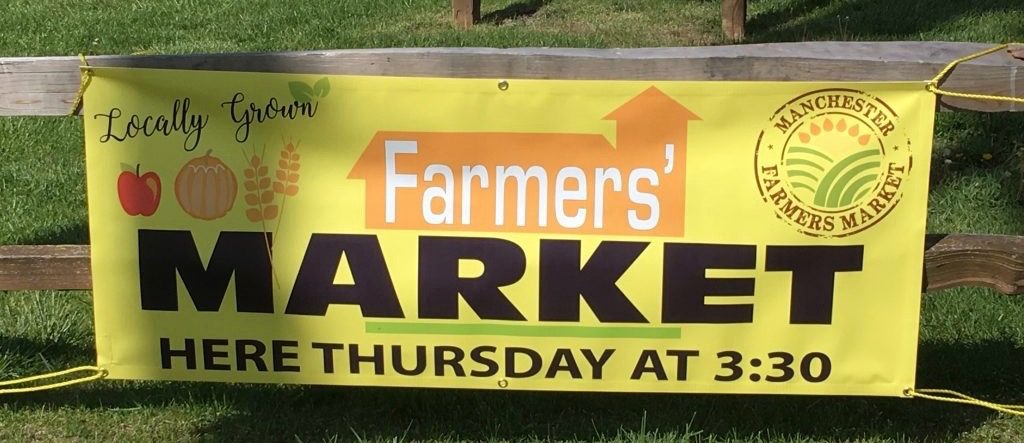 With the close of 2017 Manchester Farmers Market season, the Farmers Market Committee is looking back over the season and considering whether or not to stay in their current location for the next.
This summer the Manchester Farmers Market was open for 25 Thursdays, and had a weekly average of just over 10 vendors a week, around 200 customers a week, and had about $1500 in sales a week, which is an average of $150 per vendor. These averages are pretty similar to the averages for the past 5 years.
This summer the market was held at Chi-Bro Park for the 3rd time. The market was relocated to Chi Bro Park in 2015 from its previous Adrian Street location because of the construction of the new bridge that summer and the next. Due to the positive feedback on the new location, the Farmers Market Committee decided to hold the market at Chi-Bro Park again in 2017. Now they are going to decide where to hold the market in 2018 based on input from customers, vendors, and local businesses. You can email them your vote at farmersmarket48158@gmail.com. The committee is asking 1) in which location should it be held–Adrian St. or Chi Bro, and 2) why? Please email your vote by Dec. 3rd.
There are many different considerations to this decision that the committee would like you to take into account when voting. Which location has better parking for customers, both in amount and proximity to vendors? Vendors set up at 2:30 pm, sell from 3:30 – 7 pm and then take down their items; which location would be better for vendors? Which location is better for vendors as far as ease of loading and unloading, availability of shade so their items aren't damaged by the exposure and heat of the sun, availability of bathrooms, water, electricity, etc.? Which location is best if considering many customers purchase more than 20 pounds of produce, which they have to carry to their car? Which location is best for social interaction? Which location is better for customers with children? Which location is best for seniors and others with physical limitations? Which location has the most traffic flow (cars driving by)? And anything else that should be taken into consideration.
When the farmers market was started in 2005, the mission of the farmers market was to promote downtown business. The market was run by volunteers Linda Milkey and Irene Stedman from 2005 – 2012. But in 2013, without a volunteer to plan and run the market, the Village of Manchester formed a Farmers Market Committee to plan and raise funds to operate the market. This committee changed the mission of the market to promote local farm businesses and providing a place for people to buy fresh, locally grown produce. This allowed the committee to apply for grant funding to promote healthy eating from the 5 Healthy Towns Foundation.
5 Healthy Towns has provided nearly $40,000 for Farmers Market operation over the last 5 years. Vendors do pay a fee, but these fees cover only about 15% of the expenses each year. Roughly 40% of the expenses are to pay a contractor to be the market manager. Advertising is the next highest expense. Other expenses are for food education (also paid by 5 Healthy Towns Foundation) and events.