Upcoming historical society meeting; Sesquicentennial books on sale!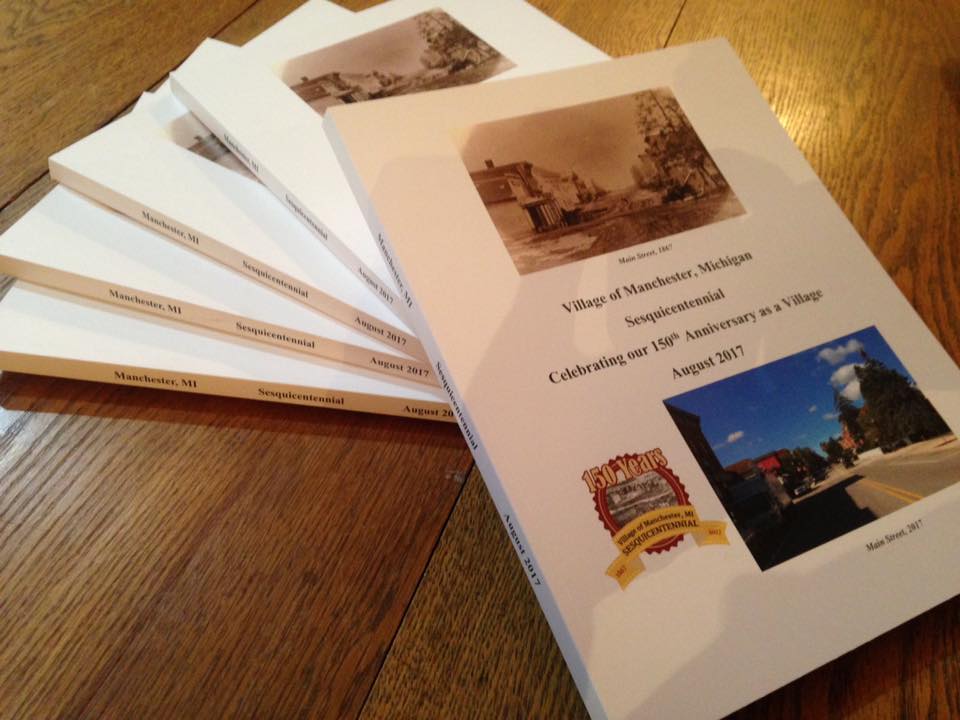 The next general meeting of the Manchester Area Historical Society is Thursday, January 11, 7 pm at the Kingsley-Jenter House, 302 E. Main. We will hold a short business meeting on Society activities including our 2018 membership drive, and our planned volunteer support at the annual Kiwanis Crazy Cash event in March. As you may be aware, funding from the Sesquicentennial will be combined with a Crazy Cash grant, Chamber funds and Community Tourism Action Plan grant funds, to purchase and install a Verdin post clock at the "four corners" intersection of M-52 and Main Street on the lawn of the Kingsley-Jenter House in Spring 2018.
Our program this Thursday will be a travelogue talk by Betty Cummings on her recent visit to Belgium and the Netherlands, including pictures of warm weather, beautiful flowers and historic architecture – should brighten up everyone's mood during this cold stretch! Refreshments will be served afterwards.
Our future programs include: February – Researching Manchester Homes' History; March – our annual "Show and Tell" display, and April – The Watkins Family.
We will also have on sale the Sesquicentennial Commemorative Book. This 170 page, full color book contains text and photos of all the events from our 150th anniversary celebration, and lots of Manchester history. The book costs $20 per copy, cash or check payable to "MAHS." There are many photos – you may be in one or more of them!
We invite you to come and join us, and learn more about our local history and ancestors!
If you are unable to attend the meeting, Sesquicentennial Commemorative Books are also available for purchase at River Raisin Antiques, Pyramid Office Supply, the Library, and the Village Offices. They are also available through the Historical Society at their events. Or you can contact Ray Berg at rayberg@att.net or 248-765-9324, and we'll make arrangements to get it to you. For persons out of the area, we can mail you a copy in a bubble envelope for $ 25. Send check and your mailing address to Ray Berg, 7705 Eisman, Manchester, MI 48158.
Enjoy the memories!